Ralph and Vanellope return in a solid sequel which fails to hit the heights of the original 'Wreck-It Ralph'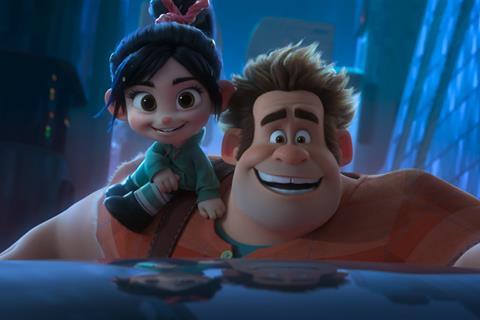 Dirs: Rich Moore, Phil Johnston. US. 2018. 112mins
Much like the World Wide Web itself, Ralph Breaks The Internet is a lively destination full of promise and potential that nonetheless ends up being a little disappointing. The sequel to 2012's Wreck-It Ralph boasts a big heart and some clever comedic set pieces, and yet this follow-up fails to match the original's balance of savvy pop-culture nostalgia and genuine emotional stakes. Ralph and Vanellope are still fun company, but their latest adventure is full of glitches.
When they're allowed to develop the friendship that started in the first film, Ralph and Vanellope can be very affecting
Landing in US theatres on November 21 and the UK on November 30, this Disney release hopes to surpass the first film's $471 million worldwide gross. Although Fantastic Beasts: The Crimes Of Grindelwald and The Grinch could offer some competition, Ralph Breaks The Internet looks to be a strong holiday performer, especially when word gets out about other Disney characters who put in surprise appearances.
No longer feeling like a bad guy, video-game character Ralph (voiced by John C. Reilly) is best friends with spitfire Vanellope (Sarah Silverman), but when her car-racing game breaks down, she's forced to find a new virtual home. That's when Ralph hatches a plan; if they travel into the internet, they can go to eBay to purchase a replacement part and save Vanellope's game from being dismantled.
Directed by Rich Moore (who helmed Wreck-It Ralph) and Phil Johnston (a writer on the first film), this is a return to the visually vibrant, enjoyably geeky video-game universe of the original movie. But it's inevitable that the sequel can't recapture that initial novelty, forcing the filmmakers to create a new dazzling realm for Ralph and Vanellope to explore.
Unfortunately, while the internet presents seemingly unlimited opportunities for sight gags and other eye-popping details, Ralph Breaks The Internet mostly conceives this strange, chaotic environment as just another dense metropolis — sort of a sunnier Blade Runner or a smarter Emoji Movie. Outside of a witty replication of mature video-game environments — the film's nihilistic 'Slaughter Race' evokes the sun-baked bleakness of 'Grand Theft Auto; — none of the new locales is particularly surprising or inspired.
Instead, there's myriad product placement, as everything from Instagram to Pinterest to YouTube is prominently featured. To be fair, Wreck-It Ralph showcased plenty of old-school games, but the imaginative ways in which those familiar characters were fleshed out, revealing their neuroses and personality quirks, helped sidestep the pop-culture pandering. The simple truth is that the sequel doesn't have much insightful to say about internet culture, and its jokes about pop-up ads, vicious commenters and the vapidity of viral content lack bite.
In an attempt to be cheekily self-referential, Ralph Breaks The Internet eventually ventures into the online home of Disney, where Vanellope meets several of the studio's most beloved properties. There are some funny moments — mostly by contrasting the real world with the clichéd tropes of certain Disney characters — and yet, the scenes hint at what feels a little lazy about this sequel. Poking fun at Disney franchises while parading them around shamelessly isn't nearly as edgy or subversive as the filmmakers think.
When they're allowed to develop the friendship that started in the first film, Ralph and Vanellope can be very affecting. He's insecure and oafish while she's snotty but lovable, and Reilly and Silverman have such a warm rapport that just hearing the two actors riff off each other is awfully enjoyable. (Plus, Vanellope's anxiety, personified by her occasional glitch-ing, remains adorably vulnerable.) The story tries to craft an emotional through-line, exploring what would happen if Vanellope suddenly wanted a more unpredictable life while her buddy preferred the comfort of his old video game. But the big character beats feel a little more telegraphed — and a little more strained — than they did the first time around.
Among the new ensemble players, Gal Gadot is likeable as the tough but kindly leader of a 'Slaughter Race' gang, and Alan Tudyk brings a drollness to his role as a snooty search engine. But few of Ralph Breaks The Internet's cast additions can compare with the first film's delightful supporting players. (Jack McBrayer and Jane Lynch are, sadly, sidelined for most of the sequel.) The new film has its pleasures, but it's not nearly as game as its predecessor.
Production company: Walt Disney Animation Studios
Worldwide distribution: Disney
Producer: Clark Spencer
Screenplay: Phil Johnston, Pamela Ribon, story by Rich Moore, Phil Johnston and Jim Reardon, Pamela Ribon, Josie Trinidad
Production design: Cory Loftis
Editing: Jeremy Milton Ace
Cinematography: Nathan Detroit Warner (director of cinematography layout) and Brian Leach (director of cinematography lighting)
Music: Henry Jackman
Main voice cast: John C. Reilly, Sarah Silverman, Gal Gadot, Jane Lynch, Jack McBrayer, Alan Tudyk, Alfred Molina, Ed O'Neill, Taraji P. Henson