Claire Burger continues to impress with her follow-up to 'Party Girl'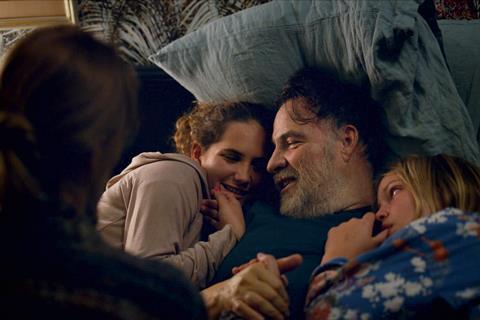 Dir. Claire Burger. France. 2018. 98 mins
Following 2014's Caméra d'Or-winning Party Girl, which she co-directed, Claire Burger's first feature as sole writer/director is a beautifully-wrought, refreshingly understated study of love and parenting, dependence and independence as experienced by a working family caught in the throes of the parents' separation.
The push and pull is extremely believable, never histrionic, and often moving.
Real Love is just the latest evidence of the quality of a young generation of French female directors, all currently hitting their stride. With Burger sharing the empathy, keen sense for milieu and naturalistic approach of Céline Sciamma and Katell Quillévéré – and featuring a huge-hearted central performance by Bouli Lanners – this film should find a willing audience amongst those tired of the mannerism and soap of so many family dramas.
It's set in the director's hometown of Forbach, in north-eastern France. Mario (Lanners) works for the local council, in one of those public-facing offices where tensions between staff and clients frequently boil over. His wife Armelie (Cécile Remy-Boutang) is employed in the lighting department of a theatre. As the film opens, she has already left him, for reasons never firmly established – though his anger management issues and her falling out of love would probably cover it; for the moment, he's taking care of their two teenage daughters.
Mario's a decent man, who's trying his best, taking the girls out to art galleries, engaging them in car karaoke, able to share quiet moments with them. But he's treading water, waiting for his wife to come home, and his neediness and lack of focus (reflected in his low-level stalking of Armelie at the theatre) affects the girls, particularly 14-year-old Frida (Justine Lacroix), who blames him for the separation. Older daughter Niki (Sarah Henochsberg) is the most clear-sighted of the three, realising that her mother is never coming back.
As the family unit becomes undermined, individual members are seeking romantic love: Niki plays traditional teenage power games with an amiable boy, Frida tentatively starts a romance with a girl, Armelie starts a new, live-in relationship which confirms her intentions. For his part, Mario is trying to branch out, become more sociable, to which end he takes part in a drama group, Atlas (based on an actual project), in which ordinary people share their stories with a view to shaping a play.
Berger cleverly uses Atlas on two fronts: to subtly chart the issues of the town (including economic problems and racial tension) without needing to show them or make explicit social commentary; and to offer Mario a way of finally breaking down his emotional barriers.
In the foreground, father and daughters wrestle with the everyday. He keeps on putting his foot in it, particularly ruining Frida's sleepover when he realises that her one guest is an amorous one. Her revenge is to spike her dad's herbal tea with MDMA, leading to a wonderful scene as loved-up dad is surrounded by his concerned wife and kids – expressing his love for them as the knowledgeable Niki manages his high.
A number of other casually choreographed scenes allow Lanners and his young co-stars to demonstrate their characters' instinctive, tactile affection, which is simply being challenged by circumstance. The resulting push and pull is extremely believable, never histrionic, and often moving. The gleaming eyed, bear-like Lanners gives Mario a touching vulnerability – the helplessness and haplessness of a man frightened of losing everyone he loves. Lacroix is very touching as the bullish but hurting Frida, while Henochsberg's engagingly upbeat Frida effectively keeps both family and film buoyed by a wise willingness to give her father the benefit of the doubt.
And the film's own wisdom, built into its title, is the acknowledgment both of the family's innate bond and the need for all four members to find their own sources of happiness.
Production company: Dharamsala
International sales: Indie Sales Company, neschbach@indiesales.eu
Producer: Isabelle Madelaine
Screenplay: Claire Burger
Production design: Pascale Consigny
Editing: Laurent Sénéchal, Claire Burger
Cinematography: Julien Poupard
Main cast: Bouli Lanners, Justine Lacroix, Sarah Henochsberg, Cécile Remy-Boutang, Antonia Buresi