Dir. Kriv Stenders. Australia, 2016, 88 mins.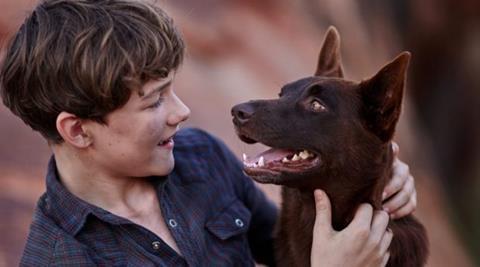 Five years ago, an Australian kelpie sheep dog became a best friend to everyone: the assorted on-screen characters who crossed his path in Red Dog, and the eager Australian public who helped the film place tenth on the nation's highest-ever local earners list. It's fitting, then, that prequel Red Dog: True Blue once again focuses on the bond between human and canine. Another impressive financial return should follow, as should ample enthusiasm from viewers.
There's no doubting the feel-good terrain Red Dog: True Blue is playing in — and it's hardly surprising that room is left for another instalment, with the franchise envisaged as a trilogy.
Distributor Roadshow clearly hopes to replicate the good fortunes of the 2011 hit and AACTA best film winner, as Red Dog: True Blue's Boxing Day release demonstrates — and the existing fanbase should respond to its high-profile slot. And while the feature's embrace of its homeland is laid on thickly, soaring over its outback setting at every opportunity, layering in local and indigenous mythology, and boasting the usual group of eccentric characters, global audiences should also find their hearts warmed. After its North American premiere at Sundance in January, expect further festival play, at a minimum, for the type of movie likely to gain positive word-of mouth around the globe.
For those unfamiliar with Kriv Stenders' original crowd favourite, the director bookends his second effort with a family's reaction to watching its predecessor, even showing snippets of Red Dog during introductory scenes. Workaholic father Michael Carter (Jason Isaacs, with a more than passable Aussie accent) begrudgingly takes his young sons Theo (Zen McGrath) and Nicholas (Winta McGrath) to see it, largely because he promised his wife he would, then discovers that he can't fight off his own tears when the cinema lights dim.
The boys have been pleading for a puppy of their own, which Michael keeps dismissing — and when Theo asks about his father's reaction to the movie, the basis for his reluctance is revealed in a bedtime story. In 1968, when Michael was eleven-year-old Mick (Levi Miller), he knew the four-legged friend immortalised in the film. In fact, Red Dog was the lonely child's first real pal.
Switching from the cool tones of the city to every natural shade of auburn, amber and ochre imaginable, and ramping up the classic rock soundtrack in line with the jump back in time, Red Dog: True Blue then spends the bulk of its duration relating Mick's antics roaming around a vast cattle station in Western Australia's Pilbara region. Shipped off to stay with stern farmer Grandpa (Bryan Brown) after his parents' deaths, Mick finds the dog as a pup, covered in blue mud and caught in a tree after a particularly ferocious storm. He names the cute creature after his distinctive caked-on hue — even after he spies his true colour underneath — and an instant connection is formed.
Returning writer Daniel Taplitz (The Angriest Man in Brooklyn), crafting his own story after adapting Louis de Bernieres' reality-inspired novel for the first film, and drawing upon "events that may or may not have happened, but have become outback lore" as the credits explain, turns Mick and Blue's time together into a boy's and dog's own adventure. The inseparable pair rove the property and its surroundings, and Mick comes of age over the course of their ensuing antics: harbouring a blossoming crush on pretty young tutor Betty Marble (Hanna Mangan Lawrence), embarking upon a related rivalry with older pilot Bill Stemple (Thomas Cocquerel), struggling with his grandfather's insistence that he get a formal education, and, as enlightened by Aboriginal jackaroo Taylor Pete (Calen Tassone), learning the complicated history between the land's original and white inhabitants.
The latter is handled with care, as are the many other efforts to paint an affectionate and inclusive picture of outback Australian existence. Indeed, predicated as it is upon sprawling landscapes, big emotions, universal life lessons and broad humour, there's no doubting the feel-good terrain Red Dog: True Blue is playing in — and it's hardly surprising that room is left for another instalment, with the franchise envisaged as a trilogy.
Thankfully, when it comes to eliciting a fond response to the adorable canine star (played by Phoenix, who boasts family ties to the initial feature's now-deceased Koko), there's no doubting its effectiveness either. With the likes of other Aussie family-oriented fare Paper Planes and Oddball following in the original movie's footsteps to great local success, Stenders and company know that they have big paws to fill. Opting to focus on one child's companionship with the animal rather than Red Dog's episodic encounters proves a wise choice, even if the underlying storyline always feels beholden to a familiar formula as the feature overtly strives for modern classic status.
The characters are similarly forged from recognisable components yet peppered with spirit, from rising star Miller's (soon to be seen in the next youth-friendly Australian offering, Jasper Jones) transformation from tentative outsider to confident pre-teen, Brown oozing stoic kindness, and Wolf Creek's John Jarratt in a memorable cameo. Technical credits are solid, including returning cinematographer Geoffrey Hall's emotive lensing, while editors Rodrigo Balart and Jill Bilcock infuse the 88-minute effort with the requisite upbeat pace.
Production company: Good Dog Enterprises Pty Ltd
International Sales: Roadshow Films Pty Ltd, Good Dog Enterprises Pty Ltd
Producers:Bryce Menzies, Nelson Woss
Executive producers: Di Bain, Graham Burke, Greg Parker, Joel Pearlman, John Poynton, Colin Vaines, Marc van Buuren
Screenwriter: Daniel Taplitz
Cinematographer: Geoffrey Hall
Editors: Rodrigo Balart, Jill Bilcock
Music: Cezary Skubiszewski
Production design: Sam Hobbs
Cast: Levi Miller, Bryan Brown, Jason Isaacs, Calen Tassone, Thomas Cocquerel, Hanna Mangan Lawrence, Kee Chan, Syd Brisbane, Steve Le Marquand, John Jarratt
Production designer: Sam Hobbs
Costume designer: Anna Borghesi
Cast: Levi Miller, Bryan Brown, Jason Isaacs, Calen Tassone, Thomas Cocquerel, Hanna Mangan Lawrence, Kee Chan, Syd Brisbane, Steve Le Marquand, John Jarratt