Netflix caper stars Dwayne Johnson, Ryan Reynolds and Gal Gadot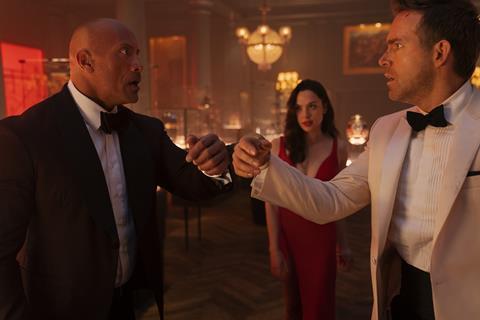 Dir/scr: Rawson Marshall Thurber. US. 2021. 118 mins.
The action-comedy Red Notice draws from heist films, con-artist thrillers and Raiders Of The Lost Ark, resulting in an unsatisfying genre mashup which is too laboured to qualify as sleek popcorn entertainment. Despite the amusingly contentious rapport between Dwayne Johnson and Ryan Reynolds, who play men on opposite sides of the law reluctantly working together to defeat a master thief (Gal Gadot), the latest from writer-director Rawson Marshall Thurber only sporadically succeeds at offering breezy pleasures — it's a big-budget lark weighed down by the need to do everything bigger and brasher than the competition.
Thurber spends so much time referencing films he loves that 'Red Notice' feels more like an elaborate game of dress-up than a worthy heir to their greatness
Red Notice opens in theatres in the UK and US on November 5 before landing on Netflix the following Friday. Obviously, the film's three major stars will boost visibility, and some may prefer the irreverent hijinks going on here to Eternals' furrowed-brow solemnity. But Red Notice could prove to be a streaming option that at-home audiences choose to sample rather than deeply invest in — indeed, the film's likeable, flimsy disposability makes it ideal for distracted viewing.
Johnson stars as Hartley, an elite FBI profiler who has come to Rome to ensure that one of Cleopatra's three priceless gold eggs, on display in a museum, hasn't been replaced by a fake. His arrival proves perfectly timed: Booth (Reynolds), a cocky art thief, has just made the switch, setting in motion the first of Red Notice's over-amped, CGI-heavy action sequences. After Hartley eventually tracks down Booth and recovers the egg, the artefact is stolen once again by "The Bishop" (Gadot), a mysterious thief who tricks Interpol into believing that Hartley helped to mastermind the heist. Forced to clear his name, and on the run from authorities, Hartley has no choice but to team up with Booth as they go in search of The Bishop, who is also on the hunt for the other two eggs, one of which has been missing for centuries.
The two men's back-and-forth bickering provides the narrative engine for Red Notice, which mixes blockbuster spectacle with snarky putdowns. Not unlike the Hitman's Bodyguard pictures, Thurber's film is largely an excuse for Reynolds to deliver sarcastic wisecracks while ducking out of the way of large explosions.
This is Thurber's third straight project with Johnson, and each film has gleefully plundered from popular genres. The spy-comedy Central Intelligence benefited from Johnson's chemistry with Kevin Hart, while the action-thriller Skyscraper was a wan Die Hard homage. Red Notice once again pairs Johnson with a smart-aleck co-star, and he has grown increasingly confident playing the slow-burn straight man, getting laughs with wry quips and silent disgruntled reactions. As for Reynolds, his patented flip manner — essentially mocking the film's big-budget swagger from within — is good for some chuckles, although he too often relies on what seems to be ad-libbed one-liners.
What ultimately strands the film is its unsophisticated plotting, which lacks the sharp turns and striking set pieces that are the hallmarks of heist and con-artist pictures. Whether it's Gadot's subpar seductress — a rather generic beauty-with-brains criminal — or the convoluted circumstances that bring Hartley and Booth together, Red Notice struggles to achieve the globe-trotting elan of the films it is trying to emulate. Audiences will get all the expected double-crosses, gorgeous tourist destinations and good-looking stars who flirt while waltzing around the dance floor, but the savvy and sex appeal of a good caper are beyond the reach of Red Notice.
Instead, the picture provides jokey, diverting moments — as well as the predictable bonding that will occur once Hartley and Booth get to know one another. Unfortunately, the action scenes often fall flat, repeatedly undone by shoddy effects work which underlines the film's threadbare, hand-me-down nature. Thurber spends so much time referencing films he loves that Red Notice feels more like an elaborate game of dress-up than a worthy heir to their greatness. That sense is only magnified by a finale that switches gears, in the process becoming more of an Indiana Jones-style adventure that again fails to harness the ingenuity of its influences.
Production companies: Seven Bucks, Flynn Picture Co., Bad Version
Worldwide distribution: Netflix
Producers: Beau Flynn, Dwayne Johnson, Rawson Marshall Thurber, Hiram Garcia, Dany Garcia
Production design: Andy Nicholson
Editing: Mike Sale, Julian Clarke
Cinematography: Markus Forderer
Music: Steve Jablonsky
Main cast: Dwayne Johnson, Ryan Reynolds, Gal Gadot, Ritu Arya, Chris Diamantopoulos