Jennifer Lawrence is a reluctant Russian spy in Francis Lawrence's gaudy espionage thriller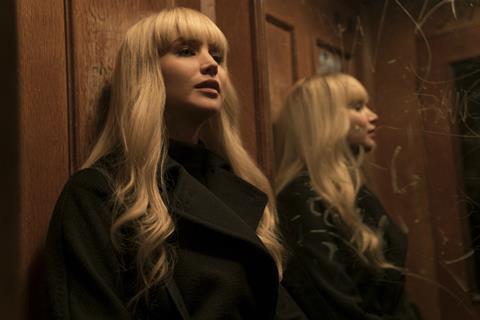 Dir: Francis Lawrence. US. 2018. 140mins
Trying to split the difference between trashy and classy, Red Sparrow is a sleek, juiced-up espionage thriller that overdoes everything: its brutal violence, its dramatic flourishes, its hairpin plot twists, and most certainly its sexpot shamelessness. Jennifer Lawrence is enjoyably chilly as an alluring spy who is talented at reading people and seducing her male targets, but this adaptation of the 2013 Jason Matthews novel starts to sputter over its extended runtime, coming across as a rehash of Ian Fleming/John Le Carre intrigue without those authors' crackling characters or pungent worldviews.
Director Francis Lawrence has crafted the cinematic equivalent of a pulpy airport novel
Hitting UK cinemas on March 1 before arriving in the US the following day, Fox's action offering will benefit from its star's box office track record, although the commercial disappointment of last year's Mother! ($45 million worldwide) may have dimmed her popularity slightly. Regardless, this bloody, sexual thriller will target adults, which could help it as counterprogramming to the family-friendly A Wrinkle In Time.
After a promising career as a ballerina is cut short due to a devastating injury, Russian dancer Dominika (Lawrence) must find another way to provide for her ailing mother — prompting her mysterious uncle (Matthias Schoenaerts) to trick her into becoming a recruit for a top-secret training program for elite spies. Reluctantly, Dominika learns how to use her sexuality to procure information, soon being assigned to befriend American agent Nate Nash (Joel Edgerton) in order to unmask a Russian mole who's working with him.
With the help of composer James Newton Howard, cinematographer Jo Willems and production designer Maria Djurkovic, director Francis Lawrence (who helmed the final three Hunger Games films) has crafted the cinematic equivalent of a pulpy airport novel, giving us lots of tourist-y flair as Dominika and her cohorts try to outsmart each other in across Budapest, London and different parts of Russia. Whether it's dank torture rooms or glitzy opera houses — not to mention Dominika's myriad fabulous ensembles provided by costume designer Trish Summerville — Red Sparrow flaunts a hyper-vivid aesthetic that compliments the story's consistently ludicrous tone.
Positioned as a vengeful, sensual heroine, Dominika is as unrealistic as the film she inhabits, and it's to the Oscar-winning actress' credit that she almost makes the character believable. Adapted by screenwriter Justin Haythe, Red Sparrow is the sort of film that thinks it's empowering its female character by making her supremely confident in her sexual power, when in fact the story just wants to keep finding excuses for Jennifer Lawrence to take off her clothes and reduce men to quivering pools in her presence. And yet, Lawrence keeps her dignity, displaying the same steely demeanour she wielded in the Hunger Games trilogy — all the while sporting a passable Russian accent.
But Francis Lawrence can't maintain this tricky tonal balance for over two hours and eventually the luridness goes from nasty fun to unpleasant overkill. There's a down-and-dirty ugliness that can be effectively jolting, leaving us uncertain what grisly bit of violence might happen next. But the plot machinations end up being overly complicated, lacking the beautiful tapestry of intrigue that a master like Le Carre could weave. That's especially true of Red Sparrow's depiction of the harrowing Russian spy world, where the weak and the sentimental have little chance to survive. Torture scenes and an attempted rape are lingered over, and a hand-to-hand fight sequence feels gratuitous.
Also not helping matters is that Edgerton, who displays some steamy rapport with Jennifer Lawrence, doesn't have enough time to develop Nash into a compelling figure. The movie views him as Dominika's white knight — the one man who can save her from her ruthless Russian handlers — but the character's burgeoning feelings for her don't square with the scant moments they share the screen.
Still, an ace cast offers plenty of nefarious shading to their opaque roles, leaving viewers to wonder who might be a double agent. Schoenaerts is all sinister creepiness as Dominika's oily uncle, while Charlotte Rampling digs into her part as Matron, the unsmiling leader of the school that will turn Dominika into a soulless soldier for the state. Francis Lawrence knows how to populate a spy thriller, even if he can't make it sizzle.
Production companies: TSG Entertainment, Film Rights, Chernin Entertainment
Worldwide distribution: 20th Century Fox, www.foxmovies.com
Producers: Peter Chernin, Steve Zaillian, Jenno Topping, David Ready
Executive producers: Mary McLaglen, Garrett Basch
Screenplay: Justin Haythe, based upon the book by Jason Matthews
Cinematography: Jo Willems
Production design: Maria Djurkovic
Editor: Alan Edward Bell
Music: James Newton Howard
Website: www.RedSparrowMovie.com
Main Cast: Jennifer Lawrence, Joel Edgerton, Matthias Schoenaerts, Charlotte Rampling, Mary-Louise Parker, Jeremy Irons