Clint Eastwood returns with a true-life story about the security guard wrongly accused of being the Summer Olympics bomber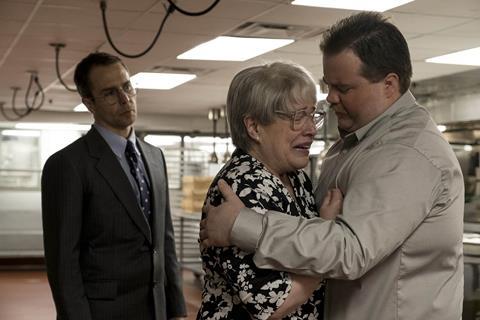 Dir: Clint Eastwood. US. 2019. 131mins.
Clint Eastwood's recent tributes to everyday American heroes continue with Richard Jewell, a simplistic but effective drama about the security guard who saved innumerable lives during the 1996 Summer Olympics bombing — only to find himself become the primary suspect. Character actor Paul Walter Hauser presents us with an insecure pushover who longed to be in law enforcement, and the performance nicely captures the complexity of an uncommunicative, sometimes exasperating main character. Sam Rockwell is superb as Jewell's brusque lawyer, and the entire film benefits from a muted wistfulness, which manages to convey the injustice of what occurred without overselling the theatrics.
Eastwood's sure grasp of this inherently compelling story mostly overcomes his sentimental propensities
Premiering at AFI Fest, this Warner Bros. offering will be released December 13 in the US, moving to international markets in the new year. The 89-year-old Eastwood has had recent success with similar true-life tales, such as 2014's American Sniper ($547 million worldwide) and Sully in 2016 ($241 million), but this latest film isn't top-lined by an A-list star, which may affect grosses.
As the 1996 Summer Olympics begin in Atlanta, Richard Jewell (Hauser) gets a job working security, dreaming of someday becoming a policeman. During a celebration in Centennial Park, he notices a suspicious backpack on the ground, alerting authorities. Some of his colleagues think he's over-reacting, but Jewell's instincts prove correct: It's a bomb, and he and his fellow guards try to move revellers out of the way before it goes off.
The detonation ends up killing two people and injuring more than a hundred, and Jewell is celebrated as a hero for his quick thinking since the casualties could have been much worse. But soon after, the FBI, led by Agent Tom Shaw (Jon Hamm), believes he fits the classic profile for a bomber. Suddenly under investigation, Jewell turns to Watson Bryant (Rockwell), an unconventional lawyer he befriended at a previous job.
In Jewell (who died in 2007 at the age of 44), Eastwood sees another example of the little guy at war with forces far more powerful than he is, and so it's not surprising that Richard Jewell is a smooth, straightforward procedural in which Bryant helps restore Jewell's reputation while taking on the FBI and a ravenous media. (Olivia Wilde plays Kathy Scruggs, a ruthless, manipulative Atlanta reporter who helps break the story that the Feds are eyeing Jewell for the crime.)
Richard Jewell makes a clear distinction between the good guys and the bad guys, which undercuts much hope of nuance. That said, Hauser (who appeared in I, Tonya and BlacKkKlansman) manages to offer significant shading to Jewell so that we see him for the troubled, flawed person he is. Mocked for his weight and lack of intelligence, Jewell badly wants to be thought of as heroic, which Shaw capitalises on by giving the false impression that they're law-enforcement peers, hoping to trick Jewell into giving up evidence that will help convict him.
Hauser has a difficult task, playing a not-very-bright man who is so passive and gullible that he keeps digging himself into deeper trouble. (As Bryant will find out, his client has some skeletons in his closet.) Jewell's inflated sense of himself and his milquetoast personality can be maddening, and Hauser and Eastwood encourage us to get frustrated with their foolish protagonist. Unlike the noble everymen of American Sniper and Sully, Jewell is far more helpless, even pathetic. But that variation on Eastwood's recent films actually gives Richard Jewell its emotional heft — calmly, the movie documents how an innocent man can be railroaded — and it provides Hauser and Rockwell an opportunity to create an unlikely rapport between these two very different men. (One is idealistic but naïve, while the other is bitter but savvy.) Rockwell is like an attack dog as Bryant, who becomes a protective older brother for Jewell, and while his righteous anger is pro forma for this kind of film, it's also deeply satisfying.
Hamm does solid work as an underhanded FBI agent who is desperate to find the bomber since this attack happened on his watch, while Wilde overdoes Scruggs' coldblooded ambition. (She becomes a convenient boo-hiss symbol for a corrupt media that sought to crucify Jewell after venerating him.) And Kathy Bates brings real feeling to the thankless role of Jewell's devoted mother Bobi. Like Arturo Sandoval's on-the-nose score, the Oscar-winning actress often clues the audience in as to how they should be feeling about Jewell's ordeal. Thankfully, Eastwood's sure grasp of this inherently compelling story mostly overcomes his sentimental propensities.
Production companies: Malpaso, Appian Way, Misher Films, 75 Year Plan
Worldwide distribution: Warner Bros.
Producers: Clint Eastwood, Tim Moore, Jessica Meier, Kevin Misher, Leonardo DiCaprio, Jennifer Davisson, Jonah Hill
Screenplay: Billy Ray, based upon the article "American Nightmare: The Ballad Of Richard Jewell" by Marie Brenner, based upon the book The Suspect by Kent Alexander and Kevin Salwen
Production design: Kevin Ishioka
Editing: Joel Cox
Cinematography: Yves Belanger
Music: Arturo Sandoval
Main cast: Sam Rockwell, Kathy Bates, Jon Hamm, Olivia Wilde, Nina Arianda, Paul Walter Hauser