Scott Graham's third film is set in a Scottish fishing port and takes inspiration from Bruce Springsteen's 'Born To Run'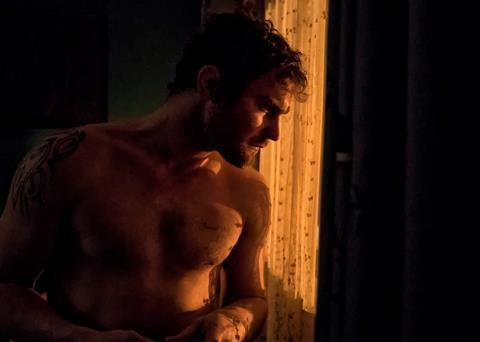 Dir/scr. Scott Graham. UK. 2019. 76 mins.
The second British film in 2019 to position Bruce Springsteen as a prophet for the trapped working classes (after Gurinder Chadha's buoyantly feelgood Blinded By The Light), the narratively under-fuelled Run is powered by a strong tank full of talent. With director Scott Graham, lead actor Mark Stanley, cinematographer Simon Tindall and notable sound design from Joakim Sundström, Run has everything it needs, lacking only a strong enough story to nourish its cinematic appetite.
This story of a frustrated man and the slow recognition of what really matters in his life could, indeed, have come from a Springsteen lyric
Scottish writer/director Graham's slim – at 76 minutes – drama is necessarily subtitled yet may play best to audiences who don't need any help understanding the local vernacular. Taking place during a long night for one angry soul, it is centred around frustrated middle-aged fish factory worker Finnie (Stanley) in the depressed port town of Fraserborough, a place which, to quote the Boss, rips the bones from your back. Coming to life during its breathless sequences of drag racing through the dark abandoned streets, Run should have local appeal and fans of the talented Graham's first two features, Shell and Iona, will certainly respond. Graham moodily captures the frustration of life in his own home town.
Run starts out with Finnie marking time in the dismal fish processing factory with his sulky teenage son Kid (Anders Mason). The day ends badly when Kid is ticked off by the floor manager and given his marching orders. Kid doesn't want the job, but his girlfriend Kelly (Marli Siu) is pregnant and this situation – a re-run of Finnie's own past - sets off an explosive rage within the 30-something father which prompts a night-long mid-life crisis. Finnie is jealous of Kid, with his whole life ahead of him – Finnie doesn't even have a car that works, while Kid races at night in own his souped-up vehicle – but he's also afraid that his son will end up in the same situation as him with a dead-end job where the week's highlight is Friday night fajitas and a six-pack of lager.
Finnie's anger continues through his attractive wife Katie's (Amy Mason) attempts to seduce and placate him, he's harsh with his youngest child Stevie, and he scrubs his hands bloody and raw in the shower. Despite their matching tattoos of 'Born to Run', Finnie and Amy haven't exactly ended up with the lives they wanted. But is it really that bad? Hostile and uncommunicative, Finnie isn't the easiest of people to spend time with, and sometimes it's hard to understand why his cheerful wife, who seems much younger, tries so hard in the face of such unrelenting surliness.
Yet the film finally gears up when Finnie takes Kid's car on a joy ride, explosively drag-racing through the town with the pregnant Kelly in tow. Boarded-up shops, the leisure centre, fist-fights outside the chip shop are all shot in the wheeling hypnotic orange street-light, and when Finnie floors the engine dangerously down at the dockyards, Run is even thrilling as waves crash over the sea wall and he risks his own and Kelly's future. While Finnie is clearly jolted by the obvious parallels between Kid's impending teenage fatherhood and his own, his spur-of-the-moment decision to "leave town and never come back" with Kelly seems like a radical over-reaction. The closeness between Kid and Amy and Finnie's seeking-out of Kelly are interesting, but remain under-developed.
Trying to hold the film together with minimal dialogue, Mark Stanley gives a strong, brooding performance, while newcomer Marli Siu makes the most of the chirpy Kelly, even with a limited backstory. Perhaps the most difficult aspect of the film to take on board is how Graham pushes his characters to the brink and then turns them around such a tight corner - its a fast and unsettliing shift down through the gears. This story of a frustrated man and the slow recognition of what really matters in his life could, indeed, have come from a Springsteen lyric, but the sketchiness of the premise doesn't really favour the full cinematic treatment it has been awarded here.
Production company: Bard Entertainment
International sales: Film Constellation, fabien@filmconstellation.com
Producers: Margaret Matheson, Ciara Barry, Rosie Crerar
Cinematography: Simon Tindall
Production design: Andy Drummond
Editing: David Arthur
Main cast: Mark Stanley, Marli Siu, Amy Mason, Anders Hayward