Merritt Wever and Domhnall Gleeson are no strangers in this Phoebe Waller-Bridge exec-produced train-set comedy/drama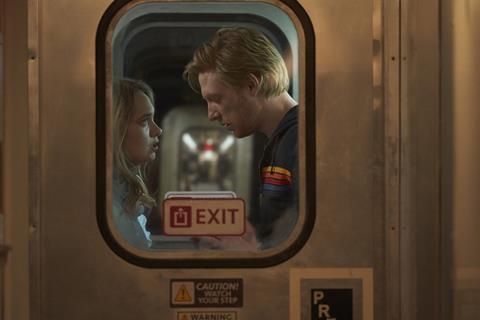 Run is high on its own elevated concept. Two former lovers, played by Merritt Wever and Domhnall Gleason at their most disarming, fulfil a college pact by texting that titular word to each other and immediately dropping everything – careers, families and lack thereof – to go on the lam, on Amtrak. In other words, it mines the rather attractive notion that there is no problem so big you can't run away from it (Covid-19 excepted).
Showrunner Vicky Jones is blessed with the combined charisma of Merritt Wever and Domhnall Gleason at his most relaxed - which is to say, his best – to fire up Run's engines
It takes showrunner Vicky Jones, a long-time collaborator of Phoebe Waller-Bridge (who executive produces Run and has a recurring role) a good half of her 7x30 minute episodes to hurdle the archness of that set-up and get down to the business of making entertainment, finally delivering on the show's billing as a comedy/drama around the episode three mark (appropriately entitled 'F***k'). Run would clearly like to go the distance, and probably has story arcs sketched into infinity, but Jones is essentially asking viewers to tune in for the warm-up with the first flirty, under-powered installments. Made by eOne for HBO (Sky Atlantic in the UK), the show is sold globally by Warner Bros Int TV Distribution, with the promise that the wait is worth it.
Any future series will require more muscle from the onset, but Jones is blessed with the combined charisma of Wever (Nurse Jackie, Unbelievable) and Irish actor Gleason at his most relaxed - which is to say, his best – to fire up Run's engines. These two fine performers play frustrated thirtysomethings who have absolutely no physical baggage as they board the train to Chicago at Grand Central Station, but are packing at least a carriage worth of emotional luggage for the journey.
Jones, who has collaborated with Waller-Bridge as far back as directing the original Edinburgh stage show of Fleabag, makes the wholly entertaining decision to set this initially flirtatious comedy almost entirely on trains, bringing a wealth of collective memory to the lover's seats from the passion of Shanghai Express to the drama of Strangers On A Train and the comedy of Some Like It Hot. It's an amusing set-up, and mined further by interludes in a carriage bar and a "roomette" as revelations are teased out and the former lovers dance around crossing their sexual Rubicon. Unlike the train, though, the show appears to be going precisely nowhere until Archie Panjabi makes an appearance in Episode Three during a Chicago layover, to be followed by Waller-Bridge in Five. And finally, we have speed; at last some edgy momentum.
Wever plays bored housewife Ruby Richardson, first seen sitting in her car outside a suburban branch of Target clutching her new yoga mat as the only hope for a future when all she clearly wants is her past back, in all its slimline, sexy glory. Gleason is the initially more-mysterious Billy Johnson, who, we will soon learn, is a successful self-help guru being stalked by a person called Fiona. Ruby and Billy were together in college, some 17 years ago, and that's where the 'Run' pact originated. Now, they've acted on their impulse but, for no other reason past spinning out the plot, refuse to discuss why as they resume an easily adversarial, feisty, bantering, sexy relationship. Clearly they were made for each other: what went wrong?
Emmy-nominated Kate Dennis (The Handmaid's Tale) directs the first three episodes of Run with a light touch, yet brings a richness to some settings, particularly the length and breadth of her train. And the show's intro, with Wever in a suburban car park, is a clever mesh of cutting and angles. Any director is going to find it hard to keep lovers on the edge of consummation for this long, particularly in episodic TV, and with nothing else in the tank. But Jones, who was script editor on Fleabag as well as writing an episode of Killing Eve, seems happy to accrue debts which later episodes will need to pay back. Let's face it, though: it has been almost exactly a year since Fleabag 2 finished on that note, and Killing Eve just hasn't been the same, so there's an appetite for anything from the PWB stable right now. And the viewing world certainly has the time to give Jones to step up from the wings.
Production companies: Eone for HBO/Sky Atlantic
International distribution: Warner Bros International Television Distribution
Creator, executive producer: Vicky Jones
Executive producers: Vicky Jones, Kate Dennis, Jenny Robins, Phoebe Waller-Bridge, Emily Leo, Oliver Roskill.
Main cast: Merritt Wever, Domhnall Gleason, Archie Panjabi, Phoebe Waller-Bridge