Swipe right for this lively examination of New Yorkers venturing onto dating apps during a pandemic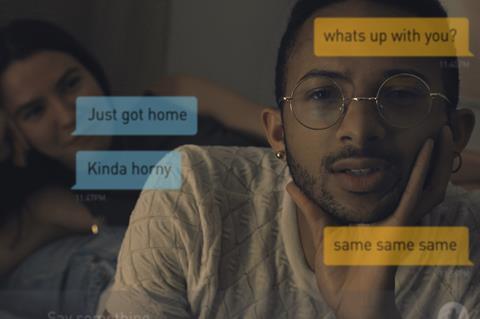 Dir: Pacho Velez. US. 2021. 81 mins.
Not even a global pandemic can halt the quest for love or the pursuit of a good time. Pacho Velez's affable documentary opens a window on the world of online dating among demanding New Yorkers. A solid premise is spun into an engaging, easygoing affair as Velez allows us to vicariously experience the snap judgements, plaintive yearnings and blind prejudices of a diverse cross-section of the population. Entertained audiences will be inclined to swipe right.
Searchers is all about the thrill of the chase and rarely about a happy ending.
Searchers showcases a New York of hand sanitisers and face mask wearing, but it still constitutes a love letter to the city and the resilience of its citizens. The sound mix captures the noise of a city still very much in business, and Velez puts the emphasis on a loved-up population with images of couples casually strolling hand in hand, smooching on the streets, posing for wedding photos or safe in their bubbles. It has the effect of making a romantic Manhattan seem an easy place in which to feel utterly alone.
Velez opens with a close-up of 24-year-old Shaq Shaq getting back in the game as he is observed scrolling through the seemingly endless possibilities on Tinder. Other apps visited in the course of the film include Grindr, Hinge, OK Cupid and Bumble. A range of emotions dance across Shaq's face as we watch his curious eyes widen, the fleeting smiles and grave reflections as he works his way through the menu. We never see what he sees, just a reflection back from what is being projected for him on a camera. His reactions to pictures and profiles provide the only sense of what lies out there.
The process is repeated throughout the film across the spectrum of age, race, gender and sexuality. The judgements are quick and often brutal. "Oh, he looks like a pumped-up Freddie Mercury," says dismissive 55-year-old Jon. The 22-year-old Caroline is seeking someone who is "unusual to a fault". And 88-year-old Helene still wants to have fun. A toupee is considered a no-no. A large forehead prompts rejection. A cute smile goes a long way in the rules of attraction.
We learn a lot along the way about older men seeking younger women and the language men deploy to convey that what they are really after is sex. Apparently, frequent use of the word intimacy is a giveaway. Subjects respond with candour, although an embarrassed Marc shoos his mother out of the room. "I was only in labour for 12 hours, excuse me," she complains on her exit.
Velez moves into the firing line by signing up for a dating app, negotiating the survey questions and describing what he might desire with a little help from his mother.
Searchers is invariably lively, amusing and highly watchable. There could be more mileage in the idea, perhaps even a TV series, but it is superficial. The pandemic context is almost irrelevant and Velez doesn't try to dig too deep or venture to the darker side of dating apps. One man talks of a sexual assault he suffered, one young woman cheerfully views any assignation as a potential financial arrangement. Velez mostly prefers to focus on the upbeat, finding little time to contemplate the consequences of an era where a fresh, fleeting connection is just a swipe away. Searchers is all about the thrill of the chase and rarely about a happy ending.
Production company/international sales: Asterlight, hello@asterlight.com

Producers: Pacho Velez, Joe Poletto, Cathy Tankosic, Sam Roseme
Editing: Hannah Buck
Cinematography: Daniel Claridge, Martin DiCicco
Music: Danny Fox