Marvel's new clan of warrior legends takes an energetic bow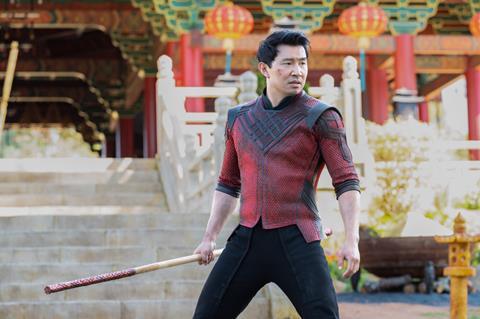 Dir: Destin Daniel Cretton. US. 2021. 132 mins.
Shang-Chi And The Legend Of The Ten Rings is part of the Marvel Cinematic Universe, but it's telling that the film works best when that fact is not so apparent. Starting strongly with a series of excellent action sequences and some delightful comedic banter, the franchise's 25th instalment is an uneven but entertaining mixture of fresh and familiar, chronicling a seemingly ordinary young man who embraces his destiny to become a martial-arts master. Simu Liu gives a charismatic, nicely understated performance, which helps mitigate the muddled storytelling — particularly when director Destin Daniel Cretton begins straining to deliver the sort of blowout extravaganza MCU fans expect.
It's a relief to watch a Marvel film that isn't encumbered by the maniacal need to tie up loose ends from other sequels.
Opening in the UK and US on September 3, this Disney release may face commercial obstacles since Shang-Chi isn't as ubiquitous a pop-culture fixture as Iron Man or Captain America. (Plus, the character hasn't appeared in previous Marvel films.) But rising star Liu is joined by a cast that includes Awkwafina, Benedict Wong, Michelle Yeoh and Tony Leung, helping to raise visibility for the first MCU film to feature an Asian main character.
Shaun (Liu) is a humble San Francisco valet working alongside best friend Katy (Awkwafina) when, one day, he is attacked on the bus by assassins. Much to Katy's shock, he's able to dispatch them with incredible fighting skills. Afterwards, Shaun confesses that he has been hiding a secret: his name is actually Shang-Chi and he ran away from China as a teenager because his father Wenwu (Leung), a ruthless thousand-year-old warrior, had trained him to be a killer.
The bulk of Shang-Chi is devoted to Shang-Chi, with Katy in tow, returning to China so that he can reunite with his equally adept younger sister Xialing (Meng'er Zhang), who has never forgiven him for abandoning her, and confront Wenwu, who sent the assassins to San Francisco. But Wenwu tells his son that Shang-Chi's dead mother Li (Fala Chen) has been contacting him from the great beyond, insisting that she's merely trapped in a magic realm — and that he needs Shang-Chi's help to free her.
Early on, the film is a fleet-footed action-comedy, with Cretton (Just Mercy) nicely balancing Shang-Chi and Katy's smart-aleck rapport with some electric hand-to-hand fight scenes. Cinematographer William Pope gives the images the peppy, glossy sheen common to MCU pictures, but outside of a throwaway reference to the events of Avengers: Endgame, there isn't much initially that connects Shang-Chi to the overall franchise. Eventually, though, a few MCU characters will emerge — including Doctor Strange's loyal sidekick Wong (Benedict Wong), and a surprise peripheral figure whose reappearance is cleverly handled but also somewhat overstays its welcome.
To a degree, Shang-Chi is closest in temperament to the Ant-Man standalone adventures in that the stakes aren't too immense and the irreverent humour is prominent. As played by the sweetly low-key Liu, Shang-Chi is such a modest individual that the proceedings feel agreeably small-scale. And, frankly, it's a relief to watch a Marvel film that isn't encumbered by the maniacal need to tie up loose ends from other sequels.
But after those early reels winningly establish Shang-Chi and Katy's friendship — with just a hint of a romantic spark thrown in — Cretton gets a bit bogged down in Wenwu's plan to save his wife. This requires seeking out Shang-Chi's noble warrior aunt Nan (Yeoh), who is convinced that it is not Li who is contacting Wenwu but an evil force hoping to be unleashed. Those interpersonal conflicts create an emotional through-line — Wenwu is so blinded by grief that he doesn't realise his grave mistake — and Leung does a fine job making this ostensible villain mournful and sympathetic. And yet, Shang-Chi's fraught relationship with his distant father — and his reluctance to take on the mantle of hero — can't help but feel like common dramatic tropes.
As the action sequences grow more elaborate, Shang-Chi loses a little of its personality, succumbing to de rigueur effects-driven spectacle. Granted, some of these scenes can be stunning, but the visual pizzazz means less than Liu's graceful navigation of this tale of a man who long ago fled his father and must finally face him. It's these intimate character moments that help distinguish Shang-Chi from other MCU pictures. Unsurprisingly, the story ends with the possibility that he'll join the Avengers — ironically, the more his film tries going its own way, the more of a kick it is.
Production company: Marvel Studios
Worldwide distribution: Disney
Producers: Kevin Feige, Jonathan Schwartz
Screenplay: Dave Callaham & Destin Daniel Cretton & Andrew Lanham, story by Dave Callaham & Destin Daniel Cretton
Production design: Sue Chan
Editing: Nat Sanders, Elísabet Ronaldsdottir, Harry Yoon
Cinematography: William Pope
Music: Joel P West
Main cast: Simu Liu, Awkwafina, Meng'er Zhang, Fala Chen, Florian Munteanu, Benedict Wong, Yuen Wah, Ronny Chieng, Zach Cherry, Dallas Liu, Michelle Yeoh, Tony Leung