Dir: Guy Ritchie. US. 2009. 133 mins.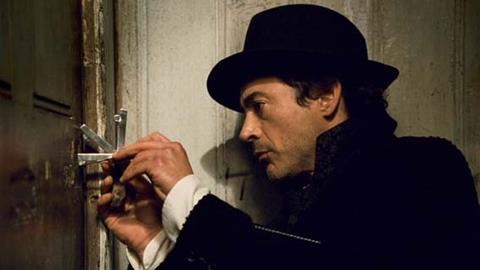 The world's most famous fictional detective returns to the big screen bearing six-pack abs and an effects-heavy action story, but this adrenalised Sherlock Holmes lacks the intelligence of its brilliant titular hero. Robert Downey Jr lends his not-inconsiderable wit to the proceedings as the brawny, brooding Holmes, but despite director Guy Ritchie's robust re-imagining, this picture struggles to transplant the 19th-century sleuth into the world of 21st-century Hollywood blockbusters.
While Downey Jr provides his usual devil-may-care charm, Sherlock Holmes ultimately feels like an excuse for high-energy action sequences
Opening on Christmas Day in the US (and the following day in the UK), this Warners release seems poised to become a sizable hit among action audiences, although Avatar could bite into that demographic. Even so, Sherlock Holmes is aiming at a wide base with its starry cast, love story, and a contemporary attitude towards its beloved central character.
In 1890s London, Sherlock Holmes (Downey Jr) and his trusty assistant Dr Watson (Law) have just apprehended the murderous Lord Blackwood (Strong), a master of the dark arts. After being executed, however, Blackwood rises from the dead to continue his wave of terror. Holmes must hunt the villain down while dealing with the unexpected return of former love Irene Adler (McAdams), a calculating American who still bewitches him.
Based on the iconic character created by Sir Arthur Conan Doyle, Sherlock Holmes tries to preserve the detective's milieu and crime-solving genius while introducing a big-budget adventure element. In films like Lock, Stock And Two Smoking Barrels, Guy Ritchie has embraced hyperkinetic action scenes, so his involvement in Sherlock Holmes is surely meant to give the movie a hip, modern-day spin that the studio hopes will help give rise to a new franchise (the movie's ending lays the groundwork for a sequel).
But while Ritchie (with the assistance of production designer Sarah Greenwood and cinematographer Philippe Rousselot) has recreated 19th-century London as a teeming metropolis akin to the Gotham City of the recent Christopher Nolan-helmed Batman films, the movie's overstuffed aesthetic soon takes precedence over everything else, including character and story.
Emphasising Holmes's interests outside of sleuthing – particularly his skill as a boxer – Richie wants Sherlock Holmes to be a dark, edgy, exciting adaptation. Holmes may still have his trademark pipe, but he has ditched the deerstalker hat and bookish demeanour for a roguish manner and buffed-up physique. Likewise, he and Watson are presented as a crime-fighting duo who get involved in elaborate action set pieces that are pitched at a hyperbolic level that quickly becomes numbing.
The desire to turn Conan Doyle's detective into a complicated action hero is intriguing, but after the recent cinematic reboots of Batman and James Bond, this approach has started to lose its novelty. More crucially, unlike the other two properties, Sherlock Holmes's personality and psyche aren't meaningfully explored in the new film. While Downey Jr provides his usual devil-may-care charm, this Sherlock Holmes ultimately feels like an excuse for high-energy action sequences rather than an attempt to breathe new life into a dusty literary icon.
The rest of the cast similarly suffers from Ritchie's preference for pyrotechnics. As Watson, Law nails the character's refined air, but the performance isn't permitted to evolve beyond that. McAdams has played sassy, fetching women in movies as diverse as Wedding Crashers and State Of Play, but she flounders in this period role. As for Strong, his Blackwood is a rather standard-issue villain, leaving the viewer hoping that the filmmakers will do a better job when Holmes's greatest nemesis, Moriarty, makes his assumed appearance in the next movie.
To sign up for Screen's weekly Reviews Newsletter with all the week's new releases, international openings and full festival reviews delivered free to your mailbox every Friday, please click HERE
Production companies
Village Roadshow Pictures
Silver Pictures
Wigram Productions
Domestic distribution
Warner Bros. Pictures
International distribution
Warner Bros. Pictures
Village Roadshow Pictures (select territories)
Producers
Joel Silver
Lionel Wigram
Susan Downey
Dan Lin
Screenplay
Michael Robert Johnson
Anthony Peckham
Simon Kinberg
From a screen story by Lionel Wigram and Michael Robert Johnson
Cinematography
Philippe Rousselot
Production designer
Sarah Greenwood
Editor
James Herbert
Music
Hans Zimmer
Main cast:
Robert Downey Jr
Jude Law
Rachel McAdams
Mark Strong
Eddie Marsan
Kelly Reilly