Dir: Martin Scorsese. US. 2009. 138mins.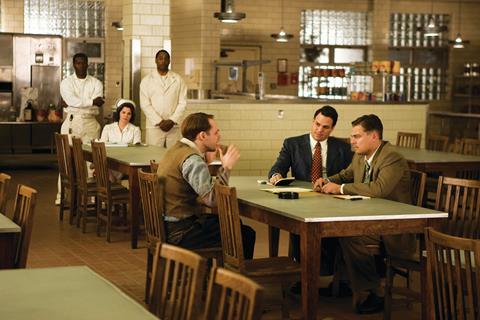 Clearly flawed but entirely involving, Shutter Island is a superb genre thriller elevated by director Martin Scorsese's consummate skill. Based on Dennis Lehane's novel about two federal marshals trying to track down an escaped patient from a remote mental institution, this occasionally operatic psychological drama weaves an impressive spell, and even though it overstays its welcome, the film is simply too engrossing to deny.
Scorsese focuses his energies on creating a pulpy, highly entertaining genre film which clearly harks back to the horror films of yesteryear
World premiering out of competition at the Berlin Film Festival and opening February 19 in the US and several other territories, Shutter Island caters to adult audiences, which will be attracted to this grown-up thriller because of Scorsese and Leonardo DiCaprio's involvement – Oscar winner The Departed ($290m worldwide) being their last collaboration in 2006. The commercial and critical success of Lehan's previously adapted Mystic River (by Clint Eastwood) and Gone Baby Gone will also help.
Shutter Island should benefit from strong reviews and a demographic that will respond to positive word-of-mouth to give it a much longer theatrical life than its opening weekend.
In 1954, Teddy Daniels (DiCaprio), a US Marshal haunted by the death of his wife (Michelle Williams), heads to Shutter Island with his new partner Chuck Aule (Mark Ruffalo) to determine the whereabouts of a missing psychopath (Emily Mortimer) from the island's renowned mental hospital. But hints soon arise that the hospital may be hiding dark secrets about its deranged patients.
As with The Departed, Scorsese focuses his energies on creating a pulpy, highly entertaining genre film. Considering Shutter Island's period trappings and creepy locales, the director is clearly harking back to the horror films of yesteryear, most notably The Cabinet Of Dr. Caligari, in which psychological scares and foreboding atmosphere are more important than any rampant gore. Done poorly, such cinematic referencing could potentially lead to an artificial tone, but Scorsese absorbs his influences so completely that Shutter Island never feels arid or self-conscious.
With the help of cinematographer Robert Richardson and production designer Dante Ferretti, Scorsese turns the film's principal setting, Ashecliffe Hospital, into a dank, claustrophobic lair that's perfect for the elegant mind games which will soon be visited upon Teddy as he tries to uncover the truth about the institution.
While it's little surprise that the Marshal's investigation will not go smoothly, Laeta Kalogridis's screenplay deepens the drama by digging into the characters' back-stories and teasing out possible answers for what's really going on at the hospital. Scorsese takes sizable risks with elaborate, wilfully melodramatic dream sequences and flashbacks that add to the film's temporal disorientation, but on the whole they're very successfully rendered, giving the audience the same sense of looming unease that plagues Teddy and Chuck.
In keeping with the film's increasingly surreal tone, music supervisor (and long-time Scorsese collaborator) Robbie Robertson draws from a diverse range of instrumental and pop music which is sometimes representative of the era (such as Johnny Ray's crooning '50s ballad Cry) but occasionally more contemporary (such as minimalist composer John Adams' gorgeous '70s orchestral piece Christian Zeal And Activity), which furthers Shutter Island's strategy of faithfully adhering to its time period while simultaneously evoking a mind-state that seems to transcend chronological boundaries.
Unfortunately, at well past two hours in length, Shutter Island can't maintain its feverish grip on the audience, as certain thematic points and narrative tricks are repeated until they lose their potency. In addition, the mystery's outcome, though masterfully delivered, isn't entirely a surprise, which makes its slow reveal somewhat anticlimactic.
Still, the performances are largely first-rate. DiCaprio can sometimes still seem too baby-faced to fully embody the role of the emotionally tortured Teddy, but he remains an extremely empathetic actor. Ruffalo perhaps leans too heavily on noir clichés for his role as Teddy's loyal partner, but Ben Kingsley perfectly embodies his part as the institution's brilliant (and potentially diabolical) head doctor.
To sign up for Screen's weekly Reviews Newsletter with all the week's new releases, international openings and full festival reviews delivered free to your mailbox every Friday, please click HERE
Production companies
Phoenix Pictures
Sikelia Productions
Appian Way
US distribution
Paramount Pictures
International distribution
Paramount Pictures International
Universal Pictures International
Producers
Mike Medavoy
Arnold W. Messer
Bradley J. Fischer
Martin Scorsese
Screenplay
Laeta Kalogridis
Based on the novel by Dennis Lehane
Cinematography
Robert Richardson
Production designer
Dante Ferretti
Editor
Thelma Schoonmaker
Music supervisor
Robbie Robertson
Main cast
Leonardo DiCaprio
Mark Ruffalo
Ben Kingsley
Michelle Williams
Emily Mortimer
Patricia Clarkson
Max von Sydow