A mute girl struggles for aceptance in a remote Turkish village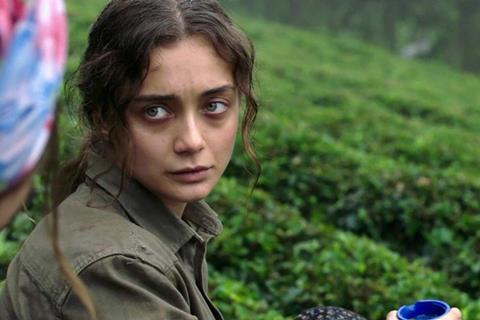 Dirs Çagla Zencirci, Guillaume Giovanetti. Fr-Ger-Lux-Tur. 2018. 95mins
A downtrodden outsider finally gains a sense of her own worth in Sibel. The latest collaboration between Çagla Zencirci and Guillaume Giovannetti (Noor, Ningen) offers a nicely shaded, satisfying tale of female empowerment with a striking central performance from Damla Sönmez. It should connect emotionally with Festival programmers, with its relevant themes suggesting the possibility of some commercial traction.
The film's ace is Damla Sönmez, who is fiercely committed to the role
Sibel (Damla Sönmez) has been mute since the age of 5 and communicates using the whistled language of her ancestors. Her father Emin (Emin Gürsoy) is one of the few who can still understand her in the remote village where they live, nestled in the Black Sea mountains of Turkey. It is an area of natural, rugged beauty that cinematographer Eric Devin captures in the bright glare of sunlight. It also an area that seems stubbornly wedded to a past ruled by superstition, patriarchal values and adherence to a code of family honour regardless of the consequences for individuals.
Shunned by the women of the village who consider her a sign of bad luck, Sibel has one friend in elderly spinster Narin (Meral Cetinkaya). The latter is something of a Miss Havisham figure, still keenly awaiting the return of a lost love who was supposed to marry her. The implication is that her lonely, reclusive life in the forest could be Sibel's future.
Sibel works hard to find some means of endearing herself to her fellow villagers. She is always in breathless motion, picking crops in the fields, chopping wood, cooking for her father and younger sister. It is as if hard graft acts as a necessary distraction from her oppression. She is also hunting a wolf that is said to prowl the area. If she can kill it then surely that will win her acceptance?
There are definite fairytale elements in Sibel. A big bad wolf keeps everyone in fear. Sibel's domestic life makes her the Cinderella of the family and her spiteful sister Fatma (Elit Iscan) could just as easily be a wicked step sister. Her Prince Charming arrives in the shape of Ali (Erkan Kolçak Köstendil), an injured fugitive from justice. Her acts of defiance to protect and care for Ali put her on a collision course with her father, the local mayor, but also become the means by which she can express her independence.
A tight, focused piece of storytelling, Sibel is impressive in the way it also embraces the journeys of the other characters. Sibel's newfound defiance and confidence in herself also changes her sister and allows her father to actively embrace a more modern view of the world.
The film's ace is Damla Sönmez, who is fiercely committed to the role. Her blazing eyes speak volumes about her sense of injustice and her use of the whistled language throughout seems natural and effortless. It is impossible not to identify with her and want to fight her corner.
Production companies: Les Films du Tambour, Riva Filmproduktion, Bidibul Productions, Mars Production, Reborn Production
International sales: Pyramide sales@pyramidefilms.com
Producers: Marie Legrand, Rani Massalha, Michael Ekett, Johannes Jancke, Marsel Kalvo, Nefes Polat, Christel Henon, Lilian Eche
Screenplay: Çagla Zencirci, Ramata Sy, Guillaume Giovanetti
Editing: Veronique Lange
Cinematography: Eric Devin
Music: Basel Hallak and Pi
Main cast: Damla Sönmez, Emin Gürsoy, Erkan Kolçak Köstendil ,Elit Iscan