Sing 2 dials up the volume, adding Bono to the all-star voice cast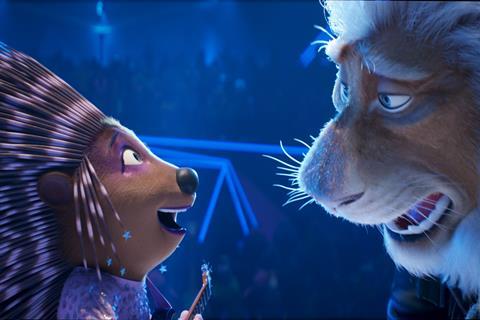 Dir/scr: Garth Jennings. US. 2021. 110 mins.
Like the 2016 original, Sing 2 is in the volume business — both in terms of the sheer amount of songs on the soundtrack and also the amplified quality of the musical performances. But for all its "let's put on a show" spectacle, this sequel suffers from the inevitable diminished returns that come with trying to top what was already a fairly overstuffed first instalment. Consequently, Sing 2's litany of pop, rock and hip-hop covers, belted out without much subtlety or nuance, starts to become wearying, with the story proving to be something of a repeat from the previous picture.
Goes so big that it feels impersonal — a whirling dervish of catchy covers and bright colours that doesn't have enough small, intimate moments
Universal premiered Sing 2 at AFI Fest, with the animated family film opening in the US around Christmastime before landing in the UK in late January. Most of the Sing voice cast are back, with the notable exceptions of Seth MacFarlane and John C. Reilly, and newcomers such as Bobby Cannavale and Bono join a star-studded ensemble headlined by Matthew McConaughey, Reese Witherspoon and Scarlett Johansson. The original brought in about $630 million globally, and considering the ubiquity of singing and dancing competitions on television — to say nothing of the rise of TikTok — it's hard to imagine audiences passing up this encore.
After the events of the first film, theatre promoter Buster Moon's (McConaughey) musical revue is now a smash success, but the koala with big dreams has his sights set on taking the troupe to Redshore City, a Vegas-like metropolis full of dazzling stage shows. After impressing the intimidating entertainment-mogul wolf Jimmy Crystal (Cannavale) with their vision for a space-themed extravaganza, Buster must track down the elusive lion Clay Calloway (Bono), a legendary rock star who went into seclusion after the death of his wife. Buster has promised Jimmy that he can convince Clay to lend his tunes to the show, and now he has to deliver — or the mogul may have him killed.
Garth Jennings returns as writer and director, reuniting his collection of quirky animals — including Witherspoon's harried mother pig Rosita and Johansson's guitar-rocking porcupine Ash — for a new adventure. But whereas the first film — which also overdid the jukebox-musical approach of throwing a massive quantity of songs at the audience — explored why music meant so much to these characters, Sing 2 seems less interested in its participants. Instead, Jennings focuses on the plot as Buster quickly prepares this ambitious new show for its debut while trying to stay on fearsome Jimmy's good side.
Much hinges on whether Clay will agree to come out of retirement, and because Bono voices the character, U2 songs are featured prominently during tender moments. (Though ultimately inconsequential, it's amusing in the Sing franchise that the origin of the songs the characters sing is never explained. U2, Adele, The Weeknd, Coldplay and scores of others apparently don't exist in this animal-centric world, but their hits do.) Ash attempts to coax Clay into embracing life again and getting back on stage, but despite the inherent heaviness of Clay's melancholy backstory, his grief is handedly rather glibly — mostly as a plot obstacle toovercome so that the glitzy finale can proceed as planned.
McConaughey brought a fast-talker's charisma to Buster in Sing, while also locating a little pathos under his huckster demeanour. But he too has less to do in this sequel, which is consumed with narrative busyness. Of the returning cast, Taron Egerton probably gets the most substantial part, his piano-playing gorilla Johnny having to learn some unfomfortably complicated dance moves. Jennings occasionally harnesses the gravity-defying freedom of animation to translate these songs' unbridled emotions into soaring visuals, but he mostly copies the first film's narrative arc to have everything riding on our animal heroes' ability to perform a flawless, show-stopping ending.
Sing was also rambunctious in its frenzied desire to keep viewers laughing or singing along every minute, but at the same time, it established enough of a bond between these underdog characters pursuing their love of music that there was heart underneath the razzle-dazzle. By comparison, Sing 2 goes so big that it feels impersonal — a whirling dervish of catchy covers and bright colours that doesn't have enough small, intimate moments. Even the best singers need to take a breath from time to time.
Co-director: Christophe Lourdelet
Production company: Chris Meledandri Productions
Worldwide distribution: Universal Pictures
Producers: Chris Meledandri, Janet Healy
Editing: Gregory Perler
Music: Joby Talbot
Main voice cast: Matthew McConaughey, Reese Witherspoon, Scarlett Johansson, Taron Egerton, Bobby Cannavale, Tori Kelly, Nick Kroll, Pharrell Williams, Halsey, Chelsea Peretti, Letitia Wright, Eric Andre, Adam Buxton, Garth Jennings, Peter Serafinowicz, Jennifer Saunders, Nick Offerman, Julia Davis, Bono