A very human portrait of football's towering giant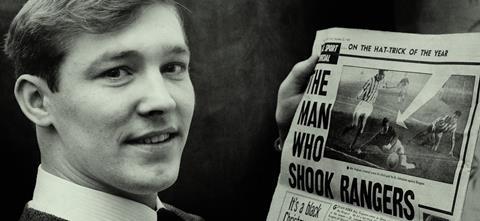 Dir. Jason Ferguson. UK. 2021. 109 mins.
Sir Alex Ferguson: Never Give In is not the cigar-smoking, pacey, puffer-jacketed manager memoir you might have expected from the man known as football's greatest gaffer. Supple and reflective, it is instead a rumination on the life of a tough-minded man at the precise point where he is forced to wrestle with his own mortality. Shot shortly after Ferguson's brain haemorrhage in 2018 but fielding a remarkably evocative edit of archive footage stretching back to 1940s Glasgow, this documentary astutely captures the sense of a vulnerable champion looking back at a past he has dominated at the very point where he realises it may all be taken away from him.
He has no memory of his stroke, or the days that followed, and the most decorated football manager in the history of the sport is concerned he may lose his past
Alex Ferguson: Never Give In was made by Ferguson's adult son Jason and features contributions from his two other sons and wife of 54 years, Cathy. It's this familial closeness which allows the film to become more than a standard sports documentary as the 79 year-old relaxes into his cherished memories. Strong production values, meanwhile, and a smart edit by Gregor Lyon bring us back to the days of Ferguson's youth in the shadow of the Clyde shipyards. Premiering at the GFF before a UK rollout through Universal on May 27, followed by Amazon Prime two days later, Never Give In to a certain extent follows in the recent footsteps of Being AP, or Katie, but there's more to think about here. "I never looked back because there was always tomorrow," says Ferguson. Now he knows otherwise.
Even with only a basic knowledge of football, Sir Alexander Chapman Ferguson is an interesting man – an outlier throughout his career - and his personal story proves compelling. While documentaries about sports champions always prove the lie that they're anything like you or me, Ferguson's success is even more unusual in that the biggest part of it involved team work, even though there was nothing team-like about the complete control he exerted at Manchester United for 26 years. What's striking about his career is the mental toughness and acuity he displays throughout, his instinct and pugnacious personality forged in the working class Govan district of Glasgow, where his father worked on the shipyards for 40 years. This is an arresting contrast with 2018's fearful patient testing his mental abilities with his son.
Identity is important to Ferguson as Jason starts the interviews: he has no memory of his stroke, or the days that followed, and the most decorated football manager in the history of the sport is concerned he may lose his past. Images of Glasgow swirl to a well-judged score by Andrew Phillips as Ferguson's story swims into view. This documentary features plentiful home video footage alongside photographs and mementos of his past, including as an apprentice toolmaker and shop steward and part-time footballer in the Scottish leagues. Ferguson also talks of a three-year period where he drank and fought and fell out with his father, booking a ticket to emigrate Canada, all of which changed when he became the first footballer to score a hat-trick at Ibrox Stadium. As a Protestant, marrying a Catholic was no advantage when he played for Rangers, and the end of his time there stings to this day.
Through his story, there's a growing sense of the experiences that would made him great, but also how impossible it would be to replicate the resulting sports psychology in a university lecture hall. (It's not even certain that his close-up barracking of players would be allowed today - "I don't think there's anything wrong in losing your temper if it's for the right reasons," he says, defiantly.) But it's also clear that he had a lot in common with the talented young men, many from extremely modest - if not dirt-poor - backgrounds who are thrust into sporting fame and fortune, and that knowledge gave him an edge.
Interviews are sparse and well-judged and this documentary is not a roll-call for Man U talking heads. Gordon Strachan, a longtime frenemy from back in the day, gives some pithy comments, and Ryan Giggs, whom Ferguson targeted at the age of 14, leaves no doubt that Ferguson's approach was tough and love in both extremes. Scenes of puce-faced yelling from the touchline seem to indicate he's lucky to have made it to 2018 before suffering a stroke. Eric Cantona, known for his own temper, comes on to prove that Ferguson knew how to modulate his managerial tactics. "I could give my life to him," says the Frenchman, an emotional declaration you can imagine Ferguson having no truck with.
This is a personal piece: memoirs have been written and grudges long since aired and buried, allowing us to look at an exceptional man who, you get the sense, will never be matched due to the peculiar set of circumstances which brought him to Old Trafford, not least his fierce Scottish socialist background. There's also the sense that Ferguson wants to pay overdue public tribute to Cathy. "She brought up the kids alone, and I'm no proud of that," he says, with all three sons confirming the truth of that statement. There's something quite irresistible about the idea Never Give In leaves the viewer with, of a smiling Ferguson recovering from his illness, going about his business in his tartan-carpeted Cheshire home, although an entirely tame Fergie is evidently out of the question.
Production companies: Passion Pictures, DNA Films
International sales: Passion Pictures (Universal holds world rights outside the US).
Producers: Jason Ferguson, Andrew Macdonald, John Battsek, Allan Reich.
Screenplay: Mark Monroe
Editing: Gregor Lyon
Cinematographer: Will Pugh
Music: Andrew Phillips