Dir. Bruno Dumont. France-Germany. 2016. 122 mins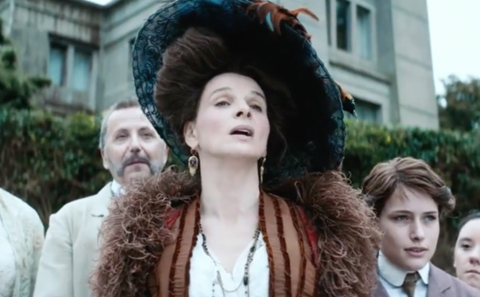 French auteur Bruno Dumont pushes the boat out once again – into murky comic waters and into the mussel beds of Northern France's Côte d'Opale. This black comedy of manners is a follow-up to his 2014 TV mini-series P'tit Quinquin. The idea of a comedy from France's arch-auteur of existential solemnity seemed counter-intuitive, but the production attracted 1.6 million viewers on French TV, and scored respectable stand-alone theatrical presence. Despite its starry cast and stunning production values, the period-set Slack Bay seems unlikely to win a vast following either in France – where it's released simultaneously with its Cannes premiere - or abroad, as its humour is too downright weird and disconcerting. Besides, this knowingly excessive brew of cartoonish knockabout and macabre comedy horror just isn't that funny.
Perhaps there are only so many times you can laugh at a fat man tumbling down a sand dune.
The setting is 1910 on France's northern coast, where weatherbeaten locals the Bruforts – headed by lifeboat skipper dad 'The Eternal' (Thierry Lavieville) – make a living picking mussels and ferrying holidaymakers across stretches of water, Dad and saturnine son Ma Loute (impressive scowler Brandon Lavieville) sometimes carrying them bodily.
Every summer, Slack Bay, site of a mock-Egyptian folly, is holiday venue to posh townies the Van Peteghems: affected spouses André and Isabelle (Fabrice Luchini, Valeria Bruni Tedeschi), their daughters, André's sister Aude (Juliette Binoche) and her progeny Billie (Raph), a husky-voiced beauty, apparently a girl who dresses as a boy, or possibly vice versa. S/he seems the only sane one among a wildly affected, borderline-hysterical bunch who are forever oohing and aahing about the sublimity of the landscape, or variously swooning, lapsing into undignified pratfalls or indulging – in Luchini's case - in quasi-Pythonesque silly walks.
Also in the vicinity are a Laurel and Hardy duo of bumbling cops –mountainous Inspector Machin (Didier Després) and assistant Malfoy (Cyril Rigaux). They're investigating some mysterious disappearances – but fail to notice when a corpse is dragged across the screen in their wake.
The solution, revealed soon into the story, is grisly indeed – funny at first, although Dumont's characteristic occupation with the intransigently bestial in humanity becomes gradually bleaker. Dumont watchers will note that Slack Bay repeats themes that he has reworked repeatedly since his 1999 quasi-policier, Humanity. In many ways, it's a period remix of L'il Quinquin – bloody crimes, dopey cops, taciturn locals, mock-sentimental romance, and the deliberately provocative casting of ungainly non-professionals. There's a new ingredient, however – the nest of preening gentlefolk, giving Luchini, Bruni Tedeschi and especially Binoche the chance to crank their eccentricities to the grotesque extreme, to comic effect that's surprising at first, but quickly becomes grinding.
Unlike the charming doofus sleuth of Quinquin, Machin is treated largely as a farcical hulk, his clumsiness underlined by comedy sound design. Perhaps there are only so many times you can laugh at a fat man tumbling down a sand dune.
The film's humour is essentially primitive – in the sense that Dumont has professed himself to be harking back to the silent comedy of French pioneer Max Linder. Slack Bay is conceptual humour - all about confronting the viewer with jarring discrepancies of tone. Thus the gap between the crudeness of the wit and the absolute sublimity of the visuals: Guillaume Deffontaines's widescreen photography, with seascapes in a wide palette of rich blues, is unfailingly painterly and ravishing. Another impressive touch is the use of ripely Romantic orchestrations by little-known Belgian composer Guillaume Lekeu (1870-94).
Production companies: 3B Productions, Arte France Cinema, Pallas Film, Twentytwenty Vision
International sales: Memento Films International, sales@memento-films.com
Producers: Jean Bréhat, Rachid Bouchareb, Muriel Merlin
Screenplay: Bruno Dumont
Cinematography: Guillaume Deffontaines
Editors: Bruno Dumont, Basile Belkhiri
Production design: Riton Dupire Clément
Main cast: Fabrice Luchini, Juliette Binoche, Valeria Bruni Tedeschi, Jean-Luc Vincent, Raph, Brandon Lavieville