Dir: Oliver Stone. Germany/US. 2016, 134mins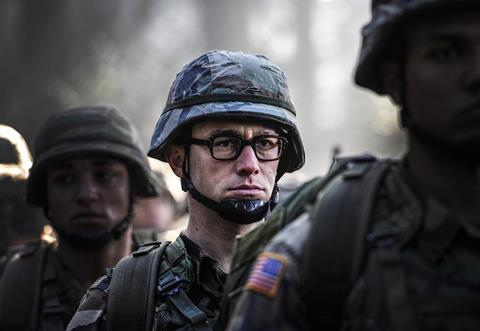 Was Edward Snowden a patriot or a traitor in 2013 when he revealed sensitive information about the US government's secret surveillance of its citizens? What's disappointing about Oliver Stone's biopic is that, for all its intriguing ideas and mash-up of genres, it fails to engage with the complexity of that question. Joseph Gordon-Levitt nails Snowden's meek exterior and cool intelligence, but Snowden leaves its main character unsatisfyingly opaque.
Snowden ought to be in Stone's thematic wheelhouse: government hypocrisy, the failure of America to live up to its promise, and the power of the media are the film's central topics
Arriving in US theatres on September 16, this Open Road release will benefit from the timeliness of the subject matter. The 2014 documentary Citizenfour, also about Snowden, won an Oscar, and this summer's Jason Bourne based part of its plot on societal anxieties about privacy in the internet age. But it's uncertain how much of a draw Snowden will be outside of those invested in this debate.
The film stars Gordon-Levitt as Snowden, a former analyst for the CIA and NSA who, when we first meet him, is hiding out in a Hong Kong hotel room with documentary filmmaker Laura Poitras (Melissa Leo) and journalists Glenn Greenwald (Zachary Quinto) and Ewen MacAskill (Tom Wilkinson). Ed, as everyone calls him, is about to reveal the information he has on American government surveillance, Snowden intercutting these conversations with flashbacks which flesh out his backstory and his long, uneasy relationship with girlfriend Lindsay Mills (Shailene Woodley).
Snowden ought to be in Stone's thematic wheelhouse: government hypocrisy, the failure of America to live up to its promise, and the power of the media are the film's central topics. But although the Oscar-winning director tones down the stylistic flourishes that have long been his hallmark, he substitutes them with only a fitfully compelling look at a bright young man who decides one day he can no longer participate in the intelligence community's spying on ordinary citizens.
In films like Nixon and W., Stone has gone out of his way to humanise divisive figures, presenting layered portraits in the process. By contrast, Snowden plays like a conventional biopic that tries to "explain" its protagonist by tracking the development of his romantic relationship with Lindsay. Woodley is a sharp, lively presence as Ed's girlfriend, balancing his timidity with her passionate spark, and the two actors have a cute rapport. But it's faintly condescending to sum up Ed's complicated feelings about his top-secret work through a love story, essentially turning Lindsay into the frustrated voice of reason who inspires him to change.
The film's flashback structure offers intermittent character shading as we watch how Ed wanted to give back to his country from an early age. Angered by the 9/11 attacks, he joins the military before breaking both of his legs and turning to high-tech intelligence work to help defeat America's enemies. With Ed as our guide, Snowden becomes a thumbnail sketch of US espionage strategy during the 21st century. But the various mentors and colleagues he meets along the way are only mildly engaging, mostly serving as cautionary tales meant to provoke Ed to realise that the patriotic principles he thinks he's fighting for — liberty, freedom, protecting the US from another 9/11 — are all excuses for the country to beef up its unlawful worldwide surveillance program.
Even when Stone focuses on the 2013 leak of government information, dramatised through tense meetings in that Hong Kong hotel room, Snowden is a bit underwhelming, in part because audiences have seen the actual incident play out on camera in Poitras' Citizenfour.
As with last year's The Walk, Gordon-Levitt disappears into a real-life role, impressively handling the analyst's gravely voice and slightly awkward manner. But it's not a performance that suggests an attitude about the character or a way of perceiving him. Probably intentionally, Gordon-Levitt wants Snowden to remain a mystery, his willingness to risk prison to do what he thought was right left teasingly enigmatic.
Stone's mixture of paranoid thriller, political commentary and romantic drama keeps Snowden feeling busy without ever being particularly engrossing or enlightening. Frustratingly, Snowden remains a ghost in the machine.
Production companies: Open Road Films, Endgame, Borman/Kopeloff Productions, Vendian Entertainment, TG Media, KrautPack Entertainment
International sales: Wild Bunch, cbaraton@wildbunch.eu and obarbier@wildbunch.eu
US distributor: Open Road Films, www.openroadfilms.com
Producers: Moritz Borman, Fernando Sulchin, Phillip Schulz-Deyle, Eric Kopeloff
Executive producers: Bahman Naraghi, José Ibáñez, Max Arvelaiz, Tom Ortenberg, Peter Lawson, James Stern, Douglas Hansen, Christopher Woodrow, Michael Bassick
Screenplay: Kieran Fitzgerald & Oliver Stone, based upon the book The Time Of The Octopus by Anatoly Kucherena and based on the Guardian book by Luke Harding
Cinematography: Anthony Dod Mantle
Production design: Mark Tildesley
Editors: Alex Marquez, Lee Percy
Music: Craig Armstrong and Adam Peters
Website: www.snowdenfilm.com
Main Cast: Joseph Gordon-Levitt, Shailene Woodley, Melissa Leo, Zachary Quinto, Tom Wilkinson, Scott Eastwood, Logan Marshall-Green, Timothy Olyphant, Ben Schnetzer, Lakeith Lee Stanfield, Rhys Ifans, Nicolas Cage