Riz Ahmed and Olivia Cooke star in this striking debut from Darius Marder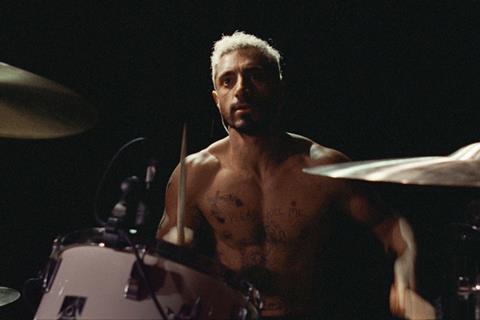 Dir. Darius Marder. US. 2019. 130 mins
It's a particularly cruel twist of fate. Music, for rock drummer Ruben (Riz Ahmed, excellent), is more than a career. It's his life. Music, together with his girlfriend, is the addiction that replaced the drugs he quit four years before. When suddenly, without warning, he suffers from catastrophic hearing loss, it takes with it everything he lives for and many of the reasons to stay clean. Ahmed is superb in this impactful drama which explores attitudes towards and questions about disability.
A picture which uses the medium of cinema to its fullest extent, both visually and aurally
This remarkably assured debut from Darius Marder (who co-wrote the screenplay for Derek Cianfrance's The Place Beyond The Pines) announces him as a talent to watch. Co-written with his brother Abraham, the film is partly inspired by the experiences of their own grandmother who went deaf in her 60s after taking antibiotics. It's a picture which uses the medium of cinema to its fullest extent, both visually and aurally. The distinctive approach to disability, still a subject which is under-explored and under-represented in film, should ensure both further festival berths and theatrical interest.
Ruben and his girlfriend Lou (Olivia Cooke) make the kind of music which sounds as though it was distilled from pure anger. After each thrashed-out provincial gig, they curl up together in their airstream RV. It's a nomadic lifestyle, but they have all the security they need in each other. There's a sense that both are broken in some way. She has neat rows of scars on her inner arms, and scratches her skin compulsively. He has the words 'Please Kill Me' tattooed on his chest.
When Ruben loses his hearing, Ahmed's already angular performance sharpens. He goes on the defensive, raging against any suggestion that he might have to radically alter his lifestyle. "I don't need you turning against me," he snaps at Lou, after she suggests he get help. But Lou, wide-eyed with fear, takes control – her immediate worry is that this will send him back to the drugs. She finds a deaf addiction group, run by Vietnam veteran Joe (Paul Raci), which is part of a bigger deaf community which is united by the philosophy that deafness is not a disability, not something that needs to be fixed. Ruben reluctantly stays at the facility, but can't fully commit to the ideology. He clings to the idea that getting cochlear implants will somehow restore his previous life.
The film uses deaf, hard of hearing, and CODA (Children of Deaf Adults) actors in the deaf roles, which is essential for the authenticity of the story. But perhaps even more important is the bold sound design which effectively takes us inside the experience of Ruben's hearing loss. Most striking is the recreation of sound after Ruben has cochlear implants. "It's not like sound as you remember," the doctor explains, as Ruben recoils from the scraping distortion that is piped into his brain. The difference is painfully clear when he tries to listen to music.
Gradually the film tunes out the experience of the hearing audience and substitutes Ruben's version. And it's monstrous, a deformed approximation which picks up only ugliness. Ahmed's eyes register sadness so deep you could drown in it when he realises that his relationships with the two great loves of his life, Lou and music, are changed forever.
Production company: Caviar
International Sales: Protagonist info@protagonistpictures.com
Producers: Bert Hamelinck, Sacha Ben Harroche, Bill Benz, Kathy Benz
Screenplay: Darius Marder, Abraham Marder
Production Design: Jeremy Woodward
Editing: Mikkel E.G Nielsen
Cinematography: Daniël Bouquet
Music: Nicolas Becker, Abraham Marder
Main cast: Riz Ahmed, Olivia Cooke, Mathieu Amalric, Lauren Ridloff, Paul Raci