Dir: Stephen Page. Australia. 2015. 84 mins.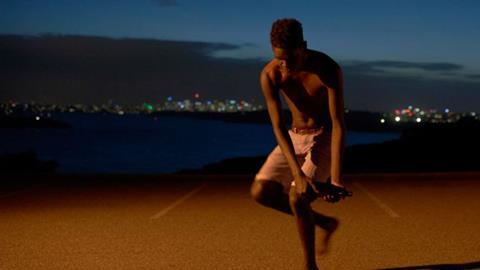 Evocatively translating Sydney-based Bangarra Dance Theatre's performance piece of the same name from the stage to the screen with immediacy and insight, Spear isn't your average theatre-to-film offering.
What proves abstract and even somewhat challenging in isolation evolves to form a thriving mass both intricately complex and breathtakingly compelling.
With the precision of its titular implement, the largely dialogue-free effort slices through the indigenous Australian experience from the vantage point of a teenage boy coming of age and coming to terms with his culture in current times.
Unravelling in a whirlwind of arresting aesthetics, the feature seems destined to continue a strong festival run after premiering in Toronto's Discovery strand and having its first homegrown showing in Adelaide.
Spear veers from the usual dance movie mould. That's a credit to Stephen Page, making his feature directorial debut after two-plus decades as Bangarra's artistic director, serving as choreographer for Bran Nue Dae and The Sapphires, and directing one segment of The Turning.
Adapted by Page with television veteran Justin Monjo (Farscape), perhaps its closest recent counterpart is Rufus Norris' London Road, another stylised, visually and emotionally bold feature synthesizing real-life events into a symphony of mood, movement and meaningful commentary.
In that vein, Spear eschews typical notions of narrative, as apparent from the moment cinematographer Bonnie Elliott's (These Final Hours) camera hovers over a seaside precipice.
The feature's cast of characters is spied strewn across the rocky landscape, waiting to be introduced and explored as the film's 84 minutes play out. Chief among them is Djali (Hunter Page-Lochard, an original cast member from the theatre version, and the director's son), a youth scouring his heritage for answers about his encroaching manhood. Embracing the past of his people to help shape his future, his role as the viewer's surrogate is clear.
As Djali processes the clash of Aboriginal myths with modern realities as part of his own maturation, so do those watching. Together, after participating in a cleansing ceremony by the stony shore, they trek between the dusty, sunny outback and the gritty, grey-lit city streets, wandering through fluidly choreographed scenes — in prisons, railway stations, and dance halls, among other locations — charting the complicated history of indigenous Australians.
Sometimes, the wise, wordless Old Man (Demala Wunungmurra) accompanies Djali, reluctant in his surroundings but assured in his status as a symbol of the tentative pairing of the old and the new. Other times, the homeless Suicide Man (Aaron Pedersen) crosses his path, a victim of marginalization that can only lead to misfortune, as made plain in the sad story he spouts to anyone who will listen.
Thematically, as the ostensibly disparate segments are deftly threaded together by editor Simon Njoo (The Babadook), anyone already acquainted with the many issues chronicled in Spear will land in recognisable territory. Thankfully, those outside of Australia and less familiar with the reality that informs the feature aren't left to languish. Spear may wear its cultural specificity on its sleeve, but its contemplation of ostracism, discrimination, appropriation, violence and abuse — and finding hope amid despondency, too — is rarely anything less than universally relevant and relatable.
Indeed, in a case of the whole mirroring its individual parts, what proves abstract and even somewhat challenging in isolation evolves to form a thriving mass both intricately complex and breathtakingly compelling. Here, the movie's immersive artistic approach proves pivotal, as it does in fleshing out a 40-minute dance theatre work into a film twice that length that never feels elongated.
David Page's dramatic fusion of traditional and contemporary sounds ably assists, crafting a layered, lingering score that sweeps the audience along; however the expressive performances and exquisite dance sequences provide stunning sights to match the movie's sonic impact.
As Spear shoots towards its conclusion, the end product is a sharp, sensory display teeming with physicality, making an overt statement and offering a striking spectacle.
Production company: Arenamedia Pty Limited
International sales: LevelK, tine.klint@levelk.dk
Producer: John Harvey
Executive producers: Robert Connolly, Liz Kearney
Screenplay: Stephen Page, Justin Monjo
Cinematography: Bonnie Elliott
Editor: Simon Njoo
Production design: Jacob Nash
Costume design: Jennifer Irwin
Music: David Page
Main cast: Hunter Page-Lochard, Djakapurra Munyarryun, Aaron Pedersen, Demala Wunungmurra