Miles Morales battles with the responsibility of being Spider-Man in this impressive animated sequel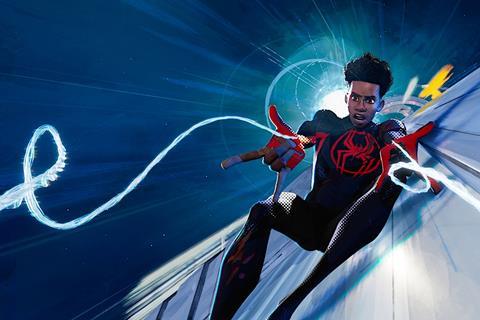 Dirs: Joaquim Dos Santos, Kemp Powers, Justin K. Thompson. US. 2023. 140mins
A stirring follow-up that tops the formidable original, Spider-Man: Across The Spider-Verse draws us deeper into Miles Morales' saga while offering the same stunning animation, dazzling set pieces and irreverent humour. As is often the case with second chapters, this sequel is more ambitious and sports a darker tone. Yet directors Joaquim Dos Santos, Kemp Powers and Justin K. Thompson prove equal to the task, delivering one of the most vibrant and emotional superhero films of recent times and setting the stage for a Part Three that fans of the franchise will anxiously await.
There's real heart underneath the jokes as Miles grapples with the responsibility of being a superhero
It's been five years since Spider-Man: Into The Spider-Verse became a sleeper sensation, grossing $384 million worldwide and winning the Oscar and Bafta for animated feature. Sony releases Across The Spider-Verse in the UK and US on June 2, and strong reviews and glowing word-of-mouth should only bolster high commercial expectations. Oscar Isaac (who had a brief cameo in Into The Spider-Verse), Jason Schwartzman and Daniel Kaluuya join the voice cast, but most viewers will already be on board to enjoy another helping of the glorious visuals that were the first picture's trademark.
Now 15, Miles Morales (voiced by Shameik Moore) is busy being Spider-Man, sometimes neglecting his schoolwork and family as a result. (He has not told his parents, played by Brian Tyree Henry and Luna Lauren Velez, that he's the infamous webslinger, fearful of how they'll react.) Miles' current foe is The Spot (Jason Schwartzman), who can jump between dimensions and has a personal grudge against our hero — one which will be revealed over the course of Across The Spider-Verse. But while Miles battles this villain, he is unexpectedly reunited with his crush Gwen (Hailee Steinfeld), who is Spider-Woman in a different realm. She will end up needing his help to protect the multiverse, although her decision angers Miguel O'Hara (Isaac), a veteran Spider-Man who thinks Miles is undeserving of the distinction.
Co-written (alongside David Callaham) by producers Phil Lord and Christopher Miller, who were the architects of the Lego Movie and 21 Jump Street franchises, Across The Spider-Verse shares with the 2018 original a sly affection for Spider-Man lore, offering plenty of easter eggs while simultaneously poking fun at fanboy nerdom. But although this sequel is hip and funny, there's real heart underneath the jokes as Miles grapples with the responsibility of being a superhero. This is a familiar trope of comic-book pictures — especially ones involving Spider-Man, who seems to be constantly learning that with great power comes great responsibility — but Across The Spider-Verse makes that drama resonate in a more thoughtful way than usual.
That's partly thanks to Moore, who once again voices Miles with a winning combination of bravado, sweetness and vulnerability. This teenager is bright and lighthearted but also conflicted, still mourning the death of his beloved uncle from the last film, and Moore gives the character sufficient nuance so that these films become coming-of-age stories about a young man who begins to understand the burden of his calling. His measured performance is matched by those of his costars: amidst the crackling one-liners, the actors bring a lived-in realism to their portrayals so that we feel the emotional stakes, which are significantly amplified for this sequel.
The animation remains wondrous, mimicking the boisterous colour, rampant creativity and imaginative framing of comic books. Different realms within Across The Spider-Verse have their own look and, as gripping as the narrative is, there is also ample pleasure in simply soaking in the visuals that Dos Santos, Powers and Thompson constantly throw at the audience. (Perhaps even more impressive, this is their feature directorial debut – save for Powers, who was credited as co-director on Soul.) But the filmmakers never let the enrapturing images overwhelm the eye, although the density of sight gags and gorgeous background details practically guarantees that, like with Into The Spider-Verse, repeat viewings will offer additional rewards.
The developing love story between Miles and Gwen continues to charm and, although some may miss the amusing side characters that populated Into The Spider-Verse, such as Spider-Ham and Spider-Man Noir, the sequel introduces new heroes that keep the proceedings fresh. Kaluuya is delightful as the anarchic Spider-Punk, while Isaac's Miguel O'Hara (a.k.a. Spider-Man 2099) proves to be an intimidating presence — ostensibly a good guy, but one you would not want to cross.
There are twists in store for Miles, but for those who have grown tired of superhero pictures' tendency to string fans along over multiple films, Across The Spider-Verse feels sufficiently epic and consequential, forcing this sensitive teen to take major risks in order to safeguard those he cares about. Not everything is resolved, setting the stage for next year's Spider-Man: Beyond The Spider-Verse. But a film this intelligent, thrilling and inspired earns its cliffhanger ending.
Production companies: Sony Pictures Animation, Arad Productions, Lord Miller Productions, Pascal Pictures
Worldwide distribution: Sony Pictures
Producers: Avi Arad, Amy Pascal, Phil Lord, Christopher Miller, Christina Steinberg
Screenplay: Phil Lord & Christopher Miller & David Callaham, based on Marvel Comics
Production design: Patrick O'Keefe
Editing: Mike Andrews
Music: Daniel Pemberton
Main voice cast: Shameik Moore, Hailee Steinfeld, Brian Tyree Henry, Luna Lauren Velez, Jake Johnson, Jason Schwartzman, Issa Rae, Karan Soni, Shea Whigham, Greta Lee, Daniel Kaluuya, Oscar Isaacs