Marvel returns after Endgame with a smaller-scale, self-contained, super-hero spin-off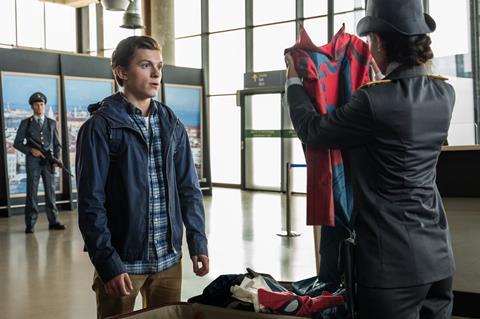 Dir. Jon Watts. US. 2019. 130 mins.
Life without Tony Stark isn't easy for Peter Parker, and similarly Spider-Man: Far From Home struggles as the first Marvel blockbuster after the climactic events of Avengers: Endgame. Boasting a breezy spirit and Tom Holland's likeable turn as the titular web-slinger, this new film is adequately rousing and jokey, but too often it has the feel of a transitional chapter which is meant to pivot away from Endgame to whatever producer Kevin Feige has next in store for these heroes. As a result, Far From Home is more of a placeholder than an action spectacular, even as it explores how a young man learns to leave naivety behind to become an Avenger.
It's natural that Far From Home would feel somewhat insubstantial after Endgame
Hitting UK and US theatres on July 2, this Sony release will be the studio's third Spider-Man offering in the last 24 months, following Spider-Man: Homecoming ($880 million worldwide) and last year's animated spinoff Spider-Man: Into The Spider-Verse ($376 million). Could franchise fatigue be an issue? Considering the mighty grosses for Disney's Captain Marvel ($1.1 billion) and Endgame ($2.8 billion), audiences might not yet be sated.
Following Endgame, in which Tony Stark died in order to defeat Thanos, Far From Home follows Peter Parker (Holland) as he grieves the loss of his mentor. But he also has to prepare for a European school trip with his class, including best friend Ned (Jacob Batalon) and secret crush MJ (Zendaya). They don't enjoy the sights for long, however, when the Earth is attacked by powerful forces known as the Elementals, but Spider-Man is helped in his mission by a new ally, Mysterio (Jake Gyllenhaal), a superhero from a parallel-universe Earth.
Far From Home, like Homecoming, is directed by Jon Watts, who once again focuses on the fact that this superhero is essentially a sensitive, nerdy teenager. If Homecoming was about Peter's acceptance of his great responsibility, the sequel finds him trying to move past the passing of his father figure. It's not simply Peter that mourns for Stark, though: one of Far From Home's pleasures is its depiction of how the world has commemorated Iron Man's noble sacrifice.
That melancholic spirit is juxtaposed with what is often a teen-comedy/European-road-trip narrative in which Peter has to keep his classmates from learning his secret identity while saving the day and courting MJ. Chris McKenna and Erik Sommers' screenplay is a knowing but tamer variation on raucous, sexed-up comedies such as National Lampoon's European Vacation and EuroTrip - but with superheroes and the occasional life-or-death action sequence. Adolescent hormones and nefarious forces compete for Peter's attention, and Holland's sweet, self-deprecating portrayal is lighthearted and empathetic.
Although the filmmakers know Peter's thematic arc — he will come to understand that he can't be so trusting — the plot requires him to make a few mistakes that come across as painfully predictable. In Far From Home, Spider-Man will be betrayed by those close to him, but Watts doesn't do a good job of hiding those surprises. And unlike Michael Keaton's dynamic, emotional Vulture from Homecoming, Far From Home's nemesis is a more standard villain. (That said, a few of the set pieces, which bend the fabric of reality, have a trippy quality rarely seen in the Marvel Cinematic Universe.)
Familiar faces, such as Samuel L. Jackson's Nick Fury, are welcome even if the parts are uninspired, while Homecoming's Zendaya and Batalon have amusing moments without being particularly compelling figures. Peter's excursions with his classmates — which include trips to Venice, London and Prague — tend to lead to strained comedic interludes that lack the easy playfulness of the previous Spider-Man instalment. Thankfully, Gyllenhaal is an enjoyable addition as a kindly superhero who alone can relate to Peter's discomfort at having the weight of the world on his shoulders.
It's natural that Far From Home would feel somewhat insubstantial after Endgame, which promised nothing less than the grand conclusion to years of Avengers adventures. By comparison, Peter Parker's latest escapade is a fun, scaled-down piece. But even if Spider-Man is far from home, he hasn't entirely escaped the familiarity of a typical Marvel saga. Last year's Oscar-winning Into The Spider-Verse — which doesn't share a storyline with these movies — suggested a novel way of thinking about this iconic character. Far From Home gives us a Spider-Man who isn't quite so amazing.
Production companies: Marvel Studios, Pascal Pictures
Worldwide distribution: Sony
Producers: Kevin Feige, Amy Pascal
Screenplay: Chris McKenna & Erik Sommers, based on the Marvel comic book by Stan Lee and Steve Ditko
Production design: Claude Paré
Editing: Dan Lebental, Leigh Folsom Boyd
Cinematography: Matthew J. Lloyd
Music: Michael Giacchino
Main cast: Tom Holland, Samuel L. Jackson, Zendaya, Cobie Smulders, Jon Favreau, JB Smoove, Jacob Batalon, Martin Starr, Tony Revolori, Marisa Tomei, Jake Gyllenhaal