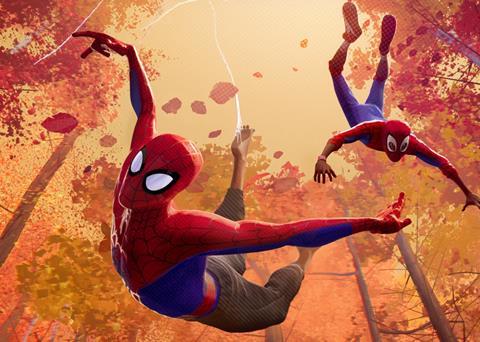 Dirs: Bob Persichetti, Peter Ramsey, Rodney Rothman. US. 2018. 117mins.
A confident blend of comic-book élan and stirring sentiment, Spider-Man: Into The Spider-Verse finds fresh ways to tell the familiar story of everyone's favourite web-slinger. Sony's animated adventure brings together several well-known iterations of Spider-Man — including the jokey Spider-Ham and the hard-boiled Spider-Man Noir — for plenty of clever, self-referential riffs and dynamic action sequences. But all that pop-culture playfulness doesn't preclude Spider-Verse from delivering some thoughtful observations about the need for heroes and the importance of finding community.
The animation captivates throughout, combining comic books' hand-drawn aesthetic with the flash of computer graphics
Spider-Verse swings into UK theatres on December 12 before arriving in the US two days later via Sony. Although not part of Disney's Marvel Cinematic Universe, the film should benefit from audiences' unquenchable appetite for superhero fare. Spider-Man remains a very popular character, although a question remains how an animated comic-book film will perform. Still, betting against Spidey seems unwise.
Shameik Moore provides the voice of Miles Morales, a sensitive Brooklyn teenager who worships Spider-Man. When a radioactive spider bites him, Miles discovers that he has the same powers as his idol. Tragedy soon strikes, though: Spider-Man is killed by the evil Kingpin (voiced by Liev Schreiber), who has created a supercollider that accidentally summons individuals from parallel universes who are their reality's version of Spider-Man. Miles must team up with these displaced heroes, reluctantly led by the cynical Peter B. Parker (voiced by Jake Johnson), to bring down the Kingpin.
With its irreverent acknowledgement of previous Spider-Man films — 2007's critically-derided Spider-Man 3 is prodded early on — Spider-Verse shares a tonal similarity to recent blockbuster comedies such as 21 Jump Street and The Lego Movie, both of which mocked the cultural ubiquity pf their source material. Perhaps not surprisingly, the directors of those previous films, Phil Lord and Christopher Miller, serve as producers on Spider-Verse, with Lord also acting as one of the film's writers.
But Spider-Verse­ isn't content to simply spoof Spidey's narrative conventions. Directors Bob Persichetti, Peter Ramsey and Rodney Rothman both send up and pay homage to myriad comic-book tropes, using animation's limitless possibilities to transform Miles' world into a virtual graphic novel whenever they desire. Yet, Spider-Verse's humour isn't overly snarky. The filmmakers exhibit clear affection for their milieu and, more importantly, understand how, for young people, superheroes represent role models that they can aspire to be.
That's especially true of the insecure Miles, and Moore (the star of 2015's Dope) gives the character wit, decency and vulnerability. Every Spider-Man story is a coming-of-age tale, but Spider-Verse exudes genuine feeling, spending enough time to develop Miles's character as well as the opposing father figures in his life: his straitlaced cop dad Jefferson (Brian Tyree Henry) and his more rebellious uncle Aaron (Mahershala Ali). When Peter B. Parker arrives in our universe, Miles hopes he's found a superhero mentor, but Parker's disillusionment and apathy require the two characters, in a sense, to mentor each other about how to be the ideal Spider-Man.
The animation captivates throughout, combining comic books' hand-drawn aesthetic with the flash of computer graphics. Some scenes are so vivid that they feel three-dimensional without the need for bulky glasses, and during epic action set pieces the animators barely let gravity or physics encumber their imagination — especially during a climactic battle that takes place in between dimensions.
The supporting voice cast is splendid, with high marks going to Johnson, Henry and Ali, as well as John Mulaney, who provides just the right amount of sarcasm for Peter Porker (a.k.a. Spider-Ham). Hailee Steinfeld makes for a charismatic and heroic Gwen Stacy, another Spidey surrogate, and Lily Tomlin brings swagger to reliable Aunt May. As for Nicolas Cage, he has a blast winking his way through his performance as Spider-Man Noir, whose every line of blunt dialogue feels like it was penned by Dashiell Hammett.
Naturally, there are limitations to this giddy, overstuffed concoction. The thin, uneven story follows a standard hero's-journey arc. Also, Spider-Verse is dark enough tonally — there are two major deaths — that it might disturb younger viewers. But that's also a compliment to the filmmakers' seriousness of purpose. No one probably needs another Spider-Man film — and Sony's MCU sequel to 2017's Spider-Man: Homecoming will be arriving next summer — but Spider-Verse establishes its own hip, edgy vibe successfully enough that it proves to be a welcome addition.
Production companies: Avi Arad Productions, Lord Miller, Pascal Pictures
Worldwide distribution: Sony Pictures
Producers: Avi Arad, Amy Pascal, Phil Lord, Christopher Miller, Christina Steinberg
Screenplay: Phil Lord and Rodney Rothman, story by Phil Lord, based on the Marvel Comics
Production design: Justin K. Thompson
Editing: Robert Fisher Jr.
Music: Daniel Pemberton
Main voice cast: Shameik Moore, Jake Johnson, Hailee Steinfeld, Mahershala Ali, Brian Tyree Henry, Nicolas Cage, Kathryn Hahn, Liev Schreiber