Peter Parker can't erase his own destiny in Marvel's touching final act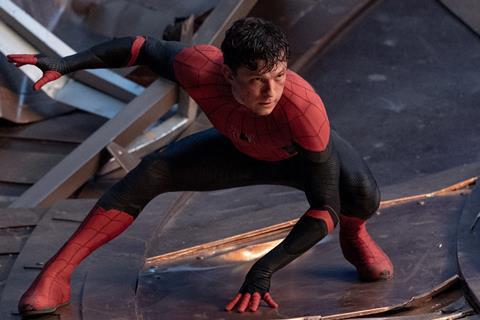 Dir: Jon Watts. US. 2021. 150 mins.
In Spider-Man: No Way Home, Peter Parker tries to make the world forget that he is the famous superhero, only to discover that he can't erase his own destiny. The most satisfying Marvel instalment in quite some time, eventually conjuring the grandeur and emotional impact that the series used to deliver on a more regular basis, this third chapter starring Tom Holland may be a little convoluted and too indebted to revelling in audience nostalgia for Spider-Man's many colourful villains — several of whom put in an appearance. But once No Way Home finds its rhythm, the picture builds to a thoughtful, touching final act that does justice to the heroism and self-sacrifice that has always been central to Spider-Man's appeal.
This bittersweet Spider-Man adventure taps into what remains resonant, even mythic, about the idea of superheroes
Sony opens the film in the UK on December 15, with the US release scheduled for two days later. No Way Home should do robust business over the holidays, and with Benedict Cumberbatch's Doctor Strange also part of the ensemble, as well as Jamie Foxx, Willem Dafoe and Alfred Molina reprising their roles as bad guys from previous cinematic Spider-Man iterations, there should be plenty to please the comic-book faithful.
Following on the heels of 2019's Spider-Man: Far From Home, in which Spider-Man's identity was revealed, Peter Parker (Holland) suffers the fallout, with many around the globe blaming him for deaths in London that happened in that film. Feeling responsible for ruining the lives of girlfriend MJ (Zendaya) and best buddy Ned (Jacob Batalon), who are guilty by association in the world's eyes, Peter beseeches Doctor Strange (Cumberbatch) to use his time-shifting powers to make everyone forget that he's Spider-Man. But a mistake brings villains from other universes into ours instead — including Electro (Foxx), Doctor Octopus (Molina) and Green Goblin (Dafoe) — who want to defeat Spider-Man, but are confused because they don't recognise this Peter Parker.
For fans of the earlier Spider-Man series featuring Tobey Maguire and Andrew Garfield, there's pleasure to be had in seeing their arch-nemeses show up in this film. (No Way Home also includes at least one reference to the Oscar-winning animation Spider-Man: Into The Spider-Verse, which also toyed with alternate universes.) And while the logic behind how the bad guys arrive in No Way Home is shaky, director Jon Watts (who also helmed the previous two Holland instalments) eventually settles into a story about redemption and regret.
Exactly how those themes play out is difficult to discuss because of some major plot spoilers, but beyond providing obligatory fan-service by bringing back iconic Spider-Man villains, No Way Home also wrestles with an acknowledgment that, for the most part, Peter's enemies were once well-meaning people tripped up by ego or bad luck. Does the fact that they've entered a parallel universe mean that they can change who they are? It's something Peter has to figure out, and his conscience is stoked by his loving Aunt May (Marisa Tomei), who wants her nephew to never lose his basic decency, even when fighting unimaginable evil.
As has become expected in MCU sequels, No Way Home is bogged down with nods to other Marvel properties — not to mention a certain amount of narrative busyness meant to set up future franchise films. And after the initial novelty of watching all these different villains interacting with each other and Holland's Peter wears off, we're reminded that some of these characters — specifically, Foxx's Electro from The Amazing Spider-Man 2 — weren't all that compelling the first time around.
But those hindrances largely fall away once No Way Home snaps into focus in its closing stretches, fully embracing the implications of having these alternate universes bleed into Peter's world. Since Spider-Man: Homecoming, Holland has proved adept at conveying this teenager's anxious earnestness, capturing the sense of being a young man understandably overwhelmed by the burden his powers have placed on him. In No Way Home, he will face a challenge that deepens his understanding of what he's meant to do as a hero — and also what that price of that may be.
With Cumberbatch serving as Peter's new tough-love father figure, and Zendaya and Batalon supplying irreverent comic relief, No Way Home sometimes struggles to balance its different tones and thematic ambitions. But after too many MCU chapters that felt like placeholders, this bittersweet Spider-Man adventure taps into what remains resonant, even mythic, about the idea of superheroes. Like Peter Parker, the film is very easy to root for.
Production companies: Pascal Pictures, Marvel Studios
Worldwide distribution: Sony Pictures
Producers: Kevin Feige, Amy Pascal
Screenplay: Chris McKenna & Erik Sommers, based on the Marvel comic book by Stan Lee and Steve Ditko
Production design: Darren Gilford
Editing: Jeffrey Ford, Leigh Folsom Boyd
Cinematography: Mauro Fiore
Music: Michael Giacchino
Main cast: Tom Holland, Zendaya, Benedict Cumberbatch, Jacob Batalon, Jon Favreau, Jamie Foxx, Willem Dafoe, Alfred Molina, Benedict Wong, Tony Revolori, Marisa Tomei