Rian Johnson confidently takes the reins of the latest instalment in the Star Wars franchise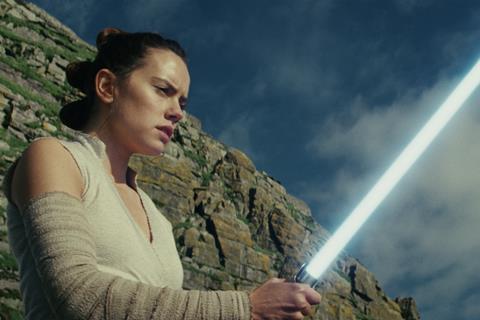 Dir: Rian Johnson. US. 2017. 152mins
Rebellions require heroes — even deeply flawed ones. That notion has always been at the heart of Star Wars, with its bevy of lovably imperfect good guys (and gals), but The Last Jedi elevates it to the level of grandeur, delivering a rousing, stirring adventure which is consistently guided by the courage and fallibility of its characters. The rare franchise sequel whose chief weakness is the breadth of its ambition, the film sometimes struggles to juggle its myriad storylines and character arcs, but much is forgiven in the wake of a sustained, riveting finale that overpowers any quibbles about pacing and plotting.
This is profoundly a Star Wars movie; but Johnson shows little strain within the creative straitjacket that such an undertaking demands
Opening across most of the globe by December 15, this Disney juggernaut will be attempting to rival The Force Awakens ($2.1 billion worldwide) and franchise spinoff Rogue One ($1.1 billion) during the current holiday season. The Last Jedi may not feature Harrison Ford's Han Solo, but the brand's seeming commercial invincibility should remain unchallenged.
The film takes place shortly after The Force Awakens, as General Leia (the late Carrie Fisher) and her Resistance try to outrun the evil First Order, led by General Hux (Domhnall Gleeson) and the brooding Kylo Ren (a nicely nuanced Adam Driver). Meanwhile, aspiring Jedi Rey (Daisy Ridley) meets with Luke Skywalker (Mark Hamill), who now lives in exile, in the hopes of convincing him to combat the forces of evil one more time.
Taking the reins from Force Awakens filmmaker J.J. Abrams, writer-director Rian Johnson has fashioned a confident, vibrant widescreen entertainment that will appeal to Star Wars diehards while also developing the slew of characters introduced in the previous movie — not to mention creating new ones, such as Rose (Kelly Marie Tran), a no-nonsense, low-level grunt in the Resistance. It's inevitable that nostalgia and fan service will creep into the proceedings, but what's commendable about The Last Jedi is how few of the allusions are blatant references but, rather, thoughtful homages to the original trilogy's themes of heroism, selflessness and resilience.
In his previous films, such as Brick and Looper, Johnson adeptly worked within genres while also flashing irreverent humour and a sneaky cleverness that dodged and weaved around conventions. From its familiar John Williams music to its trademark opening crawl, this is profoundly a Star Wars movie; but Johnson shows little strain within the creative straitjacket that such an undertaking demands — especially in how he both satisfies and subverts the assumptions viewers might have that the movie will be the darker, more despairing Empire Strikes Back to Force Awakens' relatively cheerful A New Hope.
Much of the fun of The Last Jedi comes from its surprises, which shouldn't be spoiled, but it's no accident that this is the longest Star Wars film considering that it focuses on more than half a dozen crucial characters. Among those are John Boyega's hesitant Finn, who has no love for the First Order but remains unconvinced that the Resistance can triumph, and Oscar Isaac's hot-headed, bighearted Poe, whose instinct to take any risk for the good of the Resistance might get him killed. Johnson complicates the relationships between established characters, taking his time setting up parallel narrative threads so that we fully understand the emotional undercurrents that will eventually lead to cathartic action sequences.
Those threads aren't always well-drawn, but even when the story drags the movie remains engaging because of the cast's commitment to the story's underlying message. Whether it's the weary veteran warrior Luke Skywalker or the fresh-faced Rey (played again with raw vitality by Ridley), many of the film's central figures must contend with their own failings, discovering that wanting to be noble isn't enough and that sometimes the most difficult choice is the only option. If the original Star Wars portrayed good and evil in clear-cut terms, The Last Jedi ponders the thin line between those extremes — as well as how heroism is often little more than a best guess undertaken by uncertain individuals.
The film's occasional sluggishness gives way in its final reels, erupting in one propulsive sequence after another that melds spectacle and emotion. Working with production designer Rick Heinrichs, long-time cinematographer Steve Yedlin and a fleet of effects personnel, Johnson has crafted an overstuffed but visually striking epic that consistently articulates what remains mythic and riveting about George Lucas's 40-year-old franchise.
The space battles and lightsaber duels are appropriately exciting, but Johnson keeps a close eye on the human element that girds this galactic odyssey. Rather than simply regurgitating Star Wars' past, The Last Jedi emphatically builds on it.
Production company: Lucasfilm
Worldwide distribution: Disney, www.disney.com
Producers: Kathleen Kennedy, Ram Bergman
Executive producers: J.J. Abrams, Tom Karnowski, Jason McGatlin
Screenplay: Rian Johnson, based on characters created by George Lucas
Cinematography: Steve Yedlin
Production design: Rick Heinrichs
Editor: Bob Ducsay
Music: John Williams
Website: www.starwars.com
Main Cast: Mark Hamill, Carrie Fisher, Adam Driver, Daisy Ridley, John Boyega, Oscar Isaac, Andy Serkis, Lupita Nyong'o, Domhnall Gleeson, Anthony Daniels, Gwendoline Christie, Kelly Marie Tran, Laura Dern, Benicio Del Toro