Dir. Danny Boyle. US, 2015. 122 mins.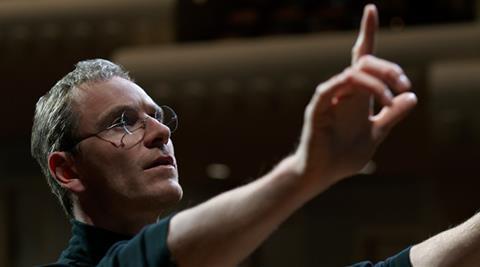 It's no discredit to Steve Jobs, Danny Boyle's propulsive and iconoclastic biopic of the digital-revolution visionary who democratised personal computing, that it's a dispiriting study of capitalistic self-aggrandisement – one that leaves a sense of unease despite its ironically upbeat ending.
Fassbender is a shoo-in for every leading actor nomination
A triumph in terms of Aaron Sorkin's screenwriting, Boyle's direction, the ensemble acting led by Michael Fassbender and Kate Winslet, and certainly set for awards attention, Steve Jobs opens in the US in selected markets on October 9 following a high profile festival run (Telluride, New York, and the London closing slot). Boyle's picture will annihilate the box-office performance of 2013's Jobs, a ho-hum indie that grossed $16.1 million, and should prove a substantial earner for Universal, though it will likely prove too cerebral for extended box-office domination.
Sorkin devised Steve Jobs as a theatrical drama, each of its three acts consisting of a backstage crisis that unfolds in real time in the half hour or so before Jobs (Fassbender) presents a new product – the Mac on a campus near Apple's Cupertino HQ in 1984, then the NeXT's black cube computer and the iMac G3 at San Francisco auditoriums in 1988 and 1998 respectively. The first act was shot in 16mm, the second in 35mm, the third in HD, the stylistic evolution underscoring that of Jobs's design-conscious innovations but also serving to illuminate the conscience of a genius whose tragic Shakespearian flaw is his lack of empathy for others.
That the film is partially subjective is indicated by the momentary flashbacks that disturb Jobs's thoughts – for example, to inspired early days working with Apple tech wizard Steve Wozniack (Seth Rogen) in his garage, to the hugging of his legs by his five-year-old daughter, Lisa (Makenzie Moss), whom he wants to disown. On that occasion, he agrees to provide for her and her desperately hard-up mother, Chrisann Brennan (Katherine Waterston), but only after Lisa shows him she can use the Mac's paintbox.
As the minutes tick down to the high noon of each product launch, key members of Apple's brilliant family – Jobs is the bullying, withholding "father" and his marketing manager/confidante Joanna Hoffman (Winslet) the strong-minded but enabling "wife" – crave his approval and never get it. Jobs threatens to publicly humiliate software designer Andy Herzfeld (Michael Stuhlbarg) unless he makes the Mac say "hello" to Apple shareholders. At the iMac launch, Jobs tells the distraught Woz that he won't acknowledge the work of the downsized Apple employees who'd developed the Mac II, which Jobs had disdained but which kept the company alive.
Jobs likens himself to Caesar surrounded by enemies, but he's also a Brutus. The colleague he most lethally bloodies is John Sculley (Jeff Daniels), whom – as another roseate flashback shows – he'd hired from Pepsi as Apple's CEO in 1983. After Sculley, unimpressed by the Mac's blatantly fascistic launch video and answerable to stockholders, ousts a tearful Jobs in 1985, Jobs pulls his most Machiavellian masterstroke. He introduces the sleek but prohibitively expensive Cube workstation computer, operated by the forerunner of OS X, which forced Apple to merge with NeXT.
This leads to Jobs's crowning at Apple and the demise of Sculley, who'd erred in investing in the Power PC architecture. The "empty" Cube is a metaphor for Jobs's heartlessness. His insistence on the Mac being launched with a closed circuit is, meanwhile, a metaphor for his out-of-control egocentrism – so, too, is Apple's arrogant "i".
Sculley shows up before each launch to offer Jobs some home-truth psychology, sourcing the latter's cruelty in his abandonment by his birth parents and rejection by the couple his mother had originally chosen to adopt him. The most bloody-minded act of rejection perpetrated by Jobs himself is his denial to his five-year-old that he'd named the Lisa PC after her.
By the time she's a pre-teen (Ripley Sobo) she's precociously talented and argumentative; at 19, she's a college student (Perla Haney-Jardine) fiercely protective of her mother and furious with Jobs for not paying her college tuition. After she reads him the riot act, he sees the light – acknowledging finally that he wants to be an involved father. This late-in-the-day humanising of him is the film's only flaw, no matter that the real Jobs was possibly more complex than Sorkin allows. Fassbender's opaque performance suggests as much, not least because it defies a simplistic reading of Jobs as a mere monster. He's a shoo-in for every leading actor nomination. Winslet, Daniels, Rogen, Stuhlburg, and little Ms. Moss should receive awards consideration, too.
Production Companies: Legendary Pictures, Scott Rudin Productions, Entertainment 360, Mark Gordon Company, Decibel Films, Cloud Eight Films
Distributor: Universal Pictures
Producers: Mark Gordon, Guymon Casady, Scott Rudin, Danny Boyle, Christian Colson
Executive producers: Bernard Bellew, Bryan Zuriff, Eli Bush
Screenplay: Aaron Sorkin, based on the book by Walter Isaacson
Cinematography: Alwin Kuchler
Editor: Elliot Graham
Production design: Guy Hendrix Dyas
Music: Daniel Pemberton
Website: stevejobsthefilm.com
Main cast: Michael Fassbender, Kate Winslet, Seth Rogen, Jeff Daniels, Michael Stuhlbarg, Katherine Waterston, Perla Haney-Jardine, Makenzie Moss, John Ortiz, Sarah Snook, Adam Shapiro