Fascinating documentary about the best-selling Swedish journalist and author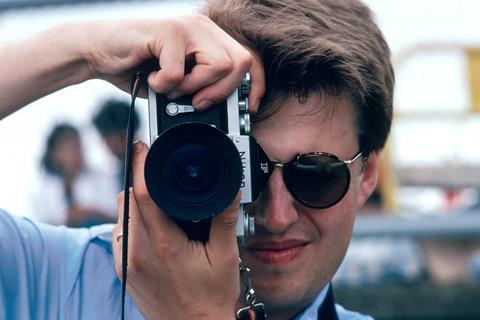 Dir Henrik Georgsson. Sweden. 2018. 99 mins
The late Stieg Larsson is one of the few novelists to achieve global name recognition. That bodes well for the commercial future of Stieg Larsson: The Man Who Played With Fire, a well researched, serious-minded portrait of Larsson, his lifelong fight against right-wing extremism and his fearless engagement with the darkest corners of Swedish society. There should be healthy interest from Festivals and sales to arts channels, even if the film is much more concerned with the facts of Larsson's life than the fiction they inspired.
What emerges is a sense of Larsson as an obsessive workaholic who never faltered in his quest to confront the growing visibility of neo-Nazism
Henrik Georgssson's docudrama reminds us early on that Larsson's Millennium trilogy, based around the character of Lisabeth Salander, has sold 90 million copies, spawning hit movies and Hollywood remakes. The books are mentioned in the closing stages of the film. The main focus is on revealing that what might have seemed entirely a work of the imagination was firmly grounded in the realities of Larsson's investigative journalism, politics and crusade against the rise of neo-Nazism.
Georgsson seems to have taken his cue from Larsson's own approach to a subject, mixing meticulous research and ample archive footage with an impressive array of interviews with those who were closest to Larsson including family members, colleagues from the TT News Agency and Expo magazine and his longtime companion Eva Gabrielsson.
What emerges is a sense of Larsson as an obsessive workaholic who absorbed information like a sponge and never faltered in his quest to confront the growing visibility of neo-Nazism in Sweden from the 1970s onwards. People talk affectionately about Larsson as a slightly geeky, shambling figure. There is also an honesty in conceding that he could put others to shame with the depth of his commitment to a cause. Sustained by coffee and cigarettes and a stranger to healthy eating or exercise, he appears to have been someone who drove himself to an early grave.
Larsson died in 2004 aged 50. There is considerable biographical information in the film, looking back on Larsson's childhood and the lasting influence of his grandfather Severin who died when Larsson was just nine years-old. It is a film that also provides detailed context on Swedish politics to help us understand how Larsson's fears about racism and the rise of the far right internationally would come true. Events covered range from the assassination of Prime Minster Olof Palme to the electoral success of the Sweden Democrats and the attacks of 9/11.
Throughout all the newsreel footage, comment, audio interviews with Larsson and his television appearances, we are made aware of his unwavering moral stance and the price he paid for his beliefs. There are death threats on his voice mails, bullets in the mail and sinister warnings that people know where he lives. Fellow journalists from Expo (the investigative magazine inspired by British publication Searchlight) retain their anonymity during interviews because they are still living under threat of death.
Less effective are the dramatised scenes of Emil Almén as Larsson. Looking like a young Charles Grodin, a chain-smoking Almén is largely confined to doggedly typing in offices, striding through city streets or staring pensively into the distance. The scenes emphasise the shadowy, film noir-like world that Larsson often inhabited but add an element of artificiality to what is otherwise a fascinating, eye-opening true story.
Production company: B-Reel Films
International sales: The Match Factory info@matchfactory.de
Producers: Fredrik Heinig, Mattias Nohrborg
Cinematography: Anders Bohman, Sven Lindahl
Production design: Anna Lu Ingvarson
Editor: Olof Berglind, Kalle Lindberg
Music: Andreas Mattsson
Featuring: Emil Almén, Johan Eriksson, Magnus Höqqvist