Dir: F. Gary Gray. US. 2015. 147mins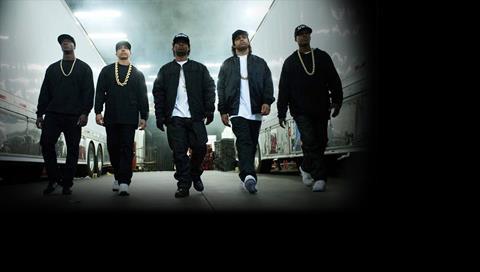 The messy rise and fall of N.W.A, one of hip-hop's most influential groups, provides ample material for a sprawling, entertaining biopic. But Straight Outta Compton's readymade movie-ness cuts both ways: despite a twisty, juicy and compelling story, there remains a staid conventionality that keeps the political and thematic undercurrents from being explored as satisfyingly as one might hope. Consequently, Straight Outta Compton feels both epic and a touch programmatic, director F. Gary Gray spending almost two-and-a-half hours chronicling the band in such a way that the marquee moments resonate more than the quieter ones do. That said, a star-making turn from O'Shea Jackson, Jr. (playing his father Ice Cube) is a consistent highlight of a lively, hit-or-miss film.
Even when the film goes on biopic autopilot, Jackson, Jr. embodies the livewire spark that once powered this galvanic group.
Opening August 14 in the States, this Universal offering is one of the month's most intriguing commercial wild cards. Featuring no big names — unless you count Paul Giamatti in a supporting role as the band's opportunistic manager — Straight Outta Compton is setting its sights on fans of N.W.A and the countless rap acts it inspired. Endorsed by the band and featuring its biggest hits, the film will appeal to nostalgic hip-hop lovers, but even those with only a cursory knowledge of N.W.A should be sufficiently engaged by the group's familiar career trajectory. Solid reviews will be needed to help Straight Outta Compton expand beyond its core constituencies.
Spanning roughly 10 years, the movie opens in 1986 in Compton, a notorious section of Southern California known for drug crime and racial tension between its black citizens and white law enforcement. Straight Outta Compton focuses on three members of N.W.A's quintet: provocative lyricist Ice Cube (O'Shea Jackson, Jr.); a dedicated beatmaker and DJ known as Dr. Dre (Corey Hawkins); and a budding entrepreneur and drug dealer who calls himself Eazy-E (Jason Mitchell). They, alongside DJ Yella (Neil Brown, Jr.) and MC Ren (Aldis Hodge), form N.W.A, determined to reflect the poverty and racism they see around them in song.
Gray, making his first feature since 2009's Law Abiding Citizen, has a history with Ice Cube, directing some of his earliest music videos as well as the hit comedy Friday. The filmmaker, collaborating with cinematographer Matthew Libatique, walks a fine line between draping the band members in glory and emphasising their humble origins and youth. (When N.W.A started, the members were only in their late teens or early 20s.)
On one level, Straight Outta Compton is a pretty traditional music biopic, charting how a famous band got together, came up with some smash singles, enjoyed fame and wealth, and then eventually disintegrated. But the screenplay (written by Jonathan Herman and Andrea Berloff, who are both credited alongside S. Leigh Savidge with the story) also wants to dig deeper, examining how N.W.A's music struck a chord with many who felt alienated and marginalised in America, left behind by a racist society. Vibrant, abrasive tracks like Straight Outta Compton, Gangsta Gangsta and especially Fuck Tha Police weren't mindless antisocial rants but, rather, pointed political commentaries meant to rattle the white establishment. Gray does a commendable job giving each song its due in the film, showing how N.W.A evolved from some inexperienced guys performing at the local dancehall to a formidable, dangerous touring act, their incendiary songs putting them in the crosshairs of the FBI and police groups.
Unfortunately, Straight Outta Compton fails to dig very deeply into N.W.A's sometimes contradictory lyrical content. While the band attacked systemic inequality in its songs, the albums' pig-headed, immature attitude toward women was a constant detriment, needlessly distracting from N.W.A's worthy themes. The same problem plays out in the film: Most of the women in Straight Outta Compton are scantily-clad eye candy hanging out at pool parties and hotel rooms, with even the members' wives or girlfriends given little significant screen time. There's room for a critical exploration of this dichotomy in N.W.A's worldview, but Gray doesn't seem particularly interested in such character nuance, sometimes allowing his film to closely resemble the superficial gloss of a hip-hip video. (Likewise, the depiction of gunplay and other violence can be a bit glib at times, either played for laughs or cheap melodrama.)
What gives the movie its confident forward motion, however, is N.W.A's seemingly endless up and downs. Where other biopics only have one or two central characters, Straight Outta Compton boasts three prominent figures — four, if you count Giamatti's Jerry Heller, a long-time music manager who helped guide N.W.A to its earliest success — and the movie takes the time to chart each person's progress through the narrative. This creates a rewarding unpredictability as, for instance, Ice Cube's fortunes flow while Eazy-E's ebb. Those who know N.W.A's story will see all the major story beats play out — the film extends into Dre's solo career and his wildly popular album The Chronic — but even then, Straight Outta Compton works hard to give the main characters enough dimensions that each man reveals flaws.
Along those lines, credit is due to Giamatti as Heller, the obvious villain of the piece, who never sees himself as taking advantage of the band. As he did playing Eugene Landy in the Brian Wilson biopic Love & Mercy, the actor doesn't oversell his character's manipulative nature, instead viewing it as necessary to protect people to whom he feels superior. Heller helps drive a wedge between the members of N.W.A, but what's quietly fascinating is that he insists he's done nothing wrong.
Hawkins never quite nails Dre's imposing, stoic authority, although he mimics the artist's flat baritone adeptly. Partly because Eazy-E's personal arc is sadder, Mitchell gets more room to operate, showing how the man transitioned from drug hustler to unlikely MC to lost soul, Eazy's final months especially heartrending. But the real standout is Jackson, Jr. Not only does he look like his famous father, the actor (making his big-screen debut) effortlessly articulates Cube's pitbull intensity and biting sense of humour. Straight Outta Compton suggests that a lot of people went into making N.W.A a phenomenon, but Cube was the group's undisputed charismatic star: a magnetic, handsome, cocksure presence whose anti-establishment attitudes were deeply, passionately felt. Even when the film goes on biopic autopilot, Jackson, Jr. embodies the livewire spark that once powered this galvanic group.
Production companies: Legendary Pictures, New Line Cinema, Cube Vision, Crucial Films, Broken Chair Flickz
Worldwide distribution: Universal Pictures, www.universalpictures.com
Producers: Ice Cube, Tomica Woods-Wright, Matt Alvarez, F. Gary Gray, Scott Bernstein, Dr. Dre
Executive producers: Will Packer, Adam Merims, David Engel, Bill Straus, Thomas Tull, Jon Jashni
Screenplay: Jonathan Herman and Andrea Berloff, story by S. Leigh Savidge & Alan Wenkus and Andrea Berloff
Cinematography: Matthew Libatique
Production design: Shane Valentino
Editors: Billy Fox, Michael Tronick
Music: Joseph Trapanese
Website: www.straightouttacompton.com
Main Cast: O'Shea Jackson, Jr., Corey Hawkins, Jason Mitchell, Paul Giamatti