The follow-up to 'Blindspotting' is an absorbing spoken-word sonnet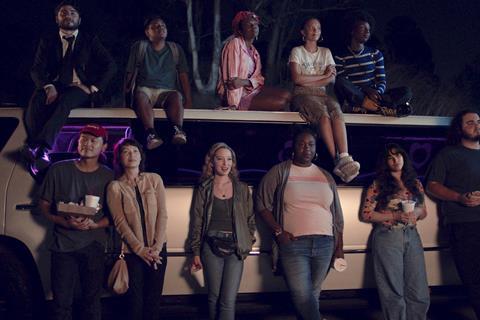 Dir: Carlos Lopez Estrada. US. 2020. 91mins
A medley of voices — impassioned, grieving, angry or funny — give life to Summertime, a dynamic look at a cross-section of Los Angeles youths who are struggling to find themselves yet articulate enough to express their angst beautifully. Collaborating with 25 spoken-word poets who hail from the City of Angels, Blindspotting filmmaker Carlos Lopez Estrada has crafted a playful but thought-provoking experiment, serving up a series of vignettes inspired by the artists' own lives. The result is a deeply touching tapestry that celebrates the diversity and cultural richness of LA, while at the same time exploring the hopes and fears of a generation heading into an uncertain adulthood.
A deeply touching tapestry
Screening in Sundance's adventurous NEXT section, Summertime will probably draw comparisons to loose-limbed Richard Linklater projects such as Slacker and Waking Life, which might prove appealing to art-house crowds. Less despairing and overtly political than Blindspotting, yet equally provocative and intelligent, this film should enjoy strong reviews and enthusiastic festival buzz.
Set in Los Angeles in July of 2019, the movie skips around between disparate characters, including the aspiring rap duo Anewbyss (Bryce Banks) and Rah (Austin Antoine), a combative social-media junkie named Tyris (Tyris Winter), and Sophia (Maia Mayor), a heartbroken woman trying to get over her ex-boyfriend. During the course of a day and night, these individuals, and plenty of others, will bump into one another, each of them telling their stories through spoken-word pieces.
In films, spoken-word poetry is often denigrated as pretentious, which is why Summertime (among its other considerable attributes) should be commended for giving the art form a platform that allows it to be taken seriously. With Blindspotting, Estrada displayed an ability to produce arresting imagery, but where that earlier film featured occasional freestyle rhymes, Summertime is almost a musical, with each character's spoken-word piece serving as the centrepiece of their individual narrative.
The young cast, many first-time actors who wrote their poetry based on real incidents, could be thought of as individual songs on an album, each contributing to the overall work. Inevitably, some spoken-word pieces are better than others, but a large majority are quite affecting, and Estrada and cinematographer John Schmidt do an excellent job of keeping the "performances" from feeling stagey.
When one young woman (Paolina Acuna-Gonzales) fantasises about breaking free of her restrictive mother, her words are supplemented by an impromptu dance sequence involving characters in racy red dresses. Estrada's background in music videos is invaluable, creating heightened realities which buoy the poets' words with clever visual backdrops. And even when the ensemble isn't performing poems, there's an easy rapport that makes the characters immensely likeable and sympathetic.
Perhaps not surprisingly, many of the poems cover painful subject matter. Breakups, sexuality, rejection, suicide, discrimination and a desire for home are at the forefront of this multicultural cast's mind, and the emotion is palpable. Too often, the media portrays young people as being shallow or self-absorbed — supposedly so obsessed with their devices and the internet that they live in a bubble cut off from reality. Summertime swats away those glib generalisations, letting these young people invite us into their experience, and what we see is a lot of anxiety over a world that scorns them because of their race, sexual preference or inability to fit into "traditional" societal norms. These characters aren't stereotypes, and it's a credit to Estrada and screenwriter Dave Harris that they've found a sturdy episodic framework that encompasses all these different tales.
Just as the film pushes back against the clichés of Millennials and Generation Z, so too does Summertime ask the viewer to reconsider Los Angeles. Ignoring the obvious glitz — there are no shots of swanky Beverly Hills — Estrada (who gave us an insider's view of Oakland in Blindspotting) focuses on Venice and downtown, far away from the tourist traps and into the city's most vital and interesting neighbourhoods. Like the young people who form the movie's beating heart, the LA of Summertime is brimming with potential, unpolished and waiting to be discovered.
Production company: Little Ugly
International sales: UTA, Schwartz-Wright_M@unitedtalent.com and Kantor_J@unitedtalent.com
Producers: Kimberly Stuckwisch, Jeffrey Soros, Alisa Tager, Simon Horsman, Carlos Lopez Estrada, Diane Luby Lane
Screenplay: Dave Harris, additional story by Dave Harris, Carlos Lopez Estrada, Vero Kompalic
Production design: Tyler Jensen
Editing: Jonathan Melin
Cinematography: John Schmidt
Music: John W. Snyder
Main cast: Tyris Winter, Marquesha Babers, Maia Mayor, Bryce Banks, Austin Antoine, Amaya Blankenship, Bene't Benton, Raul Herrera, Mila Cuda, Gordon Ip, Jason Alvarez, Hanna Harris, Marco Bizio, Walter Finnie Jr., Anna Osuna, Olympia Miccio, Paolina Acuna-Gonzalez, Madyson Park, Xochitl Morales, Zach Perlmutter, Cyrus Roberts, Marcus James