Mehrdad Oskouei's IDFA opener follows young Iranian women who have been imprisoned for murder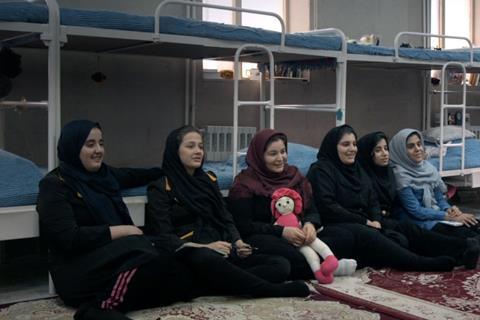 Dir. Mehrdad Oskouei. Iran-Norway. 2019. 74mins
Opening this year's International Documentary Festival Amsterdam (IDFA), Mehrdad Oskouei's moving and empathetic film on juvenile detention in Iran focuses on girls who have been placed in a correctional facility for their part in the murder of an abusive male relative. It's a tough subject, but Oskouei approaches it with care, capturing the girls through quiet observation and then giving them a more overt voice in moments when they are alone and in charge of a camera. The result has an emotional resonance which is likely to ensure a berth on the festival circuit in the coming months, as well as potential art house interest.
Rather than directly tackling Iranian politics or the cultural environment, Oskouei lets the situation emerge through the words of these women
While plenty of documentarians have observed people in jail — Oskouei himself has already made three films on the subject; It's Always Late For Freedom; The Last Days Of Winter and Starless Dreams — the filmmaker brings an extra dimension of intimacy by giving the youngsters control of the camera in a room of their own, as they speak directly via its lens. Sometimes they address their victim (although that word becomes a troubling and murky concept as the film asks us to consider what drove the girls to kill), and sometimes they talk to someone else involved, such as their mum or sister.
These messages are given added poignancy as the director then shows the recipients watching them from an adult jail, where some have been sentenced to death. And so, rather than directly tackling Iranian politics or the cultural environment that has resulted in the girls' situation directly, Oskouei lets the situation emerge through the words of these young women and their mothers; at times gently questioning them, at others standing back to watch their interaction.
Some give testament to years of physical violence and patriarchs who have refused to contemplate divorce. One subject recalls her father breaking her leg and being told by the police that she must have done something to deserve it. There's also talk of blood money set at eye-wateringly high amounts by remaining male family members in return for clemency. Oskouei occasionally probes for answers but it's a mark of the rapport he has developed with his subjects that they need little prompting to reveal what's on their minds, even when it is visibly painful to do so.
Although there's no doubting the inner turmoil of the youngsters when they talk about their crimes, there's also something peacefully monastic about the detention centre itself — although cut away shots of watch towers make sure we never forget where we are. On a day to day basis, however, things seem almost idyllic, especially compared to their lives before. Ducklings splash about in a bowl, a baby (a reminder of just how early motherhood can come in Iran) is cared for by the extended group and, in an illustration of the girls' own enduring childhood, the teenagers play games such as hopscotch and charades. This sense of peacefulness is emphasised when former inmate Somayeh returns to visit, two years after being released from her own seven-year sentence for murdering her father. "It's boring outside," she says, later admitting to feeling "more at ease" in jail.
This is a meticulously balanced film, Oskouei allowing a dialogue to build up between the younger generation and their mothers, even though they aren't speaking directly to one another for most of the time. It's a picture of love that has led first to desperation and incarceration, and now to a sort of suspended grief, as the girls and mothers face an uncertain future, unsure whether they will ever be reunited, hope mixing with fear to the last.
Production company: Oskouei Films, Indie Film
International sales: Dream Lab Films info@dreamlabfilms.com
Producer: Mehrdad Oskouei, Carsten Aanonsen
Cinematography: Mehdi Azadi
Editing: Amir Adibparvar
Music: Afshin Azizi