Biopic of French 80s rappers Supreme NTM plays a lively midnight section at Cannes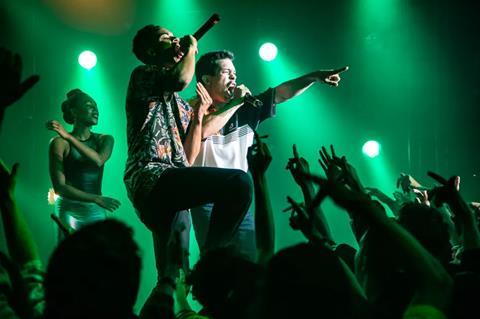 Dir: Audrey Estrougo. France. 2020. 112 mins.
Director Audrey Estrougo's Supreme NTM biopic has energy and attitude to spare, which is only appropriate for the defiant French hip-hop group she celebrates. Emerging in Paris in the late 1980s as rap asserted its global cultural dominance, NTM was the product of two friends, Didier Morville and Bruno Lopes, and Supremes benefits greatly from Theo Christine and Sandor Funtek's raw, urgent performances as angry young men determined to use their music to overthrow the corrupt society they see around them.
In a film like this, believability is critical, and Christine and Funtek exude all the necessary swagger to play these ferocious rappers.
Those unfamiliar with NTM needn't worry: anyone versed in old-school rap will recognise the band's clear debts to US artists such as Run-DMC and Public Enemy. This engaging, somewhat conventional picture screens as part of Cannes' Midnight section, and hip-hop fans will relish the nostalgic tone while also appreciating that what NTM rapped about — racism, economic disparity — remains depressingly relevant.
As the picture begins, graffiti artists Didier (Christine) and Bruno (Funtek) have decided to start their own hip-hop group, dubbing themselves, respectively, JoeyStarr and Kool Shen. The politically outspoken Supreme NTM quickly become a sensation, but soon face the typical challenges that accompany growing fame, including the potential severing of these men's once-close bond.
Estrougo (A La Folie) deftly captures the excitement of a young band finding its sound — first by showing the two men giddily ad-libbing lyrical ideas and, later, showcasing NTM's riveting concert debut in a small, sweaty venue. Refreshingly, editor Sophie Reine doesn't chop Supremes' live performances into frenetic bits and pieces — instead, we watch the actors command the stage in sustained takes, their mic skills and tag-team charisma infectious. In a film like this, believability is critical, and Christine and Funtek exude all the necessary swagger to play these ferocious rappers.
Supremes offers plenty of the group's hits, as well as the societal context that informed them. References to police brutality and poverty are woven into the film's fabric, and Estrougo makes room to explore Didier's unhappy home life, which also spurred his creative drive. If Supremes is one more underdog story, the filmmaker strives to explain why this one is especially inspirational, with Christine capably conveying Didier's demons, including a weakness for drugs.
The biopic's early sections are its strongest — in part because, while many films of this ilk dramatise a musician's artistic flowering, we rarely see it in the world of hip-hop. Coming up with dynamite verses and comparably stellar beats, NTM seem to blossom in front of our eyes, and the film is lit up by these friends' thrill at putting their voices out into a world that otherwise ignores them. Supremes unlocks the rush of early rap music, when it felt like the rules weren't yet written and every day brought a new creative discovery.
Perhaps inevitably, Estrougo can't maintain that rush once the narrative goes into more predictable terrain. Egos clash, as per norm, and Didier and Bruno start being at odds as their passion becomes a profession. But Estrougo wisely ends Supremes where it began — as a tale of friends who had a dream and nothing to lose. For a film this loud and fierce, it's notable that Supremes concludes on a relatively modest note — all the better for us to concentrate on the quiet, crucial final look shared by Didier and Bruno.
Production company: Nord-Ouest
International sales: WT Films, sales@wtfilms.fr
Producers: Philip Boëffard, Christophe Rossignon
Screenplay: Audrey Estrougo, Marcia Romano
Production design: Emmanuelle Cuillery
Editing: Sophie Reine
Cinematography: Eric Dumont
Music: Cut Killer
Main cast: Theo Christine, Sandor Funtek, Felix Lefebvre, Cesar Chouraqui, Francois Neycken