Three families share every aspect of their lives in 1970s Australia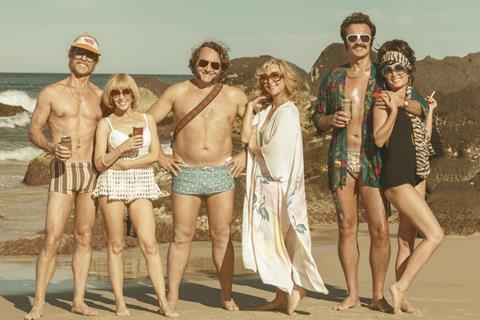 Dir/scr. Stephan Elliott. Australia, 2017, 96 mins
Everybody needs good neighbours in Swinging Safari. Of course, under the raucous guidance of The Adventures of Priscilla, Queen of the Desert's Stephan Elliott, no one fits that description. Reuniting with Guy Pearce after 23 years — and reteaming Pearce with his former soap co-star Kylie Minogue — the Australian writer/director recreates the unruly antics of '70s beachside suburbia as both a comedic account and a nostalgic ode. An energetic, irreverent, autobiographically inspired affair filled with key swapping, children running amok and a rotting 200-tonne whale, the film proves a mixed bag but, given the era on display, its messiness always feels appropriate.
Enough laughter flows, often more from the performances than the material
In only his second Aussie comedy in the past two decades, Elliott's reunion spans much of the feature's crew too, including the stellar work of Oscar-winning costume designer Lizzy Gardiner and production designer Colin Gibson (Mad Max: Fury Road). The on-screen stars and period-set outlandishness remain the main attractions. Capitalising upon Priscilla's beloved status, as well as name recognition that extends to cast members Julian McMahon, Radha Mitchell and Australian favourites Asher Keddie, Jeremy Sims and Jack Thompson, the effort previously known as 'Flammable Children' should lure in audiences. A local release is locked for January, and interest in the UK and US should also follow.
Flitting between episodic escapades in the exceptionally dexterous hands of Elliott's regular editor Sue Blainey, Swinging Safari focuses on three families in a coastal cul-de-sac. Voiced by Richard Roxburgh as an adult and played by newcomer Atticus Robb as a 14-year-old, Jeff Marsh steers the movie through their overlapping stories — often recording their exploits on his Super-8 camera as part of his own comic shorts, which the feature deploys as amusing interludes.
As the sun swelters during a typical summer, and hormones flash hot among teenagers and their parents alike, the budding filmmaker's family and friends are a motley crew, but they're inseparable on the beach, in each other's yards and during regular parties. The Joneses — slick drug salesman Rick (McMahon) and travel agent Jo (Mitchell) — lead the way, though their sons (Ethan Robinson and James Calder) are troublemakers, and sensitive daughter Mellie (Darcey Wilson) would prefer that no one paid her any attention.
Over at the rundown Hall household, Speedo-wearing encyclopaedia peddler Keith (Pearce) and constantly nightgown-clad, alcohol-swilling Kaye (Minogue) are clearly struggling with segueing from local glamour couple to parents of five, with their kids always running riot. And, as for the Marshes, Bob (Sims) hawks gadgets, Gale (Keddie) shops, chats and plays tennis, and Jeff's experimenting older sister (Chelsea Gaw) has the boys literally lining up at their door.
When a dead whale washes up on the beach, the neighbourhood's accepted level of chaos devolves swiftly — helped in no small part by a foray into swinging that sets the adults against each other, or by Jeff and Mellie's swelling feelings as the outsiders of the group. Fights in the streets over attempted tussles in the sheets are just the beginning. The era-specific dialogue and humour aren't afraid to push boundaries, though they don't always hit the mark.
Indeed, while the end result doesn't consistently gel as intended — sitting between coast-set coming-of-age efforts like Puberty Blues and Australia's spate of '70s sex comedies such as Alvin Purple — enough laughter flows, often more from the performances than the material. The film's big-name players prove delightfully committed, as well as gorgeously blocked by Elliott and shot by cinematographer Brad Shield, even if an impressively against-type Minogue is given noticeably less prominence.
Including the titular track, a soundtrack of fitting period tunes demonstrates ample attention to detail, matching the feature's pitch-perfect look and feel. And while all of the tight swimwear, shiny casks of wine, shared buckets of chicken, backyard daredevil stunts, polyester outfits and all-round carefree attitudes inform little more than an affectionate, lightweight, sometimes wavering lark about a different time with different sensibilities, there's no mistaking the feature's enthusiastic mood.
Production company: Wildheart Films, See Pictures
International sales: WestEnd Films, info@westendfilms.com
Australian distribution: Becker Film Group
Producers: Al Clark, Jamie Hilton
Executive producers: Robert Whitehouse, Christopher Figg, Lisa Lambert
Cinematographer: Brad Shield
Editors: Sue Blainey, Laurie Hughes, Annette Davey
Production designer: Colin Gibson
Costume designer: Lizzy Gardiner
Composer: Guy Gross
Cast: Guy Pearce, Kylie Minogue, Radha Mitchell, Julian McMahon, Asher Keddie, Jeremy Sims