A headstrong teen returns to Bosnia to reconnect with her dying father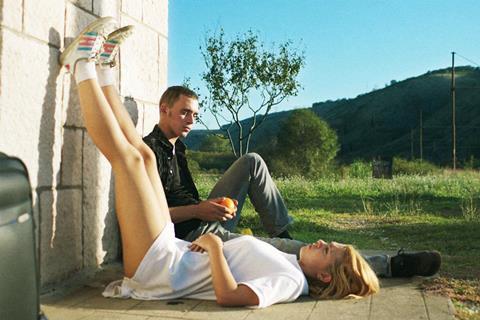 Dir/scr: Ena Sendijarević. Netherlands/Bosnia and Herzegovina. 2019. 91mins
On the cusp of adulthood, Alma (Sara Luna Zorić) embarks on a journey to meet the father she never knew. Bosnian by birth but raised by her mother in the Netherlands, Alma lost her father to the "nostalgia" which drew him back to his home country. Now he is hospitalised in a small Bosnian town, and stony-faced Alma has decided to see him one more time.Ultimately, however, the father is almost incidental in Ena Sendijarević's playfully quixotic road movie. Alma, trading on her magnetic but lethargic charisma, is rootless protagonist who follows whims and impulses rather than any planned route.
Behind her wall of feigned boredom, Alma is revealed to be a complex, wilful protagonist
Sendijarević cites Jim Jarmusch as an influence, and Stranger Than Paradise is an obvious reference for this first feature, which places equal weighting on the space around the action as it does on the action itself. There's an oddball intrigue and a dry absurdist humour to this journey which largely transcends the uneven pacing and further festival interest seems likely; it's a film which combines a sense of youthful rebellion with an interrogation of the contradictions at the heart of one girl's life and of the Europe she lives in. While it might struggle to assert itself outside of the festival circuit, it certainly announces a promising talent in Sendijarević.
Alma's relationship with Bosnia is conflicted; it is, after all, the rival which triumphed in the battle for Alma's father's affections. But it is also, as Sendijarević establishes early on, a place of staggering natural beauty which Alma finds fascinating, despite her default setting of glowering disinterest. Her habitually stony expression is, in part, a defence. She arrives to an almost aggressive level of indifference from her cousin Emir (Ernad Prnjavorac), who claims to be too busy to drive her to see her father in the neighbouring town. His friend, Denis (Lazar Dragojević), is more attentive. They have fumbled, impulsive sex in the lift of Emir's apartment building. But the shine rather goes off the encounter when Emir mentions that Denis has a girlfriend.
After an abortive attempt at striking out on her own – she is stranded when a bus leaves without her and hitches a ride with a worldly cabaret singer – Alma finds herself on the road with Emir and Denis. And, as the antagonistic relationship with her cousin grows into something more complex, this makes for a highly charged dynamic. Alma seems destined to be perpetually pulled between two opposing forces: the two boys; the Netherlands and Bosnia; her loyalty to her mother and her curiosity about her father. Sendijarević emphasises this with a neat repeated motif of Alma caught in dual reflections.
It's handsomely shot, with a brash candy colour palette and skittish, off-kilter framing. Music choices are uneven, but the use of track by Sonic Youth captures perfectly the tone of insouciant adolescence.
Not all of the plot devices land successfully however. A package of drugs found in a suitcase is a narrative cliché which Sendijarević subsequently discards as something of an afterthought. But the writing in stronger when it comes to character: behind her wall of feigned boredom, Alma is revealed to be a complex, wilful protagonist. And we can't help but admire her determination to do whatever – and whoever – she damn well pleases.
Production companies: Pupkin Film
International sales: Heretic info@heretic.gr
Producer: Iris Otten
Production design: Myrte Beltman
Editing: Lot Rossmark
Cinematography: Emo Weemhoff
Music: Ella van der Woude
Main cast: Sara Luna Zorić, Lazar Dragojević, Ernad Prnjavorac, Sanja Burić