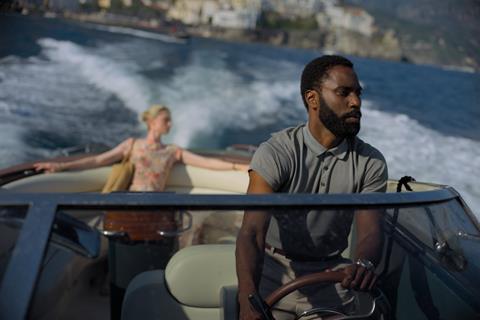 Dir/scr. Christopher Nolan. US. 2020. 152 mins
Tenet is a super-glossy, high-octane Christopher Nolan action film (ie long, extravagant and fixated on the concept of temporal manipulation) which is hoped will apply a shock paddle to what's left of the global theatrical business at the end of summer 2020. In it, a suave, sharp-suited leading man named The Protagonist (John David Washington) is assaulted with pages worth of time travel exposition by a woman in a white coat. "Don't try to understand it," she urges. "Just feel it."
She (Clemence Poesy) should wish him luck, because neither will turn out to be easy.
It's an undeniable joy to return to the big screen with a picture which has been shot and edited on film, which moves between shiny locations and adroitly-executed set pieces so effortlessly and so expensively. It's also obvious that Nolan, who wrote, directed and co-produced with his partner Emma Thomas and his regular team of collaborators, knows precisely what's going on here - after all he's spent years constructing his very own Matrix. It's a hopelessly convoluted watch, though, and Warners must be hoping for the kind of repeat viewing which Nolan fans are only too happy to indulge. Feeling it, is, indeed, the best option: although staying in sync with a film with such a disrupted and repeatedly altered internal logic proves to be quite a challenge.
The question of whether it was worth all the hoo-ha will be hotly debated
Originally slated to open in July, Tenet has now achieved almost mythical status as it defies the usual distribution pattern to roll out internationally wherever cinemas are open before the US release. It's certainly a film for the occasion and it is to be hoped will prove a rallying cry for audiences to get back on socially distanced seats. Some may be disappointed that it is not connected narratively to Inception, and it lacks the pyrotechnics of that 2010 film. It's a dream ride, though, for the most part, for anyone looking for glitzy escapism, and who wouldn't include themselves in that demographic right now.
Tenet is as generous as any Bond when it comes to a big-buck opening sequence and regularly-scheduled, muscular set pieces. If anything, it showers the viewer with too much, over-balancing a ticking-time-clock finale which is only saved by Elizabeth Debicki's raw acting talent. Nolan brings the audience straight into a hostage scenario in the Kiev opera house, assaulted by multiple antagonists, all helmeted and largely unidentifiable. One, who bites on a fake cyanide tablet sent by the CIA to test his mettle, is The Protagonist. Amidst a barrage of code words and references to "private Russians", he's told his duty now "transcends the national interest" and this is all about the very survival of a world where the "detritus of a coming war" is being sent back in time.
Warners is keen for critics not to reveal plot points for Tenet: oh, that it were so easy. Soon, the Protagonist is in Bombay on the hunt for an arms dealer where he meets up with a rakish, stylishly-dishevelled British operative called Neil (Robert Pattinson) who helpfully possesses a Masters in Physics. From there to Pall Mall and a lunch with Michael Caine (who played the father of Leonardo DiCaprio's character in Inception, providing the only front-of-camera link to that film). There's also Oslo, a yacht in Salerno (enter Debicki), Tallinn, Trondheim, Vietnam, and a ruined Soviet-era satellite town which is visually something of a disappointment after all which has gone before.
But all roads – back and forth - lead to the oligarch Stor (Kenneth Branagh) who, it turns out, has amassed his grubby fortune by an extreme case of forward planning. His aristocratic wife Kat (Debicki) may turn the key into his world.
Between multiple shoot outs, a plane crash and extensive car chases – not to mention a catamaran race – the actors have to work hard to rise above the din. This is a particularly strong cast for Nolan, and a significant one. John David Washington has an easy fluidity which moves between naiveté and callousness in a sympathetic manner and he delivers some outrageous scripting with calm believability. He and Pattinson are a handsome pairing: movie stars to their very fingertips. Nolan uses his Dunkirk star Branagh to good effect, and while it is no surprise after The Night Manager to see Elizabeth Debicki as an oppressed spouse floating around glamorous Mediterranean locations, she does absolutely everything the role could have asked from her – and more besides.
Final revelations tie the piece neatly, with potential for a sequel, although the question of whether it was worth all the hoo-ha will be hotly debated. With regards to Nolan's body of work, this is a more earthy piece than the Interstellar or Inception flights of fancy but visual echoes of his previous work abound. Or are those messages from a future yet to come?
Production company: Syncopy
International distribution: Warner Bros
Producers: Christopher Nolan, Emma Thomas
Screenplay: Christopher Nolan
Cinematography: Hoyt Van Hoytema
Production design: Nathan Crowley
Editor: Jennifer Lame
Music: Ludwig Goransson
Main cast: John David Washington, Robert Pattinson, Elizabeth Debicki, Kenneth Branagh, Michael Caine, Aaron Taylor-Johnson