A fascinating, if unconventional, look at the singular life of Nikola Tesla as played by Ethan Hawke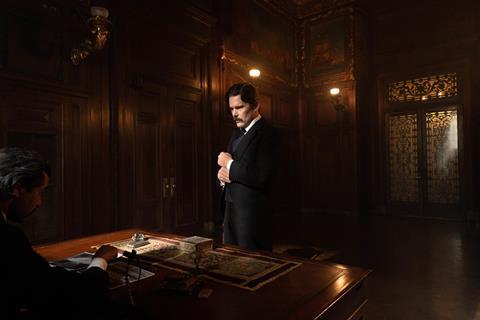 Dir/scr: Michael Almereyda. US. 2020. 102mins
Less a biopic of Nikola Tesla than a rumination on his legacy, era and continued cultural relevance, Tesla churns with ideas and provocations — not always successfully but with enough gusto and curiosity that one can't help but get charged up by the effort. Working again with Ethan Hawke, with whom he collaborated on 2000's reimagined Hamlet, writer-director Michael Almereyda uses Tesla as a conduit for discussions about art, commerce, ambition, even the battle between corporations and the individual. And although sometimes uneven, Tesla proves to be greater than the sum of its parts, largely thanks to Almereyda's undaunted belief that following his muse is more rewarding than following genre conventions.
There's a playfulness to Tesla, although Almereyda's intentions are quite serious.
Almereyda has received stellar reviews for recent films such as Experimenter and Marjorie Prime, although neither was much of theatrical player. Tesla is probably less accessible than either, even with the presence of Hawke and co-star Kyle MacLachlan. Tesla has been portrayed in films such as The Prestige (by David Bowie) and The Current War (by Nicholas Hoult), and of course the inventor's name is now synonymous with the technology company co-founded by Elon Musk. Still, the betting is that Tesla remains a modest commercial prospect.
Spanning roughly two decades from the late 19th century to the early 20th, Tesla gives us the broad strokes of the man's life. Nikola Tesla (Hawke) butts heads with Thomas Edison (MacLachlan), who backs the notion of direct current electricity, while our hero believes that alternating current is the better way to power America's lights. Their feud consumes Tesla, who meanwhile becomes smitten with the bewitching Anne Morgan (an underused Eve Hewson), daughter of powerful financier J.P. Morgan (Donnie Keshawarz).
Tesla contains some of the building blocks of a conventional biopic — we learn about Tesla's most memorable achievements, his lovers and his place in history — but as he did with Stanley Milgram in Experimenter, Almereyda wants to make his subject as contemporary as possible. Sometimes, those attempts are cheeky — Edison looks at his cellphone at one point — or conceptually audacious. (Few would have guessed going into Tesla that we would be treated to the man singing a karaoke version of "Everybody Wants To Rule The World.") But throughout, the film is guided by its maker's impatience with hagiography or audience expectations for a Wikipedia rundown of Tesla's life story. (Indeed, we are occasionally shown dramatic scenes and then told that they never actually happened.) There's a playfulness to Tesla, although Almereyda's intentions are quite serious.
Aided by cinematographer Sean Williams' moody, dreamlike lighting, the writer-director isn't interested in explaining Tesla but, rather, creating an emotional impression of him — or, more accurately, focusing on the aspects of Tesla that most align with his own preoccupations. Notably, Nikola is a tormented, somewhat aloof soul — not unlike Almereyda's Milgram or Hamlet — who feels out of step with the world. His brilliant mind sets him apart from others, but he's constantly in need of those with deep pockets to fund him (an apt metaphor for independent filmmakers if ever there was one). Working by intuition more than plot, Almereyda gives us a film which is messy and episodic, featuring digressions that don't always add up to much, their only link being the filmmaker's interest in what they say about Tesla and his times.
Hawke plays the engineer as a dour individual lacking in charisma — he's far less electric than his rival Edison, who MacLachlan portrays with cocky flair. But Hawke's intensity makes Tesla magnetic in his own way, suggesting that this man had little interest in social niceties, absorbed instead in perfecting his latest invention. The inherent downside to such a flat characterisation is that Tesla struggles to establish much forward momentum. Supporting players come in and out of Tesla's life almost arbitrarily, with only Anne's occasional narration — often spoken directly to camera — as a connective tissue.
In the film's later sections, Almereyda hints that Nikola Tesla, who was never as successful as Edison, helped to shape the modern mechanised world. That may be debatable, but then again, Tesla isn't a film which is concerned with being a definitive historical record. Instead, it serves as an opportunity for Almereyda to take the raw materials of an inventor's life and reshape them into a narrative that speaks to him personally. It can be a challenge to get on this movie's frequency, but the strange signals Tesla emits are nonetheless fascinating.
Production company: Millennium Films
International sales: Millennium Films, info@millennium-media.net
Producers: Uri Singer, Michael Almereyda, Christa Campbell, Lati Grobma, Isen Robbins, Per Melita
Production design: Carl Sprague
Editing: Kathryn J. Schubert
Cinematography: Sean Williams
Music: John Paesano
Main cast: Ethan Hawke, Eve Hewson, Donnie Keshawarz, Josh Hamilton, Jim Gaffigan, Kyle MacLachlan