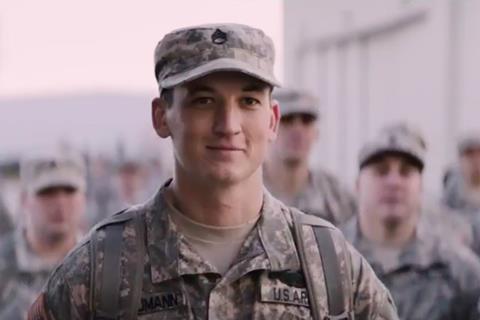 Dir: Jason Hall. US. 2017. 108mins
Muted in its anger but resonant in its grief, Thank You For Your Service takes a close look at Iraq War veterans who have returned home to discover that they're practically time bombs waiting to go off. The subject matter may be familiar — despairingly so — but writer-director Jason Hall (who previously wrote American Sniper) imbues it with specificity and no-nonsense drama that make the plight of physically and emotionally wounded soldiers sting all over again.
Hall's restrained approach only amplifies how helpless these soldiers feel when they're abandoned by their government
Releasing October 27 in the US and November 10 in the UK, Thank You looks to be a low-key entry amidst higher-profile fare such as Thor: Ragnarok and the latest Saw instalment, Jigsaw. It's likely too much to expect that Thank You will match the $547 million worldwide earned by American Sniper, but good reviews and the moderate box-office appeal of Miles Teller could help raise visibility for this true story.
Set in 2007, the film stars Teller as Adam Schumann, who is happy to get back to his Kansas hometown after serving as an Army sergeant in Iraq, reuniting with his wife Saskia (Haley Bennett) and their two children. But fellow soldiers Will (Joe Cole) and Solo (Beulah Koale) seem to have been more profoundly damaged by their experience overseas, their transition back to civilian life hampered by crippling PTSD. Soon, Adam begins to show similar signs, suffering from wild mood swings and suicidal thoughts.
Based on the book by Pulitzer Prize-winning journalist David Finkel, Thank You spends most of its running time simply observing Adam and his friends as they try to reconcile the relief they feel at being home with the twitching anxiety that comes from acclimating to "regular" life. Whether in The Best Years Of Our Lives, The Hurt Locker or American Sniper, Hollywood has often chronicled the secret hells in which soldiers reside once they leave the battlefield, so it's inevitable that a certain amount of dramatic déjà vu will seep into the proceedings.
But that narrative predictability becomes one of the film's quiet strengths. Hall (whose American Sniper was also based on a true story) convincingly articulates the inner lives of his characters, portraying these men as ordinary Americans who can't comprehend the horrors they saw during war. Thank You is somewhat encumbered by a narrative framework that hints at a major secret which Adam and his fellow soldiers are harbouring about their time in Iraq — one that will eventually be revealed, in an unsurprising way. But Hall's restrained approach only amplifies how helpless these soldiers feel when they're abandoned by their government, which buries them in bureaucracy once they seek proper medical care.
As in his fine work in the firefighting saga Only The Brave, Teller proves to be commanding as a blue-collar guy in Thank You; especially once Adam realizes that he's unravelling just like his buddies. Admired for being a natural leader, Adam believes that he has to keep it together while his fellow soldiers fall apart, but Teller shows the hidden anguish that's destroying this decent man.
Equally nuanced and compelling is Bennett as Adam's wife, who has her husband back physically but recognizes that something has been permanently ruptured within him. Saskia has learned to be self-sufficient in Adam's absence, and so their reunion finds them trying to negotiate a new relationship now that they've been apart for so long. And Koale is heartbreaking as Solo, who has to contend not just with PTSD but also racism as an American Samoan who can't feel comfortable in his small, largely white hometown.
Hall has such a sure feel for the way soldiers interact — zeroing in on the rituals and shared language that bind them in a way no outsider could understand — that Thank You often works as just as a casually assured portrayal of servicemen's complicated lives Stateside. It's unfortunate, then, that the film eventually introduces a generic suspense plot that forces the characters to engage in the mechanics of a thriller. Thankfully, Hall arrives at an ending that properly honours the simple humanity of his characters, playing like an appropriately modest tribute to men who don't like others making a fuss over them.
Production companies: DreamWorks Pictures, Reliance Entertainment, Rahway Road
US distribution: Universal Pictures, www.universalpictures.com
UK distribution: Entertainment One, www.entertainmentone.com
Producer: Jon Kilik
Executive producers: Ann Ruark, Jane Evans
Screenplay: Jason Hall, based on the book by David Finkel
Cinematography: Roman Vasyanov
Production design: Keith P. Cunningham
Editor: Jay Cassidy
Music: Thomas Newman
Website: www.thankyouforyourservicemovie.com
Main Cast: Miles Teller, Haley Bennett, Joe Cole, Amy Schumer, Beulah Koale, Scott Haze, Keisha Castle-Hughes, Omar J. Dorsey, Brad Beyer