Jessica Chastain sets her spies on the loose in a Covid-free world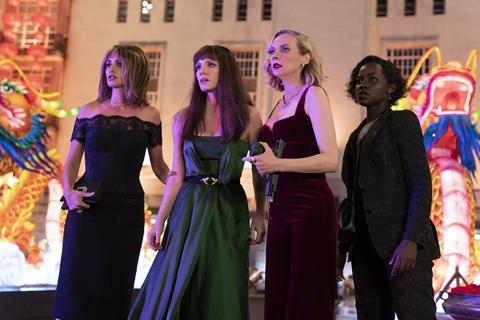 Dir. Simon Kinberg. US. 2021.
Conceived during Jessica Chastain's jury duty - with Fan Bingbing - at Cannes in 2017, femme spy caper The 355 does bear all the hallmarks of something that looked good on paper during a sunny Riviera lunch almost five years ago. Unfortunately, though, it arrives at the table in the bleak first back-to-work-weekend of a pandemic January in 2022, a wrong film at the wrong time.
Even for those who like a silly, undemanding watch, the clunky title is unhelpful to word-of-mouth
You can see producer Chastain's lightbulb moment: why not deliver an all-female spy action thriller to an under-served demographic, particularly if it features talents such as Chastain herself, her jury mate Fan, Diane Kruger, Lupita Nyong'o and Penelope Cruz. It makes sense. Yet she and fellow producer, director and co-writer Simon Kinberg have focused too much of their effort on the all-female part of the package - the rest is insubstantial enough to make Charlie's Angels seem worthy of that Cannes Competition berth. The January release slot is traditionally a dead zone, and The 355 won't change that, but it might blow some further wind into Spider-Man's sails if audiences are still in the mood to go out. (Even for those who like a silly, undemanding watch, the clunky title is unhelpful to word-of-mouth, and only explained in the briefest of sentences at the end of the film.)
You get the sense that Chastain and crew were aiming more for Widows than Angels, and In The Fade's Kruger puts in a performance worthy of that Steve McQueen-directed feature. The others can't really convince in their spanking-new action roles, and the screenplay fails to give them words to work with. All the effort goes into the first half-hour, with a stolen MacGuffin leading Chastain's CIA agent spy Mace to a showdown in Paris and a rip-roaring chase through the city's Metro system with German spy Marie (Kruger). There are clues, however, as to the way this might be going: Jason Flemying as the film's villain-in-chief suggests the money may have gone by the time Chastain got around to male casting, something reinforced by Sebastian Stan's odd performance as Mace's fellow-agent. By the time Penelope Cruz shows up as a psychiatrist sent to Paris from Colombia to life-coach an agent into handing the MacGuffin back it's clear that logic has left the building - but there's a lot of running time left, both onscreen and off.
Fan Bingbing's character necessitates The 355 to ultimately move to 'Shanghai' - after a spell in 'Marrakech' - but all hope dies here that she may yet turn out to be a Michelle Yeoh in waiting as the film limps to a soundstage finale. In fairness, production on The 355 hasn't been helped by, firstly, Fan's problems at home in China (she disappeared the year after her Cannes jury duties, under house arrest for tax evasion), or by Covid-19, which pushed the release back by a year. Fan's character has no real grounding and just weaves in and out of events in which Lupita Nyong'o also features as a MI5 agent who is a tech whizz but still needs to be womansplained by Mace as to what the MacGuffin can do (it's a computer programme which can - gasp! - destroy the world). Undoubtedly the decision to mount an all-female Bond-style drama was well-intentioned, but the simplistic casting template is a constant low-lying irritation - the Charlie's Angels formula of long-haired blonde, short-haired brunette etc has been extended to ethnicity, and, like dolls, director Kinberg can't resist the temptation to dress them up when the going gets tough. Which happens often.
Despite the keep-it-open ending, it seems clear that Chastain has an idea, and not a franchise; that Simon Kinberg (X-Men) works better as a producer than a director. Also clear is the fact that with the world now facing into a third year of living with Covid-19, it's going to be tricky for those films piled up on the exhibition runway not to address it in some way. Sure, we all want escapism. But it's a hurdle when an agent is told to pack immediately for an overnight trip to Paris with not even a mention of a PCR test or a facemask for a trip to Shanghai, a place which has been effectively shut to the outside world since early 2020. Perhaps a better film may have vaulted the problem - Bond certainly did - but The 355, like its agents, is sorely lacking in skills.
Production companies: Freckle Films, Kinberg Genre Films
International sales: FilmNation Entertainment
Producers: Jessica Chastain, Kelly Carmichael, Simon Kinberg
Screenplay: Theresa Rebeck, Simon Kinberg, from a story by Theresa Rebeck
Cinematography: Tim Maurice-Jones
Production design: Simon Elliott
Editing: Lee Smith, John Gilbert
Music: Tom Holkenborg
Main cast: Jessica Chastain, Diane Kruger, Lupita Nyong'o, Penelope Cruz, Fan Bingbing, Sebastian Stan, Edgar Ramirez, Jason Flemyng