Dir: Steven Spielberg. US. 2016. 115mins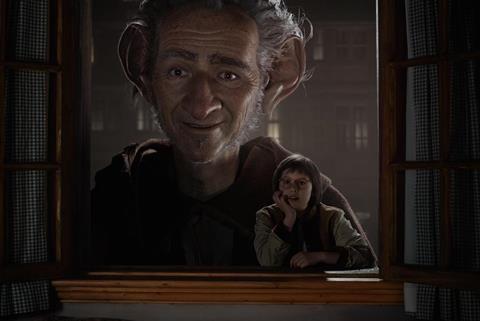 When you think about it, Steven Spielberg and the BFG are in the same line of work: the cultivation and curation of a culture's dreams. So it's no surprise that the acclaimed filmmaker's adaptation of the Roald Dahl book proves to be a comfortable fit. More a technical triumph than a full-bodied emotional experience comparable to the likes of E.T., this family film has plenty of whimsy and heart, and is aided enormously by Oscar-winner Mark Rylance's soulful, sad performance as the Big Friendly Giant. But if The BFG isn't quite transcendent, it's a reminder that Spielberg, at 69, can still weave a world and tap into our collective unconscious — especially our need to be part of a family.
The ensemble brings a light touch to beloved material, perhaps not making a timeless classic but offering suitably enjoyable entertainment
Premiering at Cannes, The BFG will open across much of the globe by July 1. Considering how potent another Disney mixture of live-action and motion-capture performances, The Jungle Book, has been, it's easy to see this movie being just as alluring to children and their parents. Without the benefit of marquee movie stars, The BFG will have to make do with audience awareness of Spielberg and Dahl — and that should be more than sufficient compensation.
Set in the 1980s, The BFG stars newcomer Ruby Barnhill as Sophie, a London orphan who late one night hears stirring outside her window. To her amazement, she spots a kindly giant she dubs the BFG (voiced by Rylance, who won his Oscar for Spielberg's Bridge Of Spies). Frightened of being detected, he kidnaps Sophie and takes her to the land of giants, where she quickly learns that there are bigger, meaner giants who would like nothing more than to eat her.
After making back-to-back historical period dramas (Lincoln, Bridge Of Spies), Spielberg returns to the land of family movies for The BFG, although in temperament this is closer to the child-friendly exploits of The Adventures Of Tintin than the more somber, consciously old-fashioned tone of War Horse. Benefiting from one of longtime composer John Williams' most moving scores in recent years, the director seeks to create a magical realm in which the plucky Sophie and the good-hearted, lumbering BFG find in each other a fellow outcast craving a connection.
Barnhill doesn't always rise above adorable-kid mannerisms, but her lack of poise is offset by Rylance's warm, supremely assured counterbalance. A portrayal built around performance-capture technology, the BFG has the same melancholy eyes and gentle smile as the actor playing him, and Spielberg's team of technicians give their giant an elegance and grace so that when he moves we sense the beautiful heart inside him. The late screenwriter Melissa Mathison (who also wrote E.T.) maintains Dahl's gibberish giant dialogue, but even when we can't always understand what the BFG is saying, we grasp his loneliness — not to mention his fear of what might happen if he befriends another human, a painful memory he keeps hidden from Sophie.
The giants' world (and, in particular, the BFG's lair) has been given an imaginative but not overbearing flair from production designers Rick Carter and Robert Stromberg. Despite the dazzling effects, the melding of live-action and computer graphics can still sometimes look awkward, but on the whole the creative team emphasises straightforward, unfussy settings so that the viewer can soak in the environments rather than being bludgeoned by their gaudiness.
Still, Spielberg's reputation as a master of awe may leave some feeling faintly underwhelmed by The BFG, simply because the movie rarely matches the visual wonders and emotional peaks of his earlier work such as E.T. or Close Encounters Of The Third Kind. (A notably poignant exception is when Sophie and her large friend travel to the mirror-image world of Dream Country, where the BFG catches dreams that he delivers to children while they sleep.) For as formidable a director as Spielberg has remained, the truth may be that this sort of story isn't the kind that inspires or pushes him as much as other genres now do. As appealing and likeable as The BFG is, the movie doesn't seem particularly groundbreaking or daring when it comes from Spielberg, who is revisiting his major themes here without necessarily reinventing them.
Among the supporting cast, Jemaine Clement and Bill Hader are largely unintelligible in voicing some nasty giants who like picking on the smaller BFG, while Penelope Wilton has some cheeky fun playing the frazzled Queen of England who gets paid a visit by our towering hero. Like their director, the ensemble brings a light touch to beloved material, perhaps not making a timeless classic but offering suitably enjoyable entertainment.
Production companies: Disney, Amblin Entertainment, Reliance Entertainment, Walden Media, Kennedy/Marshall Company
International sales: Amblin Partners, thebfg@amblinpartners.com
Producers: Steven Spielberg, Frank Marshall, Sam Mercer
Screenplay: Melissa Mathison, based on the book by Roald Dahl
Cinematography: Janusz Kaminski
Editor: Michael Kahn
Production design: Rick Carter and Robert Stromberg
Music: John Williams
Main cast: Mark Rylance, Ruby Barnhill, Penelope Wilton, Jemaine Clement, Rebecca Hall, Rafe Spall, Bill Hader