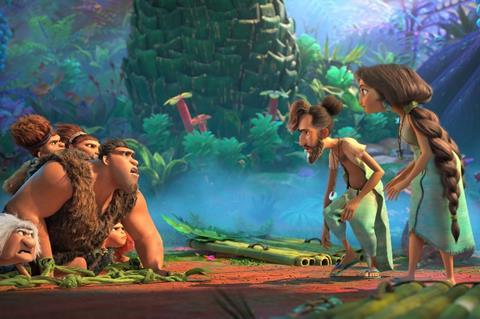 Dir: Joel Crawford. US. 2020. 95mins.
It may be A New Age, but this sequel to 2013's The Croods faces an old problem — namely, the difficulty of recapturing the novelty and sweetness of a clever first instalment. For the followup, this uncouth but lovable prehistoric family meets a slightly more evolved brood, but the comedic sparks and emotional stirrings simply aren't as potent this time around, despite some colourful animation and an occasionally inspired silly streak.
Have viewers been craving more Croods? Since the 2013 hit, DreamWorks Animation has produced a successful Netflix series (although not with the original voice actors), and so A New Age should attract family audiences, although the alarming rise in COVID cases may hamper the US theatrical release on November 25. (A UK rollout is planned for late January.) Boasting the talents of Nicolas Cage, Emma Stone and Ryan Reynolds, the sequel hopes to be a viable option during an uncertain holiday season.
The cave-dwelling Croods, led by overprotective father Grug (Cage), are seeking a permanent home when they encounter the Bettermans, a civilised clan that has mastered concepts like showers and indoor plumbing, and lives in a self-made paradise protected from the savagery of the outside world. Eep (Stone), still madly in love with handsome Guy (Reynolds), feels threatened by this new family, who took care of Guy after he lost his parents as a boy. (Plus, their daughter Dawn, voiced by Kelly Marie Tran, always had a crush on Guy when they were kids.) Grug's family thinks they should move in with the Bettermans, but he's suspicious of this seeming Eden.
The 2013 film focused on a poignant, albeit familiar theme — a controlling dad needs to learn to let his teenage daughter be her own person — and one of the disappointments of A New Age is that it doesn't substantively develop that idea for this new chapter. Instead, Grug is again feeling jealous of being supplanted — this time, by pretentious Phil Betterman (Peter Dinklage), who has a knack for politely talking down to this caveman in cutting ways. Unfortunately, the two men's rivalry isn't especially funny, and likewise the romantic triangle between Eep, Guy and Dawn feels contrived, with Guy suddenly cooling to Eep in a way that's completely unmotivated.
Making his feature debut, director Joel Crawford expands the first film's imaginative environment. (The Croods stories exist in a fanciful prehistoric period where there are frighteningly barren lands next to lush forests, and quirky hybrid animals like wolf-spiders roam free.) A New Age's bright, whimsical digital animation often proves more inviting than the storytelling — the script is credited to four writers — and the Croods' exaggerated facial reactions remain endearing. And despite having to mostly repeat the same character beats as in the original, Cage continues to be quite appealing as a classic old-school disciplinarian father who hates change — even if that change involves being able to sleep in a bed inside of a home instead of on the hard ground exposed to the elements.
Of the new cast members, Dinklage has plenty of fun underplaying Phil's pompousness — his droll demeanour nicely complements Cage's seething rage — although Tran can't enliven her generic sheltered-teen character. (Leslie Mann is equally wasted as Phil's persnickety wife Hope.) As Phil begins to hatch a plan to ditch the Croods — and convince Guy to stay with them in order to marry his daughter — A New Age mostly spins its wheels, although a late reveal about why, precisely, Phil forbids Grug to eat his plentiful bananas leads to some rewardingly goofy digressions. (Turns out, people saying "banana" over and over again can be pretty amusing.)
But as the film reaches its predictably action-packed finale, what's missing is the exploration of family that made The Croods a modest charmer. The characters' connection simply isn't as strong in this sequel, and so therefore the emotional stakes aren't as engaging. Crawford tries his best to introduce a feminist bent — it's the women who must save the fellas — but while Stone is still fairly delightful as the insecure, brutish Eep, it's a shame that, for two films now, Catherine Keener has been given little to do as the Croods' long-suffering matriarch Ugga. Alas, this is a caveman's world.
Production company: DreamWorks Animation
Worldwide distribution: Universal Pictures
Producer: Mark Swift
Screenplay: Dan Hageman & Kevin Hageman and Paul Fisher & Bob Logan, story by Kirk DeMicco, Chris Sanders
Production design: Nate Wragg
Editing: James Ryan
Music: Mark Mothersbaugh
Main voice cast: Nicolas Cage, Emma Stone, Ryan Reynolds, Catherine Keener, Cloris Leachman, Clark Duke, Leslie Mann, Peter Dinklage, Kelly Marie Tran