In a time of great change, some elements remain reassuringly constant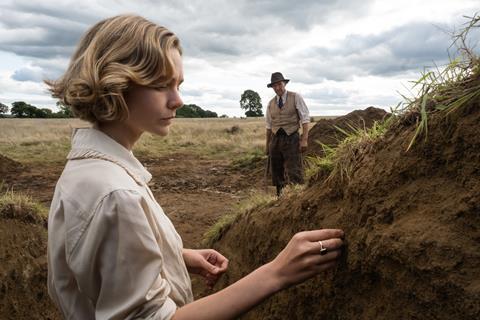 Dir. Simon Stone. UK. 2019. 112 minutes.
The words 'old-fashioned' and 'charming' are bandied about so enthusiastically in relation to 'British heritage cinema' that when a film does come along that manages to authentically be both, the words feel somewhat inadequate, even unintentionally dismissive. But there's a rare, old-school honesty to The Dig, the story of how the extraordinary 6th century Anglo-Saxon burial ground at Sutton Hoo in Suffolk was discovered in the run-up to the Second World War. Australian director Simon Stone's (The Daughter) film delivers strong performances – from Ralph Fiennes and Carey Mulligan in particular – and top-level craft, but with an undercurrent of real emotion which sensitively conveys the fragility of lives and time. To use another of those abused words, it's captivating.
Fiennes is irresistible as the gruff, broad, heart-of-gold Brown
Moira Buffini (Tamara Drewe) has written a nicely-structured, conventional adaptation of John Preston's fact-based novel, sprinkling the discovery of the burial site with dramatic elements including, but not limited to, a grieving widow, a fatherless child, an illicit romance, a terminal illness, and a self-taught salt-of-the-earth archaeologist named Basil Brown (Fiennes) who is being sidelined by the toffee-nosed establishment. To film it, Stone and his producers have mustered some shimmering talent: from Australia's Alice Babidge for costumes, hair and make-up designed by Jenny Shircore, Mike Eley's camera and Maria Djurkovic's production design, this is museum-worthy itself – a snapshot of a time and talent in pre-Covid domestic production. (The Sutton Hoo artefacts, meanwhile, reside in the British Museum.)
Certain narrative elements in The Dig are stronger than others: the relationship between the widowed Mrs Pretty (Mulligan), the rich owner of the site, and Brown, whom she hires to excavate it on a seeming whim, is fine-tuned and taut throughout, as is the gruff auto-didact's affecting relationship with her lonely son. It's not immediately clear why we spend so much time with junior, married archaeologist Peggy, played by Lily James, and Mrs Pretty's fictitious cousin (Johnny Flynn), destined for service in the RAF. In real life, however, Peggy was author Preston's aunt and became pre-eminent in her field: all's fair in love and the War that darkens the horizon of this field in England in 1938-9.
Where The Dig really makes its impression is its visual, mostly unspoken, presentation of the advance of time and the stillness of the earth which guards its memories. Stone uses several technical devices to convey this sense, most eloquently with dialogue, which can lapse or seem misdirected. The dig itself comprises two simple grassy mounds, pushing DoP Mike Eley out into the nature of its beautiful, emblematic surrounds in the former Kingdom of East Anglia. The illness of a key character, the success of the common man, and the horde of treasure from an earlier age play out under the sounds of fighter jets making practice runs as September 1939 draws closer and closer. It all conveys a sense of fragility on the one hand, and endurance on the other.
Fiennes is irresistible as the gruff, broad, heart-of-gold Brown, in any other hands a caricature but here a figure of depth and barely hidden hurts. Mulligan, a replacement for Nicole Kidman (after The Dig moved from BBC Films to Netflix), is as subtle and affecting as she ever has been, this time in a more mature role. The Dig is charming, moving, old-fashioned heritage cinema: these are compliments. And viewers may be surprised to be reminded of how hard it is to resist the force of that combination when it is this well-executed.
Production companies: Clerkenwell Films, Magnolia Mae
International distribution: Netflix
Producers: Gabrielle Tana, Ellie Wood, Murray Ferguson, Carolyn Marks Blackwood
Screenplay: Moira Buffini
Cinematography: Mike Eley
Production design: Maria Djurkovic
Editing: Jon Harris
Music: Stefan Gregory
Main cast: Ralph Fiennes, Carey Mulligan, Lily James, Johnny Flynn, Ben Chaplin, Ken Scott, Archie Barnes