Chess is life for a trio of 50-something friends in Bogota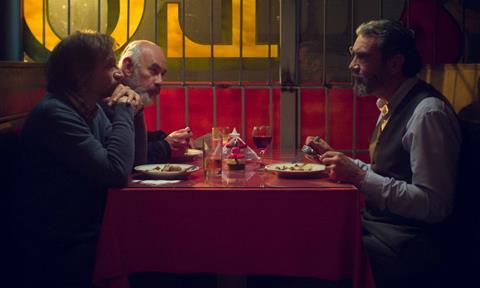 Dir/scr Natalia Santa. Colombia, 2017. 80 mins.
In her debut feature, Colombian screenwriter-turned-director Natalia Santa harvests quiet moments of humanity and poetry from the humdrum lives of three washed-up older men in recessionary Bogota. Some might be tempted to slot it into a certain whimsical-melancholy strand of Latin American cinema; Daniel Burman and Alvaro Brechner spring to mind. Yet The Dragon's Defense's keen sense of how people can be moulded by their environment until they become part of the background is refreshingly original, and conveyed with real directorial panache.
There's a cluster of small, understated love stories at the core of a film whose charm builds by slow accretion
Playing in the Quinzaine, this small charmer could stir some interest among distributors for its sensitive, good-humoured losers' view of life, though its slow-burn may appeal mostly to the 50-plus generation it portrays.
In his poem Chess, Argentinian writer Jorge Luis Borges imagines a world in which the chess pieces think they're conducting the game themselves, but goes on to say that the players' sense that they're in control is equally deluded. This sentiment that we're all pawns in a bigger game seems to hover over a film that is set, partly, in the down-at-heel world of Bogota chess clubs (the title derives from a famous variation of the so-called Sicilian Defense); places like the real-life Club Lasker, a dingy room above an inner-city shop.
It's here that 50-something Samuel (Gonzalo di Sagarminaga, who also composed the film's quirky soundtrack) takes on all-comers for small cash bets, winning more than he loses, and supplementing this meagre income with chess tutoring and maths tutoring. Dishevelled, with permanent non-designer stubble, he lives alone in a shabby apartment; his landlady washes and irons his shirts, which are delivered by her provocative teenage daughter. When not 'working', Samuel hangs out with two older buddies, a rather pompous poker-playing homeopath Marcos (Manuel Navarro), and Joaquin (Hernan Mendez), a depressive mender of things analogue.
The clocks all tick to different rhythms in Joaquin's downtown workshop and, too, on the chess clocks at the clubs and tournaments Samuel frequents; clocks with stop buttons that players slam impatiently after each move, as if trying to halt time. These three men, who inhabit a pre-digital world, seem to have been left behind, rather like the Bogota they inhabit; a place of dilapidated old buildings, sad apartments and dusty shops where nobody's buying anything.
There's a cluster of small, understated love stories at the core of a film whose charm builds by slow accretion - not least of them the friendship of these three rather pointless but still oddly engaging men. Santa's direction is confident, especially in terms of the rhythm and pacing of a story that draws observational illuminations from the most unpromising sources; a pigeon on a window ledge, for example, or the crinkled fading paint of Samuel's front door.
Production companies: Galaxia 311
International sales: m-appeal, info@appeal.com
Producer: Ivette Liang
Executive producers: Ivette Liang, Nicolas Ordonez, Natalia Santa, Ivan Herrera
Cinematogaphy: Nicolas Ordonez, Ivan Herrera
Production design: Marcela Gomez
Editor: Juan Soto
Music: Gonzalo de Sagarminaga
Main cast: Gonzalo de Sagarminaga, Hernan Mendez, Manuel Navarro, Maia Landaburu, Martha Leal, Laura Osma, Victoria Hernandez