Broadbent, Mirren, Michell and a very British drama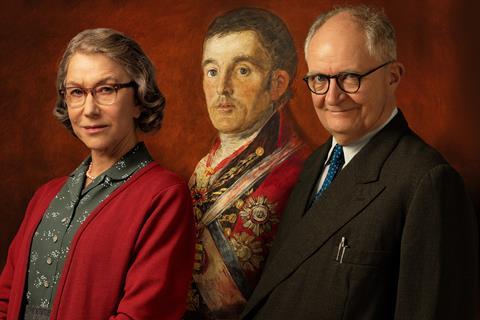 Dir. Roger Michell. UK. 2020. 95 mins.
The Duke pairs national treasures Jim Broadbent and Helen Mirren in a by-the-Brit-playbook film about a well-meaning Newcastle cabbie who steals a Goya painting from the National Gallery in 1961 in a half-baked attempt to get free TV licences for pensioners. Directed by Roger Michell and scripted by Richard Bean and Clive Colman, this film does nothing unexpected, apart from turning up at Venice, where subtitles mean at least non-native speakers don't spend 95 minutes trying to figure out where all the accents are coming from.
Michell's film is as defiantly traditional as the ghastly wallpaper which decorates the Bunton's house
Broadbent's considerable charisma as a prototype social justice warrior is enough to pull the rag-and-bone cart home on a film which becomes more defiantly contrived as it goes on. By the time a choir breaks into 'Jerusalem' ('Dark Satanic Mills/Green and Pleasant Land'), audiences may be singing out themselves for some subtlety. This type of silver-pound caper plays consistently well in the UK, though, and The Duke should follow suit (if, perhaps, a little more hastily onto the small screen, given the times and the target demographic).
Mere months have passed since Pathe's last based-on-a-true-story period caper Misbehaviour, and The Duke sets the dial back a further decade to a nicely reconstructed Newcastle of 1961 with factory smoke belching out over the mean cobbled streets where avuncular fantasist Kempton Bunton lives in a terraced house with charlady wife Dorothy (Mirren). By then, we've already seen him in the dock accused of the Goya theft during a brisk prologue, so we know what the crime is, and George Fenton's jaunty score along with a groovy split-screen credit sequence have established the 1960s mood. The only question now is why.
The explanation turns out to be a little garbled, but Michell does a good job elevating the material visually to engage and distract. An auto-didact, Kempton has moved from job to job since the premature death of his 18 year-old daughter in a cycling accident came between him and scold Dorothy, who refuses to ever discuss it. A (very) part-time cabbie and sometime bakery worker, he spends his time writing plays ('The Adventures Of Susan Christ') on spec for the BBC and standing up for the little guy, organising petitions for 'Free TV for the OAP' with his devoted son Jackie (Whitehead). His older son doesn't live at home, and doesn't really figure in the plot apart from having a fabulously snotty girlfriend (Charlotte Spencer), while Dorothy's kindly employer Mrs Gowling (Anna Maxwell Martin) does take up quite a lot of room in the film, for no appreciable reason.
Kempton is riled by the UK Government's decision to spend £140,000 on buying back the Goya ("a Spanish drunk") painting of someone he considers to be an ignoble Duke. Soon, the work of art is hidden in a false wall in his office cupboard, and Kempton is writing letters to The Daily Mirror ('the people's paper') asking for £140,000 to spend on social welfare for the poor in order to return it. The whole story is a strange one, from beginning to end, and The Duke positions Kempton as a dogged British eccentric whose heart is manifestly in the right place throughout.
As a film, The Duke sits manifestly in its own genre as well; there's no doffing the cap to any newfangled modernity here. Michell's film is as defiantly traditional as the wallpaper which decorates the Bunton's house. There's a suspicion, as Kenton speechifies in the dock about how we all need to pull together to get out of the fix we're stuck in, that this is some sort of Brexit rallying cry, Spirit of the Blitz etc. But perhaps that's just the sort of remoaner nonsense that can be sorted out with a fish and chip supper and a bottle of Newcastle Brown Ale.
As mentioned, Kristian Milstead's production design is eye-catching, helping Michell rattle through the yarn with insouciant good humour. Unfortunately, though, all roads lead back to the courtroom. And here, there's simply no place for the eye to roam when all those who Jim has "done good" to in his life return for The Duke's surprisingly schmaltzy denouement – the only part of The Duke that isn't resoundingly British to its core. A coda brings with it further revelations, not all of them unexpected.
Production company: Neon Films
International sales: Pathe International
Producer: Nicky Bentham
Screenplay: Richard Bean, Clive Colman
Cinematographer: Mike Eley
Production designer: Kristian Milstead
Editing: Kristina Hetherington
Music: George Fenton
Main cast: Jim Broadbent, Helen Mirren, Fionn Whitehead, Jack Bandeira, Charlotte Spencer, Matthew Goode