Gemma Arterton shines in Dominic Savage's portrait of a crumbling marriage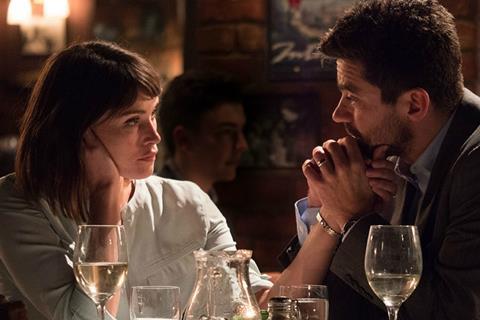 Dir/scr: Dominic Savage. UK. 2017. 101 mins.
A woman is slowly crushed under the weight of a life that she is no longer sure she wants in Dominic Savage's study of a disintegrating marriage. Gemma Arterton walks the line between self-possession and self-harm in the central role of a woman who, for much of the film, isn't dignified with a christian name – she's 'babe', 'mummy' or, on one occasion, 'stupid mummy'. It's only when her quiet desperation boils over into action that we finally learn she is called Tara.
Gemma Arterton flexes dramatic muscles which lighter roles have hitherto concealed
Savage's success at getting under the skin of the kind of cancerous depression which gnaws away at the soul means that this is not always the easiest watch. There are no audience-appeasing neat happy endings, just raw emotional wounds and aching compromises. But, despite a low key approach, this is a compelling, sometimes wrenching drama.
Arterton flexes dramatic muscles which lighter roles have hitherto concealed, while Dominic Cooper is well cast as the handsome, shallow husband who can barely comprehend, let alone articulate, the anguish that is taking the shine off his trophy wife. Both stars will be key selling points for a film which should not lack festival interest after its premiere as a Special Presentation at Toronto. The downbeat material notwithstanding, this is likely to connect with the kind of emotionally mature arthouse audience which can accept the fact that The Escape is anything but escapist.
Arterton brings a guarded physicality to her performance. Going through the domestic motions as stay at home mother to two children and wife to Mark (Cooper), she carries her shoulders stiffly, her face a neutral mask. Occasionally we get a glimpse under the armour – the soul-sick sigh as she peels parsnips, the tears that flow after a bout of vigorously one-sided sex with her husband.
Mark veers between anger, impatience and helpless incomprehension: "Are you laughing or crying? I can't work it out," he pleads as she sobs convulsively into her pillow. Tara's mother (Frances Barber) sides with her son-in-law, arguing that Tara should be thankful for her blessings. "You've got a conservatory!" she spits incredulously.
Yet Tara longs for something more — and she is nearing breaking point. A seismic score which rumbles ominously and kitchen knife holders placed prominently in the centre of the frame subliminally suggest a violence simmering under Tara's sadness.
The escape itself comes after one domestic squabble too many. Tara gets into her car, leaving her husband and children amid the wreckage of breakfast, and gets a train to Paris. The abrasive sound design is smoothed, the lighting becomes less harsh, and the score finds harmony where before it was all angles and discord.
But if it seems like a romanticised view of the city, that is exactly the point. While a chance encounter with a serene older French woman (Marthe Keller) finally offers Tara some gentle insight and perspective on her home life, this social realist spin on a Shirley Valentine-style voyage of self-discovery doesn't let its central character off without more tears shed.
Production company: Shoebox Films
International Sales: Independent Film Sales mail@independentfilmcompany.com
Producer: Guy Heeley
Executive producers: Gemma Arterton, Paul Webster, Julian Bird, Joseph Berry Jr.
Cinematographer: Laurie Rose
Editor: David Charap
Music: Alexandra Harwood, Anthony John
Main Cast: Gemma Arterton, Dominic Cooper, Jalil Lespert, Frances Barber, Marthe Keller