A retired Cuban teacher signs up for a journey to an alien planet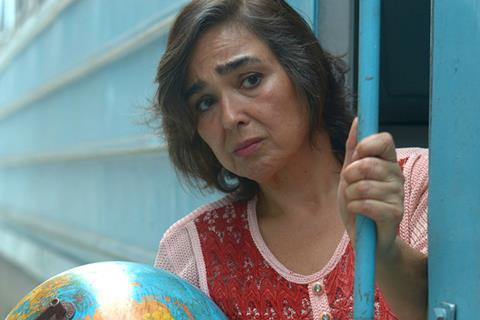 Dir/scr: Arturo Infante. Cub-Ger. 2018. 92mins
Well into her sixties, Celeste Garcia maintains a lively curiosity about the world around her – and the galaxy beyond that. A former teacher, she now works in the planetarium, her enthusiasm touching the visitors whose minds she opens daily to the mysteries of space. When a government announcement reveals that Cuba has hosted a delegation of aliens from another planet, called Gryok, and that ordinary Cubans have been invited to apply for a return visit, Celeste is earmarked as a potential asset by alien observers. This whimsical feature debut from Arturo Infante, which combines a high concept with a lo-fi Cuban ethos, has some charm but relies a little too heavily on the juxtaposition of sci fi premise and mundane execution.
Diaz does sterling work in creating a warm and sympathetic character
Quirky and unchallenging, the film should prove to be an amiable crowdpleaser on the festival circuit. Played by Maria Isabel Díaz, Celeste is a the kind of quietly fearless older female protagonist who is seen in cinema all too infrequently. The main disappointment here is that, for all the dreams of worlds unknown, the final act brings with it the faintly dispiriting suggestion that real fulfilment comes only with the love of a decent man. This banal familiarity could disappoint those attracted by the unusual set-up and picturesque Cuban backdrop.
Strip away the space travel and the warnings of alien chickens the size of a two-storey building, and what is left is an immigrant story. Like Celeste, the mismatched assortment of prospective new citizens of Gryok all have reasons to hope for a fresh start. Her roommates at the makeshift holding facility, housed in a semi derelict secondary school and run by snippy uniformed guards, are a mixed bag.
Flamboyant Hector Francisco (Néstor Jiménez) hopes that his misunderstood musical talents will finally be recognised on the alien planet. Perlita (Yerlin Pérez) is going there to slog her guts out and hopefully find a man (or two). Celeste's local butcher Augusto (Omar Franco) has signed up, reasoning that he might as well suffer from chronic insomnia in space as in Havana. Yunier (Reinier Díaz) and his girlfriend are fleeing the scene of a crime, in the hope that Gryok is too far away to have a workable extradition policy. And Celeste has sadness and a secret in her past which is revealed in a series of flashbacks.
Production design emphasises the romantically down-at-heel qualities of the Cuban backdrop; the limited budget for CGI is concentrated in just a couple of brief scenes. The jaunty, salsa-infused score is a little too eager to underline the comic potential of these ordinary folks on an extraordinary adventure.
Indeed, despite the suffering that has marked Celeste's life, Infante keeps the tone light. And Diaz does sterling work in creating a warm and sympathetic character. It's possible, however that audiences carried along with Celeste on her journey might feel short-changed by the fact she is cheated out of the answers to her questions, and by the compromises she endures on the way to her happy ending.
Production company: Producciones De La 5ta Avenida; Fassb Filmproduktion Gmbh & Co.Kg, Match Factory Productions
International Sales: The Match Factory info@matchfactory.de
Producers: Claudia Calvino, Ernst Fassbender
Production Design: Alain Ortiz
Editing: Joanna Montero
Cinematography: Javier Labrador
Music: Magda Rosa Galbán, Juan Antonio Leyva
Cast: Maria Isabel Díaz, Omar Franco, Néstor Jiménez, Yerlin Pérez