SXSW's top narrative prize-winner examines the aftermath of a school shooting in an indirect but powerful way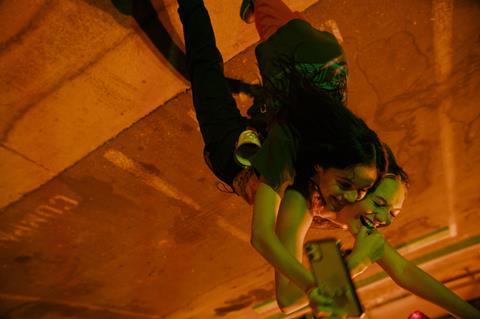 Dir/scr: Megan Park. US. 2021. 94mins.
The aftermath of a school shooting is explored in an intriguingly indirect manner in The Fallout, a drama that eschews sweeping societal commentary for a tight focus on the messy ways in which individuals recover from trauma. Jenna Ortega is nicely enigmatic as a bright teenager who finds that she can't pull herself back together after surviving a massacre, bonding with a far more outgoing classmate who endured the ordeal alongside her. Writer-director Megan Park's unassuming feature debut sensitively argues that young people should never have to face such horrific circumstances — but, given enough time, they can prove stronger than their concerned parents imagine.
The filmmaker's willingness to let her protagonist stumble through her grief and guilt is refreshing
Winning SXSW's narrative feature jury prize, The Fallout will strike a chord at a time when gun violence is often in the news — especially when it occurs at schools. Unlike Sundance highlight Mass, which chronicled the impact that a deadly shooting had on parents, Park's picture zooms in on the children, and its frank discussion of sexuality, underage drinking, drug use and social media should resonate with teen viewers.
It's just another day at high school for Vada (Ortega), when she goes into the bathroom and runs into Mia (Maddie Ziegler), a popular student applying her perfect makeup for picture day. Less confident in her looks, the bookish Vada resents rich Mia, but they're soon thrust into a harrowing situation once they hear gunshots, hiding in a bathroom stall together and fearing for their lives. (They're joined by another student, Quinton, played by Niles Fitch, who has his wounded brother's blood all over his shirt.)
Soon enough, the police stop the shooter — a fellow classmate — but in the days that follow, Vada is unable to shake the experience. Feeling like she can't relate to anyone else — especially her best friend Nick (Will Ropp), who is inspired to lead a movement to enact stricter gun laws — she turns to Mia, and the two very different women begin to bond over what they went through together.
One of the smartest elements of Park's screenplay is its understanding that Vada and Mia won't talk about the shooting directly — rather, the tentative forging of their friendship involves discussing everything except that. But both actresses deftly hint at what's not being articulated — namely, that they're so shaken by their near-death experience that they feel permanently scarred. (Likewise, Vada starts to enter Quinton's orbit, learning that a long silent hug says more than words ever could.)
Subtly, The Fallout dramatises the differences between these two women that had kept them from being part of the same clique before the shooting. Vada is a model student from a comfortable middle-class family, while Mia is a burgeoning Instagram influencer whose two dads are wealthy artists. But issues of class and ethnicity fall away once Vada and Mia discover in one another the only person who truly understands their own mixed-up feelings. And the more time they spend together, the more that growing affection leads into unexpected terrain.
Of the supporting cast, Shailene Woodley shines as the no-nonsense therapist Vada's parents (John Ortiz, Julie Bowen) hire to talk to their daughter because she won't open up to them. But there are no magic words that can snap Vada out of her funk — recovering from trauma is a complicated process — and the filmmaker's willingness to let her protagonist stumble through her grief and guilt is refreshing. Granted, sometimes The Fallout lapses into strained comedy to keep the tone light, but on the whole Vada's experimentation with drugs and drinking is viewed in a candid, non-judgemental light. She has gone through something horrific, so it's understandable that she would shed her well-composed demeanour and embrace the feeling of chaos that now surrounds her.
In that same spirit, the picture observes how modern phenomenon like smartphones and social media create a sense of both connection and alienation — and how those sensations can be exacerbated after a tragedy. Vada can't express her complicated emotions because they're still too raw, acting out and turning moody instead, but Park and Ortega understand this withdrawn character so well that we never doubt her inner turmoil — or the fact that, eventually, she will be alright. Still, it's a testament to this modest, open-ended film that it acknowledges that getting back to normal will probably never be possible for all the Vadas who survive gun violence. It's more a question of learning how to move on from here.
Production companies: Clear Horizon, SSS Entertainment
International sales: ICM Partners, oliver.wheeler@icmpartners.com; and Clear Horizon, david@clearhorizonent.com
Producers: David Brown, Shaun Sanghani, Rebecca Miller, Cara Shine, Todd Lundbohm, Giulia Prenna, Joannie Burstein
Production design: Justin Dragonas
Editing: Jennifer Lee
Cinematography: Kristen Correll
Music: Finneas O'Connell
Main cast: Jenna Ortega, Maddie Ziegler, Niles Fitch, Will Ropp, Lumi Pollack, John Ortiz, Julie Bowen, Shailene Woodley