Dir. Jason Bateman. US. 2015. 106mins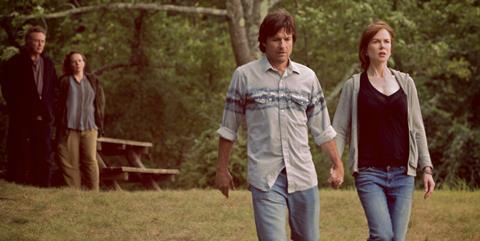 Films about dysfunctional families are as common as families themselves. But for most of its running time, The Family Fang impressively negotiates around the familiar trappings, finding a relatively new way to discuss familiar themes. Jason Bateman's second feature is a far more measured and skilful effort than his first, the mediocre dark comedy Bad Words, and turns Kevin Wilson's 2011 novel into a sympathetic look at two adult children whose divergent reactions to their parents' possible death speaks volumes about how they've each learned to cope with the strangeness of their childhood.
Jason Bateman's second feature is a far more measured and skilful effort than his first
Premiering at the Toronto Film Festival, The Family Fang is more drama than comedy, and with a cast that includes Nicole Kidman, Christopher Walken and Bateman, the film will target upscale audiences. Good reviews would be greatly beneficial, but The Family Fang's universal themes could also resonate.
Baxter (Bateman) and Annie (Kidman) are unmarried siblings who have remained close, each pursuing a career in the arts. (She's an actress; he's a novelist.) After an accident puts him in the hospital, Baxter discovers that his parents, Caleb and Camille Fang (Walken and Maryann Plunkett), will be taking him to their home to recuperate. Terrified, Baxter calls his sister, begging her to come visit. Reluctantly, she agrees.
The reason why the siblings want to avoid their parents is because of their childhood, in which they participated in the couple's public art spectacles, filming pranks that involved unsuspecting bystanders. (In one, the Fangs staged a fake bank heist.) Now semi-retired, Caleb and Camille head off on a car trip soon after this reunion, but when they go missing and their car is found covered in blood, Baxter and Annie aren't sure if it's another stunt or if they've been killed.
The Family Fang may be more thoughtful than Bad Words, but that doesn't mean Bateman treats the material with maudlin preciousness. Quite the contrary, this is often a bitterly funny comedy about the hang-ups that children carry with them into adulthood. What keeps the film from being just another tale of adult malaise is that the Fangs' public art pieces, which we see in flashback, are often quite clever, providing a steady stream of laughs but also suggesting why the siblings would feel justified in being "damaged" by their parents. Both kids have become artists in their own right, but it's telling that their exacting, uncompromising father dismisses their work as pedestrian, preferring the risk-taking, confrontational pieces he and his wife made.
Walken is exemplary as Caleb, toning down his verbal tics to play a genuinely angry, judgmental man who never forgave his children for walking away from the family business. Likewise, Kidman brings a rawness to her portrayal of Annie. While Baxter quickly becomes resigned to the fact that their parents are dead, Annie refuses to believe it, convinced that Caleb and Camille are once again playing the rest of the world for suckers. The character's fury is both a shield to protect her from grief and also an unresolved frustration with her parents' disinterest in behaving like "normal" people.
The complexity of emotions that Bateman elicits from the mystery of Caleb and Camille's disappearance becomes a rich springboard for discussing other issues, such as children's inability to grasp their parents as people, and parents' refusal to see their children as adults. Eventually, The Family Fang answers that mystery, and the reveal isn't entirely convincing. Still, Bateman locates a nice middle ground between comedy and drama, which extends to his own performance as a son who expresses his angst through art, even if his parents may never appreciate it.
Production companies: Red Crown Productions, ​Olympus Pictures, ​Blossom Films, Aggregate Films, West Madison Entertainment, ​Minerva Productions, QED International
International sales: QED International, sales@QEDintl.com
US sales: Creative Artists Agency, filmsales@caa.com
Producers: Daniela Taplin Lundberg, Riva Marker, Nicole Kidman, Per Saari, Leslie Urdang, Dean Vanech, Jason Bateman, Jim Garavente
Screenplay: David Lindsay-Abaire, based on the book by Kevin Wilson
Cinematography: Ken Seng
Editor: Robert Frazen
Production design: Beth Mickle
Music: Carter Burwell
Main cast: Nicole Kidman, Jason Bateman, Christopher Walken, Maryann Plunkett