Dir: Peter Nicks. US. 2017. 92mins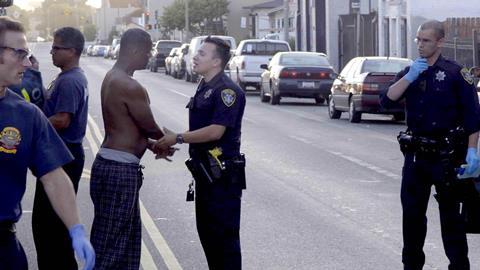 In the gripping, inspiring — and, ultimately, dispiriting — documentary The Force, a troubled police force tries to redeem itself, only to learn how nearly impossible the task may be. With superb use of vérité filmmaking, director Peter Nicks follows the Oakland Police Department over two years as an ambitious, admirable new chief seeks to repair the tattered relationship the force has with the public. But although Nicks has clear sympathy for the challenges of being a cop, The Force is brutally honest about the moral rot that eats away at police departments, scuttling their lofty aspirations to be protectors of the community.
Nicks wants us to have some compassion for cops, illustrating the pressures they face as an insight into why sometimes they make mistakes.
The Force premiered in Sundance's US Documentary section, hoping to court audiences interested in the crisis of confidence that many American police forces are facing. Strong reviews should help spark interest, leading to potential theatrical release.
In 2003, after a wave of public disgraces involving misconduct, the Oakland Police Department was placed under federal supervision. Nicks (who previously made the Oakland hospital documentary The Waiting Room) begins his film in 2014, a year after Sean Whent has been appointed the department's chief. The Force tags along as he hosts town-hall meetings filled with angry Oakland residents and also talks to policemen about his philosophy of changing the culture within the department. But his idealistic plans of rebuilding the force's reputation will be challenged by new scandals.
Eschewing talking-heads interviews and only occasionally incorporating inter-titles, The Force succeeds in placing the viewer within the world of Oakland's police department, revealing everything from how new recruits train for the job to how a seasoned public-relations spokesperson works to bolster the force's image.
As the film begins, Nicks emphasises Whent's preaching of a new mentality, underscoring the police force's need to understand why citizens (especially African-Americans) have grown up learning to despise cops.
These early stretches are filled with such hopeful notions of bridging divides between cops and communities that it appears that The Force will be a feel-good story of this notoriously corrupt and racist institution embracing its higher ideals and combating prejudice. And in Whent, Nicks seems to have found the perfect embodiment of a no-nonsense, morally upstanding police chief who won't tolerate unethical behaviour.
At the same time, The Force contains remarkable footage of ride-alongs in which policemen have to face challenging situations with potentially dangerous individuals. As with several police departments across the country, Oakland has been questioned for its use of excessive force with civilians, but what The Force persuasively illustrates is that, in the heat of a split-second decision, it can be incredibly hard to know what the right course of action should be. Nicks wants us to have some compassion for cops, illustrating the pressures they face — long hours, a citizenry that can (understandably) assume the worst about them — as an insight into why sometimes they make mistakes.
But just when Nicks' subjects have earned the viewer's sympathy, he unveils an unhappy twist that calls into question Whent's ability to turn around the department — and, more distressingly, his worthiness to be the man in charge. One scandal creates riptides that bring more shock and shame to the force. The Force catalogues each one with a grim precision that may leave audiences even more convinced that there are inherent failings within the police community that will forever doom them to be compromised institutions. And because Nicks allows his audience to be as hopeful as Whent initially is, the later fall from grace is even more crushing.
The Force shows what's possible when police departments try to be the force of good they're designed to be — but this documentary is also clear-eyed about how often they fall short.
Production companies: Open'hood Films, Independent Lens, JustFilms/Ford Foundation
International sales: Cinetic Media, linzee@cineticmedia.com
Producers: Linda Davis, Lawrence Lerew, Peter Nicks
Executive producer: Jon Else
Screenplay: Linda Davis, Lawrence Lerew, Peter Nicks
Cinematography: Peter Nicks
Editor: Lawrence Lerew
Music: Justin Melland
Website: www.theforcefilm.com