Ian McKellen and Helen Mirren take centre stage in Bill Condon's conman thriller.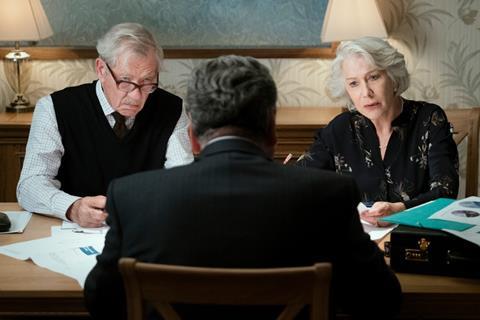 Dir: Bill Condon. US. 2019. 110mins
Hoping to be a stylish, witty conman thriller, The Good Liar starts out as an amusing lark but fails to stay ahead of its audience, piling on the ludicrousness until it's impossible to take the proceedings seriously. Ian McKellen is delightful company as a smooth schemer who's targeting Helen Mirren's wealthy widow, but it's not hard to see the twists coming — and when they arrive, they don't justify the time spent in order to get there. That rare studio movie about older characters that isn't a broad comedy, The Good Liar exudes class, which isn't enough to compensate for so much that's missing.
Juicy twists and melodramatic plot points are meant to be savoured, not scrutinised
Warner Bros. will unspool the film on November 8 in the UK and a week later Stateside, leaning hard on its decorated stars to entice adult viewers. The Good Liar could be a solid counter-programming option for those uninterested in Doctor Sleep or Charlie's Angels, although mild word-of-mouth may keep this a modest theatrical performer.
Set in London in 2009, the movie stars McKellen as Roy, a widower who goes on a date with a woman he met online, Betty (Mirren), who's also lost her spouse. They hit it off, but Roy has an ulterior motive: he's a conman who plans to take her sizeable bank account.
Adapting Nicholas Searle's novel, Condon and screenwriter Jeffrey Hatcher (who previously scripted the director's Mr. Holmes) set out to make the cinematic equivalent of a page-turner, introducing Roy and Betty's relationship and then unveiling one small surprise after another. (When Roy ends his date, he goes to a clandestine meeting, proposing an illegal property acquisition that will make him and his mysterious partners rich.) Slowly, we come to understand that much of Roy's behaviour around Betty is a carefully constructed fabrication — including the fact that he has a bad knee — in order to elicit sympathy. The sooner he can get her to fall in love with him, the sooner he can trick her into combining their assets, which he'll then plunder.
It's great fun to see McKellen play such a charming scoundrel, and the actor seems to especially enjoy the moments when Roy is at his most villainous. (Another of his marks will learn the hard way that this older man is still quite agile and lethal.) With his refined manner, Roy comes across as harmless and gentlemanly, but Betty's doting grandson Stephen (Russell Tovey) is immediately suspicious — particularly when Betty insists that Roy move into her spare bedroom so he doesn't have to walk up all those stairs at his apartment. The smiling animosity between Roy and Stephen proves to be one of the film's understated pleasures.
Viewers with any knowledge of conman movies will inevitably start wondering where The Good Liar is going. Betty quickly comes to adore Roy — he's the one person in the world who doesn't make her feel lonely — but Mirren gives us enough shading in the character's expressions to suggest that this widow distrusts her own good fortune in finding such a decent man. Those flickers of apprehension on Betty's face add suspense, but the forthcoming surprises and double-crosses are fairly predictable. And, although, to be fair, the ultimate outcome is impossible to anticipate, that's mostly because it's so contrived that it beggars belief. Mirren and McKellen are elegant actors, but even they can't sell The Good Liar's preposterous finale.
It could be argued that the entire movie operates on the level of unreality — one in which juicy twists and melodramatic plot points are meant to be savoured, not scrutinised. Carter Burwell's theatrical score and cinematographer Tobias Schliessler's occasional flourishes certainly bolster that argument, as do the slightly arch performances, which leave the audience unsure of everyone's motivations.
For that playfulness to work, however, The Good Liar would need to be much sharper and nastier than it is. The film's occasional gruesomeness helps undercut the well-mannered gentility, hinting at what could have been a far more sinister piece of work. But the betting is that most viewers will be able to guess who's lying in this polished, empty venture faster than the other characters do. What's entertaining about a con if we're never fooled?
Production company: 1000 Eyes
Worldwide distribution: Warner Bros.
Producers: Greg Yolen, Bill Condon
Screenplay: Jeffrey Hatcher, based on the novel by Nicholas Searle
Production design: John Stevenson
Editing: Virginia Katz
Cinematography: Tobias Schliessler
Music: Carter Burwell
Main cast: Helen Mirren, Ian McKellen, Russell Tovey, Jim Carter