Eskil Vogt constructs a whole new playground in compelling Un Certain Regard drama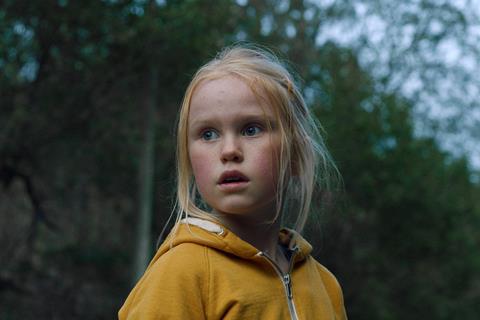 Dir. Eskil Vogt. Norway. 2021. 135 mins.
Director Eskil Vogt — best-known for his work with Joaquin Trier on the screenplays for Louder Than Bombs, Oslo, August 31st, as well as current Palme D'Or contender The Worst Person In The World, follows up his debut Blind with the deliberately-titled The Innocents, a clever, engaging and often electrifying feature which straddles suspense and the arthouse in a tight and satisfying way. If the film's name recalls the 1961 adaptation of Henry James' 'The Return of the Screw', that's no coincidence, because Vogt's film is also about children who access their power at an atavistic level. This is a modest feature set on a housing estate in Norway which strips back sentimentality to adopt a child's eye view of the world while demonstrating just how savage that can be.
There's nothing childish about this play
Unpredictable, and, despite - or because of - its casual indifference to child and cat mortality, coldly entertaining, The Innocents makes a strong case for wide festival and arthouse exposure, even in these difficult times. The fact that one of the child characters is severely autistic may also provoke conversations (she is played by an able-bodied actor). Like fellow Un Certain Regard title Playground, adults barely figure in this scenario, resulting in an unknown cast. Thus, word word of mouth for The Innocents will be vital - and should be easily achievable after warm Cannes notices start the ball rolling.
The Innocents successfully weds three elements: a strong, original concept distilled through a smart screenplay; excellent young performances; and a mise-en-scene which puts the audience in a child's circular view of a very small world - tiny by nature of childhood itself, in which the smallest areas are unfathomably large, and also by circumstance on a self-contained housing estate. All three gradually knit together, and successfully expand to fill the frame.
Vogt starts slowly: the back seat of a car, the camera tight on the freckled face of a sleeping child, and then slides over to her sister. Ida (Rakel Lenora Fløttum) is nine years-old, and moving with her older, non-verbal, autistic sister Anna (Alva Ramstad) to the estate because her father has a new job. Anna is nothing but a nuisance to Ida, who pinches her and puts glass in her shoes to hurt her - is she jealous because Anna unknowingly gobbles up all her parents' attention, or is there something more sinister at play? Ida is casually dangerous to Anna, who watches, unblinkingly.
With most of the children on the estate off on summer holidays, Ida kicks around aimlessly before making friends with the local outcast Ben (Sam Ashraf), who seems to have bruises on his chest and telekinetic powers, or is this just a childish trick of the light? There's no mistaking their savage treatment of the cat which has gone missing from the home of sweet little Aisha (Mina Asheim). This is psychopath-in-training behaviour, certainly, on the part of Sam, yet he's deceptively quick to tears, if not quite remorse.
Steadily, Vogt delivers his twists and turns. The camera may occasionally shift up and around and even upside down to give us a child's eye view of the estate as if from a swing, or it hangs off the bars of the centrally-located playground onto which all the apartments look. These are no Children Of The Corn, though: their knowing and unknowing cruelty is mostly to each other. There's no part for parents to play here, as adversaries or otherwise, although it would be wise not to get in the way, Ben's mother soon discovers.
Vogt has a nice eye for playing hard and fast with audience expectations. Marginalised characters have their 'say' in ways you don't expect and it's certainly interesting to see who is left on the swing in the playground by the end credits. It may be a name we've heard before, but Emil Vogt invents a new game with The Innocents, and there's nothing childish about this play.
Production company: Mer Film
International sales: Protagonist Pictures, info@protagonistpictures.com
Producer: Mer Ekerhovd
Screenplay: Eskil Vogt
Cinematography: Sturla Brandth Grovlen
Editing: Jens Christian Fodstad
Production design: Simone Grau Roney
Music: Pessi Levanto
Main cast: Rakel Lenora Fløttum, Alva Ramstad, Sam Ashraf, Mina Asheim, Ellen Dorrit Petersen