Colin Farrel, Nicole Kidman headline the latest from the director of The Lobster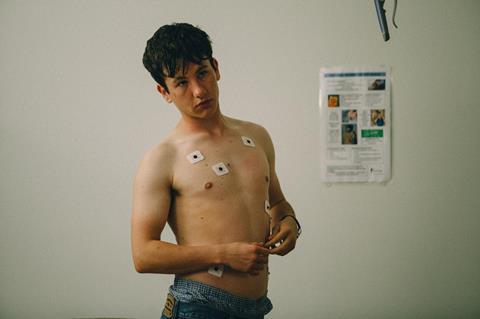 Dir: Yorgos Lanthimos. Ireland/United Kingdom. 2017. 109 mins
The first shot of The Killing of a Sacred Deer shows a beating heart in mid-operation. It's a startling image that sets the tone for the confrontational strangeness of Yorgos Lanthimos's follow-up to The Lobster, but don't expect a lot of heart from this film. This is a ruthlessly controlled drama that achieves its powerful effect by holding back when its dramatic content is most intense.
Kidman's highly ambivalent performance is one of her best in ages
A disturbing melodrama with shades of thriller and even horror – one hesitates to call its register faintly Lynchian – the film is less immediately outré than we've learned to expect from the director whose film Dogtooth effectively launched the Greek 'Weird Wave'. But while the film might be (only relatively) less weird than the Python-esque The Lobster, it's considerably more Greek – an inventive attempt to map the stakes of classical tragedy onto a skewed modern realism. Polished production values and superb performances from a cast including Colin Farrell, Nicole Kidman and Irish up-and-comer Barry Keoghan (soon to be seen in Dunkirk) could give Lanthimos's latest a wider appeal than its overtly oddball precursor.
The US-set story centres on the family of heart surgeon Steven (Farrell) and ophthalmologist Anna (Kidman), who live a sumptuously perfect domestic existence with their two children, son Bob (Sunny Suljic) and daughter Kim (Raffey Cassidy, from Tomorrowland). At the start, we see Steven meeting up with a teenager named Martin, with whom he seems to have a distant but protective relationship. For much of the first hour, Lanthimos and co-writer Efthymis Filippou keep us speculating on what's going on between them, especially when we see Steven nestling down for a cosy night's viewing of Groundhog Day with Martin's mother (a very droll cameo from Alicia Silverstone). But then Steven invites Martin to his family home, where the boy hits it off romantically with Kim.
Just under an hour in, we realise that the answer to our questions is stranger and darker than we could have imagined – and involves a revenge drama straight out of Hellenic myth. In fact, it goes right back to Euripides and the story of Iphigenia – as obliquely hinted by the title, although the script gives the game away with a bit of convenient name-dropping. Martin is pursuing his own baleful vendetta, forcing Steven to make an unthinkable choice. The outcome is brutal and makes highly uncomfortable watching.
The film is elegantly and atmospherically shot, whether in the family's interiors-catalogue home or in the glacial hospital where much of the action takes place, with DoP Thimios Bakatakis providing geometrically chilly vistas of glass atria. This visual execution has something of the glossiness that would suit a Hollywood domestic invasion thriller, which creates a tantalising disconnect with the drama's metaphysical dimension.
Another disconnect, characteristic of Lanthimos, comes from the language, with outright banalities (running-gag conversations about wristwatches) being delivered by the cast with the same matter-of-fact impassivity as life-or-death themes or outrageous transgressive confessions. This leaves us wondering whether the small talk is just inconsequential or obscurely significant – a dilemma we're teased with when, after one character commits an act of self-harm, he announces, "It's metaphorical."
The acting is terrific, a heavily-bearded Farrell creating the picture of a tightly internalised, seemingly cold man who finally attains the regal grandeur associated with a hero of classical tragedy. Kidman's highly ambivalent performance is one of her best in ages, initially recapturing the quizzical detachment she showed in Jonathan Glazer's Birth, but gradually ramping up to an intensity that is all the more frightening for its chilly calm. Geoghan exudes downplayed menace, with hints of noble vulnerability, Suljic and Cassidy intrepidly rise to the challenge of their sometimes nightmarish scenes, and there's strong support from Bill Camp (Midnight Special, Love and Mercy), increasingly visible as one of the character actors of the moment.
The baleful score, dominated by eldritch high pitches and basso rumbles, is culled, à la Kubrick, from sources including modern composers György Ligeti and Sofia Gubaidulina, although some scenes rely too heavily on the music to carry the dramatic weight. It's also arguable that the film's rigorously controlled suspense means that the drama stays too much within a narrow dynamic range, with too few high points of intensity to give the film all the dramatic modulation it needs. But it's a powerful and unsettling film that significantly broadens the repertoire of one of Europe's most singular and wayward auteurs.
Production company: Element Pictures, Film4, New Sparta, HanWay Films, Limp
International sales: HanWay Films, tg@hanwayfilms.com
Producers: Ed Guiney, Yorgos Lanthimos
Executive producers: Andrew Lowe, Daniel Battsek, Sam Lavender, David Kosse, Nicki Hattingh, Amit Pandya, Anne Sheehan, Peter Watson, Marie-Gabrielle Stewart
Screenplay: Yorgos Lanthimos, Efthymis Filippou
Cinematography: Thimios Bakatakis
Production designer: Jade Healy
Editor: Yorgos Mavropsaridis
Main cast: Colin Farrell, Nicole Kidman, Barry Keoghan, Raffey Cassidy, Sunny Suljic, Alicia Silverstone, Bill Camp