Maggie Gyllenhaal stars in a remake of the 2014 Israeli arthouse hit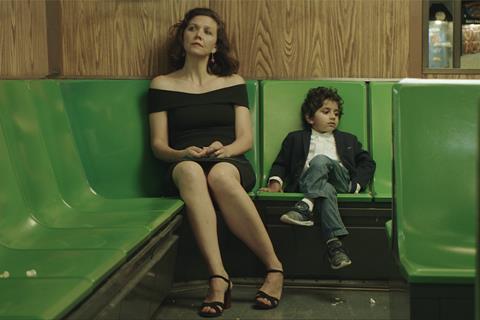 Dir/scr: Sara Colangelo. US. 2018. 99mins
Maggie Gyllenhaal gives a superbly enigmatic performance in The Kindergarten Teacher, a study of sadness gradually devolving into genuine mental disturbance. Told with restraint that only amplifies the intrigue, this American remake of Nadav Lapid's 2014 drama touches on parenting, adulthood and mentorship, and questions the motivations of those who use a child's development as a way to buoy their own self-esteem. Writer-director Sara Colangelo's intimate, slender drama withholds much about its main character, which allows Gyllenhaal to sketch the outline of a fractured soul.
Colangelo keeps the proceedings reserved, and Gyllenhaal plays Lisa's compulsion with calm command
Premiering at Sundance, this drama will need the actress' art-house cachet to attract buyers to challenging, potentially controversial subject matter. Those familiar with the original film might be on board automatically, however, and strong reviews will help serve as a selling point.
Lisa (Gyllenhaal) has taught kindergarten for 20 years, finding ample satisfaction in being around children. This enjoyment may partly be a response to the fact that her own kids, who are in their teens, no longer have much use for their overbearing mother. Then one day, she's entranced by Jimmy (Parker Sevak), a boy who seems to be a poetry prodigy. Convinced Jimmy needs a champion to reach his artistic potential, Lisa starts insinuating herself more and more into his life.
Colangelo (Little Accidents) moves Lapid's story from Israel to New York, crafting a character portrait of a woman who seems to be quietly floundering. As played by Gyllenhaal, Lisa always projects an air of confidence and competence — but there are hints everywhere that's she unravelling. Most notable of these signs is her decision to scratch her own creative inch by enrolling in an adult-education poetry class taught by a dashing instructor (Gael García Bernal). When her poems receive little enthusiasm, she starts pawning Jimmy's superior work off as her own, attracting her teacher's attention.
Why does she commit these acts of plagiarism? Why does she start calling the boy at home? And what, ultimately, is her ambition for Jimmy? The Kindergarten Teacher lets those questions dangle in the air, leaving Lisa's actions inscrutable. What's so strong about Gyllenhaal's portrayal is that Lisa herself doesn't always seem to know her own motivations — and she certainly doesn't share them with anyone around her. Slowly, though, Colangelo starts to flesh out her character's home life and childhood to insinuate what's possibly driving Lisa's obsession to showcase Jimmy's talent.
The more involved in Jimmy's life that Lisa gets — including lying to his family about his whereabouts — the more The Kindergarten Teacher flirts with campy melodrama. But Colangelo keeps the proceedings so reserved, and Gyllenhaal plays Lisa's compulsion with such calm command, that the plot never inspires snickers. Lisa is simply so wounded by some phantom pain that her actions, while never justifiable, have their own kind of queasy logic.
Along the way, The Kindergarten Teacher asks how much selfishness is involved in the raising of young people. Whether as a teacher or a parent, do we really have the child's best interests at heart? Or are we unconsciously using them to avenge our own past grievances? Gyllenhaal's performance balances between the two impulses, and the movie grows increasingly fraught as we see how Lisa starts to put her aspirations above her trusting pupil's
In his first credited role, Sevak plays Jimmy without much adorableness. The young actor's blankness helps speak to one of the movie's core ironies: impressionable talents need mentors to nurture their greatness, but woe be to those who find one whose intentions aren't so pure. Sevak's placidity initially makes Jimmy susceptible to Lisa's mothering influence, but part of the suspense derives from the boy's realization of his situation — and what Lisa might do once their unequal relationship starts to shift.
Production companies: Pie Films, Maven Pictures, Paper Chase Films, Manhattan Productions, Imagination Park Entertainment
International sales: Endeavor Content, dmcintosh@endeavorcontent.com
Producers: Talia Kleinhendler, Osnat Handelsman-Keren, Maggie Gyllenhaal, Celine Rattray, Trudie Styler
Executive producers: Tmira Yardeni, Carole Scotta, Nadav Lapid, Pia Getty, Jenny Halper, Nic Marshall, Dillon D. Jordan, Christopher S. Burke, Chip Rosenbloom, Stephen Mao, Brendan Walsh, Bradley J. Ross, Gabriel Napora, Lee Broda, Jeff Rice
Screenplay: Sara Colangelo, based on a film by Nadav Lapid
Cinematography: Pepe Avila del Pino
Production design: Mary Lena Colston
Editors: Marc Vives, Lee Percy
Music: Asher Goldschmidt
Main Cast: Maggie Gyllenhaal, Parker Sevak, Anna Baryshnikov, Rosa Salazar, Michael Chernus, Gael García Bernal